On day seven my trek started deviating from the proposed itinerary. I was supposed to walk to the high camp (4800 meters) on day 7 and on day 8 we would have crossed the Thorang-La pass if things went according to plan. But they didn't. I got up early in the morning and went to have a breakfast at 6.30 am as usual.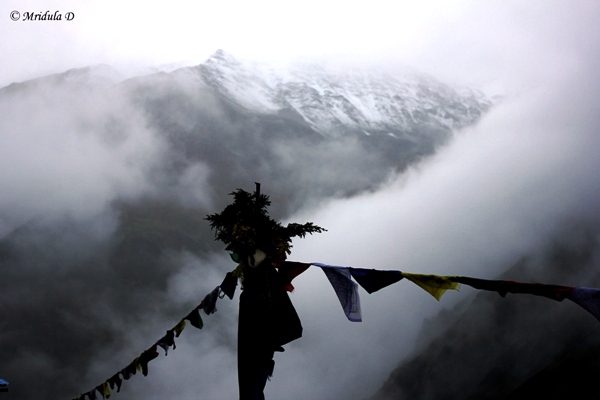 Mist at Letdar, Annapurna Circuit Trek, Nepal
The weather was unsettled. Through the mist, I could see snow on the nearby peaks at Letdar. I went to the dining hall and had an apple pancake with honey. Honey was important because even at 4200 meter food started sticking to my palate. With honey I could still gulp it down. While I was still having my breakfast it started raining and after a while it started pouring. Hari and I decided to delay our departure. I went back to my room after breakfast as it was cold in the dining hall.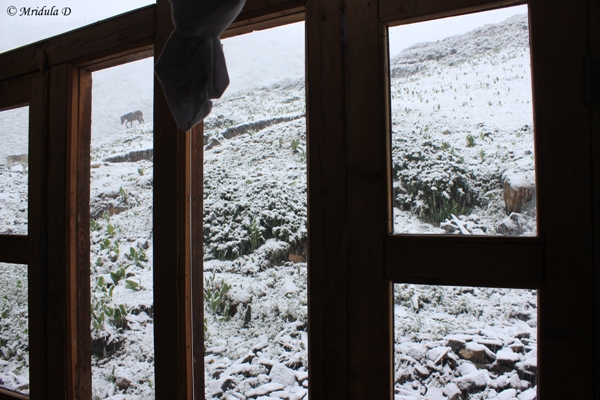 View from my Lodge Room, Letdar, Annapurna Circuit Trek, Nepal
While I waited for the rain to subside, it turned into snowing. It was soft initially and but after a while the snow started falling with a purpose! For the first two hours it was fun. The green meadow behind my room gradually turned white. I was in no mood to get out and walk to the high camp in this weather. So I stayed inside. While I was musing there was a knock on the door, Hari was there. He said, "if the weather continued like this, others are thinking of giving up the trek. It has already been snowing higher up for the past 3 days and it is becoming unsafe." I told him, "I would gladly turn back if he thought it was unsafe, after all he knew the conditions better than me. And I have a small daughter to go back to!" So we waited and it became lunch time. By now it was cold and I was using the sleeping bag and the blanket both in my room. I had only one book to read and I had to ration it or else it would be over soon.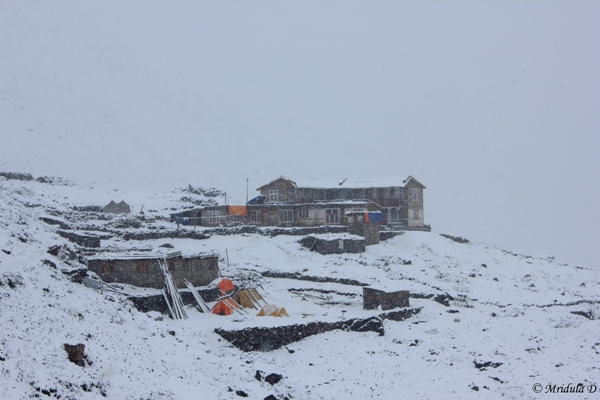 The Winter Wonderland in June, Letdar, Annapurna Circuit Trek, Nepal
This was the other lodge which I could see from our dining room. By now there was snow everywhere and it was still falling with purpose. I had daal bhaat for lunch once again. There was no proper fire in the dining hall and it was just too cold. We debated about breaking a chair and putting it in the apology of the fire that was burning in one corner. One of the guides went into a small room and brought out more yak dung but it made no difference to the quality of the fire. There was not enough wood at the lodge.
One person with his guide came walking in snow during the afternoon. We asked him how his experience was and he said as he was from Cape Town in South Africa he had never seen snow before. He was thrilled to bits about walking in snow. His name was Ashraf. Soon there was a merry crowd in the dining hall. Justin and Erick, a couple from Australia and Yaap from Holland. We all would look at the falling snow and giggle. Future plans were being discussed. Some of us had more time and they said if the weather did not improve they may get down and try to cross the pass later. I had no such luxury. If the weather didn't improve I would have to walk back because of my limited leaves. After lunch we went back to rest and keep warm in our rooms.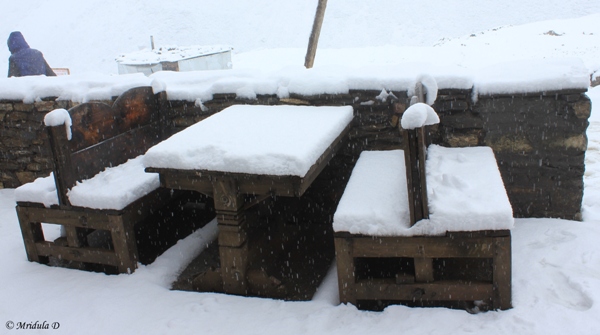 Snow by Evening, Letdar, Annapurna Circuit Trek, Nepal
We gathered again in the dining hall for the evening tea and I borrowed a book from the Australian girl (she had a beautiful name but I just can't remember it). Others decided to play cards. They had brought the blankets down from their rooms and I also got tucked inside one. That was the only way to keep the cold out.
As I was sitting on the same table they dealt me the cards too. And we had hours of fun chatting and playing cards. Of all the games I played, I remember the name of only one which was called 'bullshit'. See it is easy to remember. I won it once too! It was great fun, chatting and playing.
We got to know that the Australian couple lost their SLR at the beginning of the trip. We talked about calming insurance and the kind of photographs the card had for a while. A joint was rolled and a lot of people from our group went out for a smoke. I was asked if I would but then I have never been tempted to smoke a regular cigarette, what about a joint! We played some more card games and it became dinner time. We had food and went to our rooms. All I could do was to wait and see how the weather would turn out the next day. It still snowed outside with he same forceful purpose.
Read another day's account from my Annapurna Circuit Trek in Nepal
Annapurna Circuit Trek- Reaching Sangey, Day 1- Sangey to Dharapani, Nepal
Annapurna Circuit Trek, Day 2- Dharapani to Chame
Annapurna Circuit Trek, Nepal- Day 3 Chame to Pisang
Annapurna Circuit Trek, Nepal- Day 4 Pisang to Manang
Annapurna Circuit Trek, Nepal- Day 5 Rest and Acclimatization Day at Manang
Annapurna Circuit Trek, Nepal- Day 6 Manang to Letdar
Annapurna Circuit Trek, Nepal- The Retreat, Day 8 Letdar to Humde
Annapurna Circuit Trek, Nepal- The Retreat, Day 9 Humde to Timang
Annapurna Circuit Trek, Nepal- The Retreat, Day 10 Timang to Chamche