Today's walk was completely dominate by the thoughts of finding a jeep. All my life I have taken roads for granted. I (or rather my husband) bought my first car late, in my thirties but I completely take automobiles for granted. Not so on this trek. Jeeps were now elusive and their continued absence would mean four more days of walking. My legs were not even willing to contemplate such a scenario. I was not willing to contemplate what it would mean for my flights.
Once we started retreating streams on the road were a common scenario. I gradually became adept at crossing them. For shallow ones if I was wearing my trekking shoe I would just wade through it. But after a while the two toe nails that were trying to come out started giving me a lot of pain. I was forced to switch to my sneakers. As they get wet easily I had to be more careful.
When I eventually reached Danaque I met Justin and Erick again. It was good to see them again. All of us were walking to Chamche and if we got a jeep we would go to Beshishahar the same day.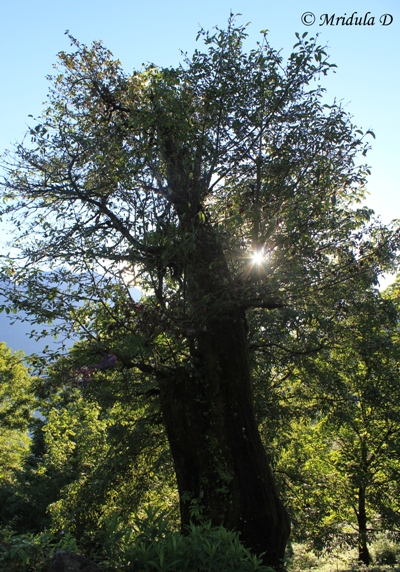 Finally there was Sun! Annapurna Circuit Trek, Nepal
After a long time it was not raining when I started. Even the sun came out for a while. Our plan was to walk to Chamche and have the lunch there as well. We crossed many minor landslides on the way. They did scare me and left me wondering what if I got caught in one? Luckily it never happened. I saw two helicopters flying in the area and the 'guide grapevine' was that one of them was for a group of trekkers who were caught in a landslide. I am not sure if this was true or not but two helicopters definitely were flying in the region.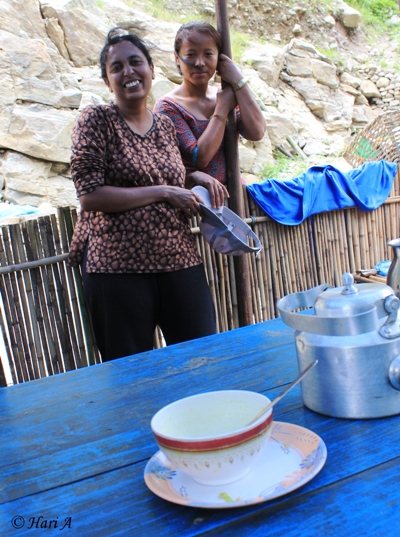 The Best Noodles I Ever Had, Tal, Annapurna Circuit Trek, Nepal
As there were landslides we were taking detours. At one point the climb uphill was so steep (for me), it was also without many toeholds. I asked Hari to remain behind me. Sure enough at one place I wrong footed myself. I extracted myself with Hari's help. Usually trekking doesn't involve any tricky things but I was glad to be out of this one. Later Justin and Erick also commented on this patch and how they disliked it.
By 12.00 noon our plan of not having lunch was not looking so good to me. We were approaching Tal again. I told Hari if the tea shops on the road were open, we should have tea and noodles. It would not take much time. He readily agreed. For the first time in the entire trek he told me, "Even I am tired."
When we reached the small tea shop thankfully it was open. I got my tea and noodles and so did Hari. I asked the young girl who made the noodles for a photograph. I explained, "That way I will remember who made the best noodles I ever had!"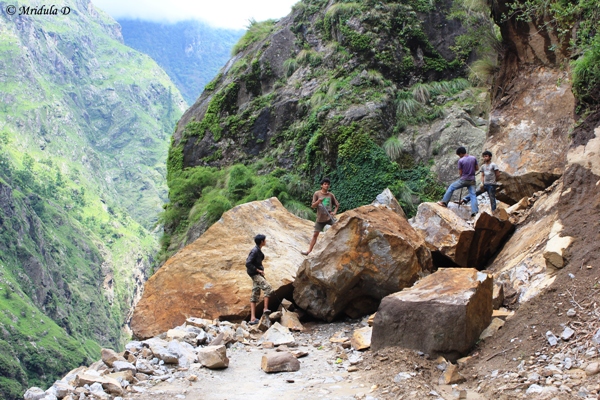 Landslides, Annapurna Circuit Trek, Nepal
Only on treks I realize the value of food and sleep. In the plains their connection to nourishment is never so obvious to me. Revived after the best noodles I ever had I walked for two more hours to reach Chamche. We crossed the landslide you see in the picture, it was the biggest I saw on the route. No wonder they were no jeeps to Chame.
When we approached Chamche, Hari went ahead to see if there were jeeps? Ten minutes later I was there and my first question was, "Are the jeeps going?" His yes was the best sound I heard in the past few days.
I sat at a lodge at Chamche and ordered potato wedges which we shared. Hari told me it would take 4 hours to reach Beshishahar by jeep, to which I asked, "Would you rather walk?" He had a good laugh at it.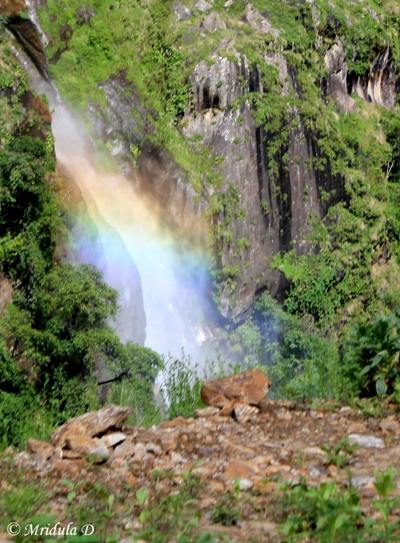 Rainbow at a Waterfall, Chamche, Annapurna Circuit Trek, Nepal
After 4 hours and a rainbow later I was back to civilization where I could take the buses and flights for granted again. The jeep ride is worth a story in its own and I will tell that tale one day. It was good to see Justin, Erick and the two women from Canada again. We all looked slightly different after taking a shower, our first in many many days!
Read another day's account from my Annapurna Circuit Trek in Nepal
Annapurna Circuit Trek- Reaching Sangey, Day 1- Sangey to Dharapani, Nepal
Annapurna Circuit Trek, Day 2- Dharapani to Chame
Annapurna Circuit Trek, Nepal- Day 3 Chame to Pisang
Annapurna Circuit Trek, Nepal- Day 4 Pisang to Manang
Annapurna Circuit Trek, Nepal- Day 5 Rest and Acclimatization Day at Manang
Annapurna Circuit Trek, Nepal- Day 6 Manang to Letdar
Annapurna Circuit Trek, Nepal- Day 7 The Snowfall at Letdar
Annapurna Circuit Trek, Nepal- The Retreat, Day 8 Letdar to Humde
Annapurna Circuit Trek, Nepal- The Retreat, Day 9 Humde to Timang