Even though it was a rest day, I still woke up at 5.30 am and looked out of the window. And after just one look, I went to sleep again, it was completely overcast, not a patch of color that I usually associate with the sunrise or the morning sky! I eventually woke up at 8.00 am, by 8.30 I was in the dining hall for breakfast. We thought we would go for our acclimatization walk around 9.30 am. But the weather had other ideas. By the time I sat in the dining hall again in the evening, I wrote this one line, "it rained throughout the day, end of the story."
Clouds or not, Manang is picture postcard beautiful but by now I was really desperate for a little sunshine and blue skies. Outside it just rained. So I started reading travel magazines kept in the dining hall. Thus came the lunch time and it still rained. We kept postponing our walk thinking it might stop raining.
I started chatting with the lady who owned the lodge. She could speak Hindi and had been to Delhi, Mumbai, Kashmir and Bangalore. She liked the big cities! When I asked about the road she said, it brought the prices down otherwise Manang used to be a very expensive place. But two hours after lunch, when it was still raining, I told Hari, "Let us go and get done with the walk, rain or no rain."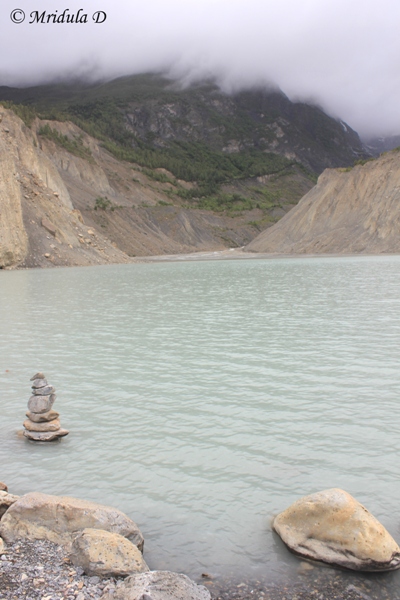 Gangpurna Lake, Manang, Nepal
Our first stop was Gangpurna Lake which is right in Manang's backyard. Walk down to the fields behind the village and a little to the right, there it is. Hari and I were the only people around. Heera Kazi who was with Justin and Erick told me the night before, "Go to Gangpurna Lake and then climb Annapurna III." To which I told him, "I would sleep over it!" Annapurna III was that close and yet I never saw it, damn clouds they were not willing to yield an inch. And if you think I am cribbing too much this is how Manang looks without the clouds.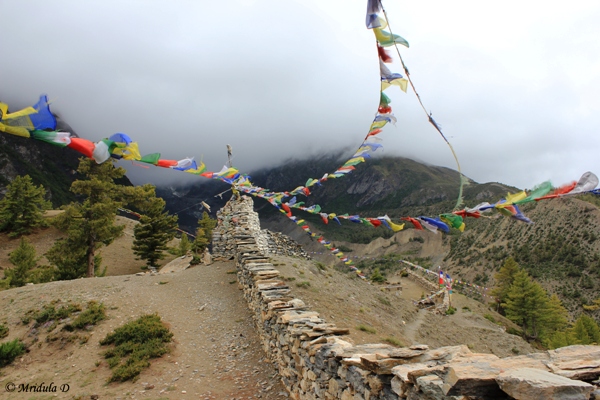 Prayer Flags above Manang, Annapurna Circuit Trek, Nepal
We eventually walked up to these prayer flags. Rain was falling intermittently, so sometimes I was Gandalf with a clock (without magic) and sometimes I could take the cloak (raincoat) off. This was a stiff climb uphill but at least I could see how far we had to go. It took me a little more than hour to get there at a leisurely pace.
Gangpurna Lake, Annapurna Circuit Trek, Nepal
On the way up I could see the Gangpurna Lake and what a beauty it is! Once we reached the prayer flags, Hari suggested to go a bit further till the kharka. Kharka means a meadow or a clearing and we walked up to it as well. Then came the time to walk down and it was steep down. I hate getting down a steep path, I am the slowest on such tracks.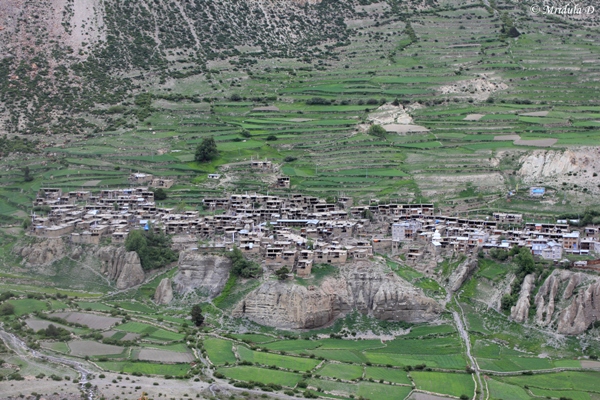 Manang, Nepal
I got a fabulous view of the village while climbing down but it was really slow going for me. And then at one point I fell. I have often taken a tumble on treks, particularly when I have slipped on loose stones, which is not much. But this was an uncoordinated fall, one that scared me. Thankfully there was no visible damage, so I picked myself up and walked again. I had told Hari to go ahead so thankfully there were no witness to my fall. After this I went down even more slowly. And it still hurts a bit just below my knee from this fall.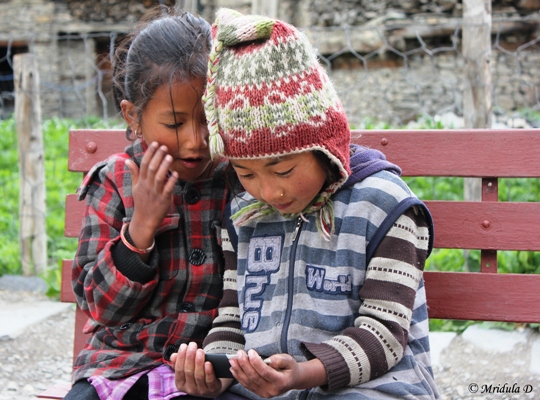 Kids at Manang, Nepal
However, as this was just a short hike above the village I got down eventually. Instead of going to the lodge I decided to sit in the village square for a while. The women turning the prayer wheel asked me the favorite question, shaadi banaya (are you married)? When I said yes, the next predictable question was, "So where is the family?". It was always asked in a good way at various places but by the end I was really tired explaining why I was trekking alone. It was quite refreshing though that to Erick and Justin I never had to explain why I was trekking alone in spite of having a husband and child.
Then came the kids and they were only interested in my gadgets. There first question was if I had games on my cell phone. They were quite disappointed to learn that I didn't have a single game on my phone. Soon they were flipping through my photo gallery and watching my South Africa videos with rapt attention.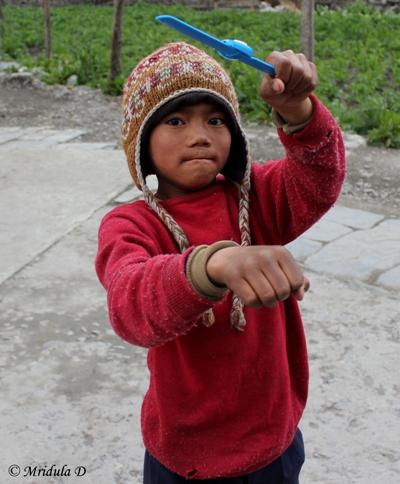 A Brat at Manang, Annapurna Circuit Trek, Nepal
This young boy was the biggest brat of them all and he was interested in my precious, my camera. I gave it to him on the condition that he would put the strap around the neck, so even if he drops it accidentally it will not fall. He agreed and clicked my pictures! Only after being scolded by an elderly gentleman he returned me my precious.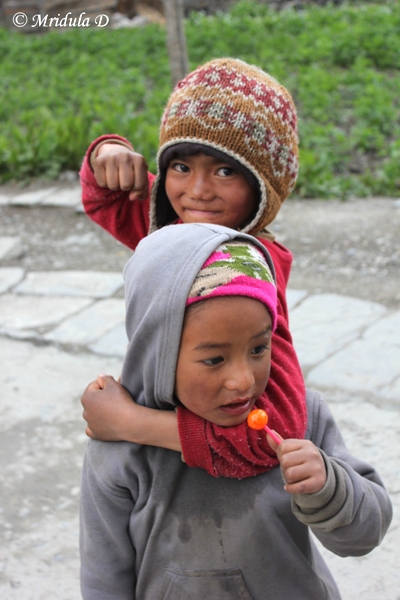 Kids at Manang, Nepal
At this point I realized that the card in the camera was full. I took out the spare card only to find that I kept a damaged one as spare. Now this was a minor crisis. For me taking pictures is essential and the future of the trek looked doubly bleak. But the local shop to my pleasant surprise was selling 4 GB memory cards that worked perfectly with my camera. Now that my precious had a new card we walked back to the lodge to a pot of ginger tea. Later they lit fire in the dining room and it immediately made the atmosphere cheerful. There were two other young boys from US at our lodge who were on a flexible itinerary, so they didn't care about the rain. The sky was not in a cheerful mood at all, it was still raining after dinner. Walking for the entire day in rain to Ledar felt like a real possibility now.
Read another day's account from Annapurna Circuit Trek in Nepal
Annapurna Circuit Trek, Nepal- Reaching Sangey, Sangey to Dharapani
Annapurna Circuit Trek, Day 2- Dharapani to Chame
Annapurna Circuit Trek, Nepal- Day 3 Chame to Pisang
Annapurna Circuit Trek, Nepal- Day 4 Pisang to Manang
Annapurna Circuit Trek, Nepal- Day 5 Rest and Acclimatization Day at Manang
Annapurna Circuit Trek, Nepal- Day 6 Manang to Letdar
Annapurna Circuit Trek, Nepal- Day 7 The Snowfall at Letdar
Annapurna Circuit Trek, Nepal- The Retreat, Day 8 Letdar to Humde
Annapurna Circuit Trek, Nepal- The Retreat, Day 9 Humde to Timang
Annapurna Circuit Trek, Nepal- The Retreat, Day 10 Timang to Chamchey