In May 2012 when I was flying out of Lukla after the Everest Base Camp Trek there were posters all over the place saying, "See you in Manang." Well, there I was, at Manang. When I woke up at 5.45 in the evening it was completely overcast and the wind was howling all around. When I looked out, I could see it had rained while I slept after the lunch. When I started from Pisang I was hopeful that weather might change but it did not, in the end the clouds ruled once again. However, there was no rain while I walked from Pisang to Manang.
If you peer hard in the middle of the picture you can see a village. I was wondering what it would be like to live in such a place? I was told that a lot of people go down from these hightes in the winter. Kids of the local families also study in Kathmandu as there are better schools in Kathmandu. But most of these places have electricity and cable TV as well. And Indian TV channels are very popular.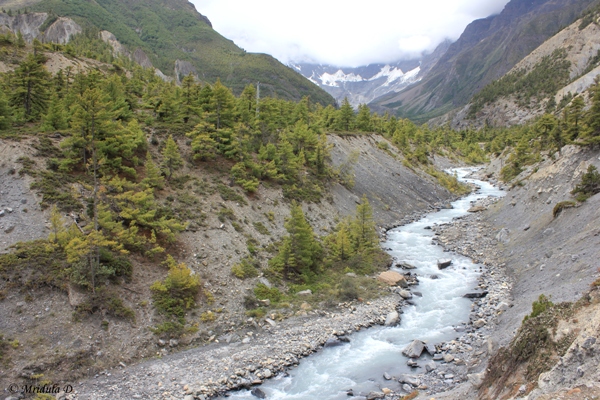 A Village Perched High Up, Pisang to Manang, Annapurna Circuit Trek, Nepal
Just after I came back from the trek (when toe nails were trying to com out and legs were still angry) I cried out loud, "Why do we trek?" I think the answer lies in the picture above, I primarily trek for the views and I am willing to put up with discomfort for it. However, the tea house treks in Nepal are not really that uncomfortable. After all, once you reach, you walk into a lodge where the food is ordered out of a menu. You (or someone else) do not go to river to collect water so that cooking for the day could start.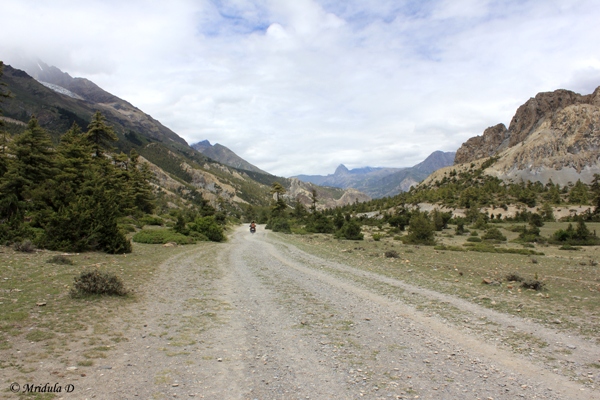 The Road to Manang, Annapurna Circuit Trek, Nepal
From Chame to Manang the road supports only motorcycles. Jeeps can ply on this road only when connecting bridges are ready. Work was already in progress. A lot has been written about this road and its effect on the villages. I am sure there are villages where people don't stop now because of the road which means loss in tourism income. But then there is a motorcycle or a jeep available if you want to reach somewhere in a hurry. I mean should walking be the only option for people who live here?
Also the guides I met on the trek would always point out that helicopter rescue was available only for trekkers and not if something happened to a local. I would think that it was available to me because I paid for the insurance and not because of any other reason. I wonder how no company has thought of offering an evacuation plan to the locals in medical and other emergencies? That brings me back to trekking in India. We have no helicopter evacuation culture even when tiny Nepal manages it. I think Nepal has it as it is the epicenter of climbing so the evacuation culture developed and gradually expanded to cover trekkers as well.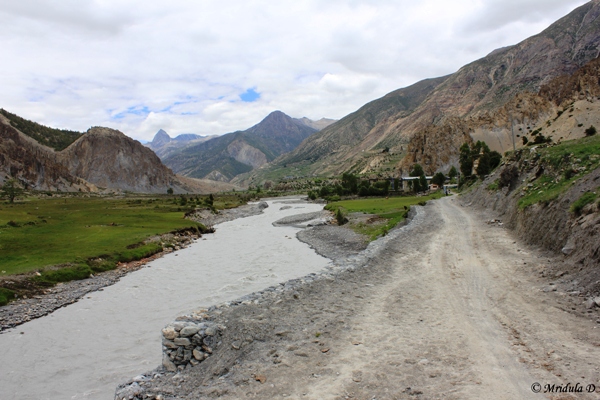 Marshyangdi River and the Road, Manang, Annnapurna Circuit Trek, Nepal
As we approached closer to Manang the path because incredibly beautifully. I took a few pictures thinking that I would walk back to this place later to click more. Alas when I walked ahead I realized this was not within the walking distance of our Lodge which was named Marshyangdi as well. So, the lesson learned is that not to assume anything about distances in the mountains but to click all the pictures of any given spot when the opportunity is right there.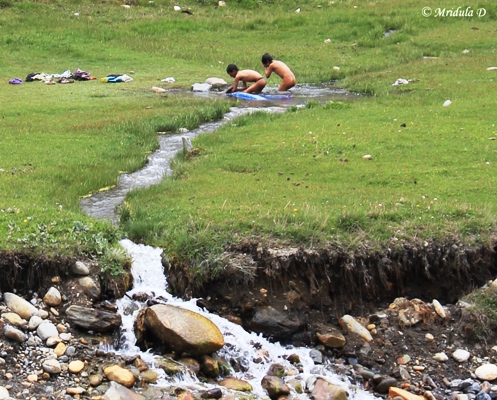 Having Fun in the Stream, Manang, Annapurna Circuit Trek, Nepal
I did click these kids though who were having fun in the stream without a cloth or care in the world! Manang was not very far away from this place. I stumbled to my lunch at the lodge a little while later.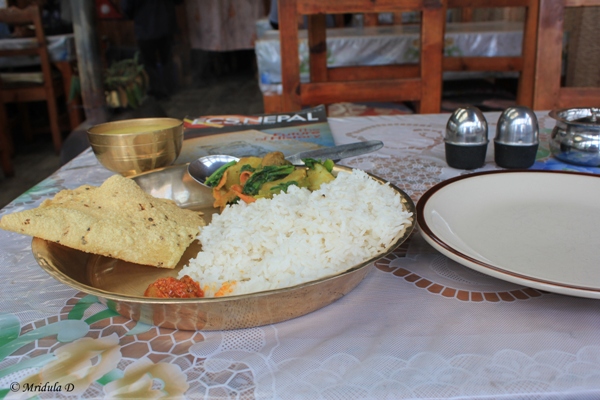 Daal Bhaat, Annapurna Circuit Trek, Nepal
I love the community dining rooms as you get to meet others and also because usually there is a fire going. I think I preferred Daal Bhaat because Daal goes in easily. They liberally serve you second and third helpings of daal, bhaat and sabzi (curry, rice and vegetables). I would usually take a second helping of daal and nothing else. For me the first serving was always big enough. In fact that empty plate is for taking out some rice so that I would not waste food.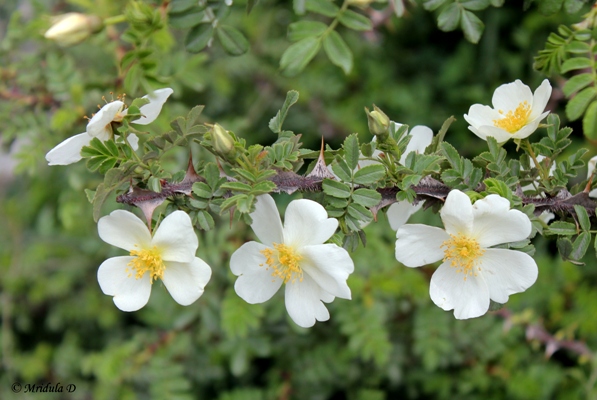 Wild Roses, Annapurna Circuit Trek, Nepal
After lunch I went to sleep and woke up to rain, howling wind and clouds. I was not too worried as we had a rest/acclimatization day at Manang and I was not going anywhere at least for a day. After the customary a pot of ginger tea, I had garlic soup with Tibetan Bread for dinner. It was an excellent choice. On this trek I was reading the First Rumpole Omnibus which was another excellent choice. Sleeping at night was no trouble at all. The next day I was not even getting up early as it was my rest (OK acclimatization) day.
Read another day's account from Annapurna Circuit Trek in Nepal
Annapurna Circuit Trek, Nepal- Reaching Sangey, Sangey to Dharapani
Annapurna Circuit Trek, Day 2- Dharapani to Chame
Annapurna Circuit Trek, Nepal- Day 3 Chame to Pisang
Annapurna Circuit Trek, Nepal- Day 5 Rest and Acclimatization Day at Manang
Annapurna Circuit Trek, Nepal- Day 6 Manang to Letdar
Annapurna Circuit Trek, Nepal- Day 7 The Snowfall at Letdar
Annapurna Circuit Trek, Nepal- The Retreat, Day 8 Letdar to Humde
Annapurna Circuit Trek, Nepal- The Retreat, Day 9 Humde to Timang
Annapurna Circuit Trek, Nepal- The Retreat, Day 10 Timang to Chamche