After a good rest and 2 chapatis and an omelet for breakfast I was ready to start for Pisang. There was no rain when I started off, the route as usual was beautiful. As usual there were clouds.
I was a bit optimistic as I had a relatively easy time walking from Dharapani to Chame. For the first 2 hours I could sustain that enthusiasm. Then by two and a half hours this bubble burst and I asked Hari to stop for Chai. In the mountains they make tea with milk powder so I always opt for mint or ginger tea. And as I was trekking in June, at the end of the season, sometimes the lodge owners would not have ginger. But mint was never a problem, they would go to their backyard, get some mint leaves and make mint tea!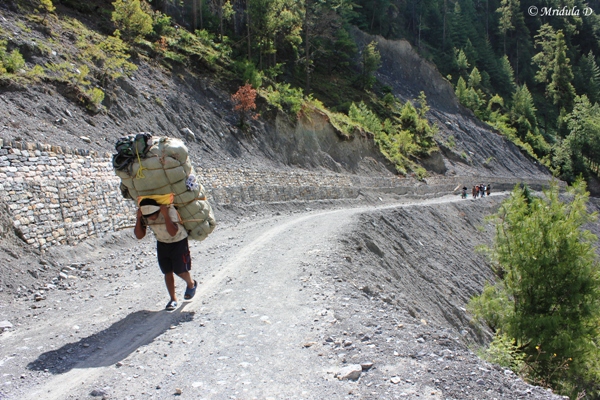 Weights they Carry, Annapurna Circuit Trek, Nepal
People carrying heavy loads is a common sight in the mountains. And this is also a picture to keep in mind when talking about the road vs no road debate. When Hari asked him how much the weight was he replied it was 90 kg. I can't even imagine what it must be like. When I start pitying myself on a trek I often remind myself of such people. Even this trick failed. I completely conked off after 2.5 hours, I was really tired and in middle of nowhere.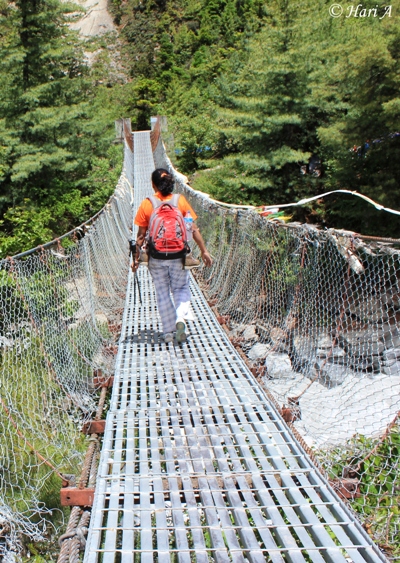 Walking to Pisang, Annapurna Circuit Trek, Nepal
The trouble with conking off in middle of nowhere is that you are in middle of nowhere, so you can't stop there. The way went up hill after this bridge. I had some difficulty in negotiating it. However after trudging for two hours we reached our lunch point at Dhikur Pokhari.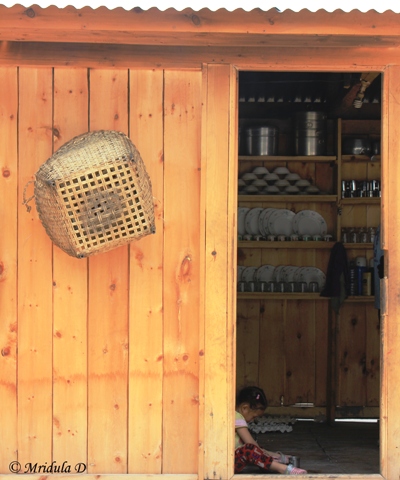 Lunch Point, Dhikur Pokhari, Annapurna Circuit Trek, Nepal
Food always brings some perspective to pain, tiredness and distances to be covered on a trek. I was favoring Dhaal Bhaat for lunch due to some reason for the entire trek. After food, the terrain became relatively flat and I lost that feeling of being terribly tired. The path was incredibly beautiful as well.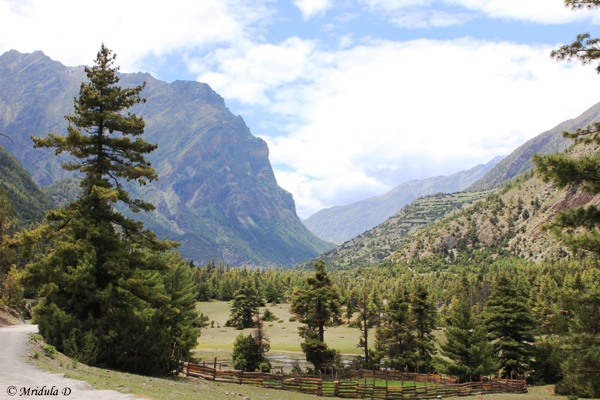 View on the Trek, from Chame to Pisang, Annapurna Circuit Trek, Nepal
When I was looking back at the pictures, I see that I have clicked very few pictures when I was feeling washed out! However after lunch, I really must have been feeling better as the number of pictures increased.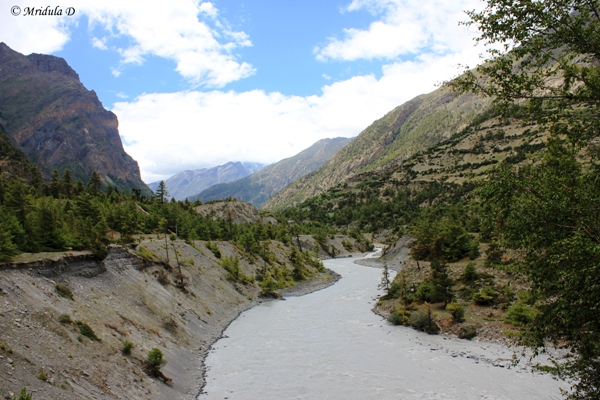 Beautiful View, Walking from Chame to Pisang, Annapurna Circuit Trek, Nepal
I guess such scenery is so alien for my day to day existence that I am willing to put with every discomfort that a trek can through in my path. Walking by such scenes makes up for everything.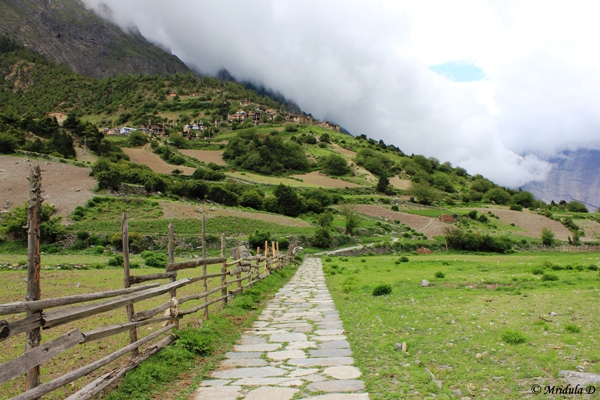 Upper Pisang, Annapurna Circuit Trek, Nepal
The hotel I stayed at Lower Pisang had 67 steps to it! I asked Hari if he gained any pleasure in choosing that one and both of us laughed. But the view of Upper Pisang that I got from there! Upper Pisang is a fabulous place and I think staying at lower Pissang was a good idea as I could always gaze at the beauty of Upper Pisang all the time.
However sleep came before it. I reached Pisang around 2.00 pm and I woke up after one and a half hour's sleep. For some reason I was having nightmares about my long completed Ph.D. This is a recurring theme, in the best of the places I dream that I have still not submitted my Ph.D. And that is a nightmare for me even after 10 years of completion. When I came out of my room it was cold and windy. Hari asked me if I would like to walk up to the Monastery at Upper Pisang? I am usually so spent that I say no to side excursion but after a good sleep I agreed.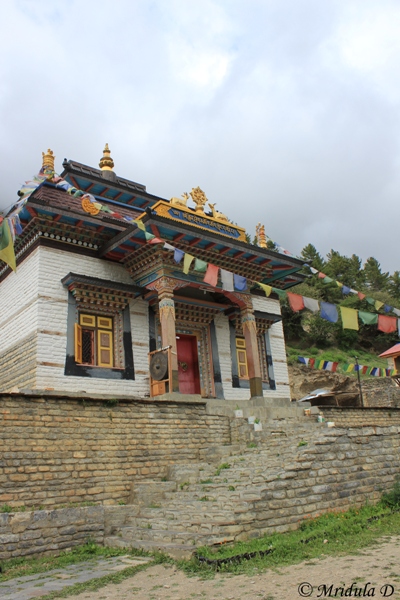 The Monastery at Upper Pisang, Annapurna Circuit Trek, Nepal
I was surprisingly good for the entire walk, my tiredness has vanished. On the way, a lot more people greeted me and one lady asked if I would like to have tea? Unfortunately I had left all the money at the lodge. What a pity, I would have loved to sit and have a cup of tea in one of the shops. I got partial views of Annapurna II but barely visible kind of views, that don't even show properly in pictures. By now I was getting used to it. I was the only visitor at the monastery and they let me go in. The village dogs were keen on following not knowing that I am afraid of them.
After coming back it was time for a pot of ginger tea again. Only this time there was too much ginger in my tea. We diluted it twice with hot water giggling all the way. You can guess it was seriously off season when Justic, Erick and I were the only guests at the lodge.
This was the day when my down jacket came out for the first time. It is a gift from Brat 2 (my younger nephew) and it is one of the best gifts I ever got. It has kept me warm in seriously cold places. Dinner was early and by 8.00 pm I was back in my room ready for bed. There was an attached bathroom here as well so I was in luxury.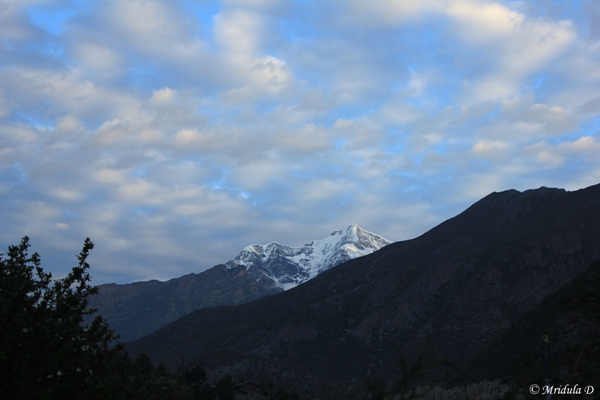 Chuli East as seen from Pisang, Annapurna Circuit Trek, Nepal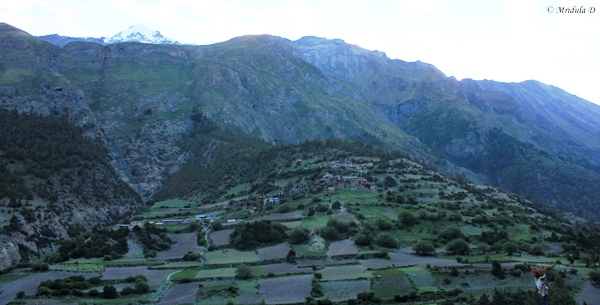 As I would hit the bed by 8.30 pm every day, it was easy for me to wake up at dawn. And this was the only morning when after taking a peak outside I ran for my camera. The clouds had parted for a while and I could see some peaks, Chuli East straight from the corridor in front of my room!
Pisang Peak and Upper Pisang, Annapurna Circuit Trek, Nepal
Also visible was Pisang Peak hovering over Upper Pisang. It was a promising start to the day. I was wondering if the weather would open up for a while after this?
After breakfast my task was to walk up to Manang. At Manang we had a rest day as well.
Read another day's account from Annapurna Circuit Trek in Nepal
Annapurna Circuit Trek, Nepal- Reaching Sangey, Sangey to Dharapani
Annapurna Circuit Trek, Day 2- Dharapani to Chame
Annapurna Circuit Trek, Nepal- Day 4 Pisang to Manang
Annapurna Circuit Trek, Nepal- Day 5 Rest and Acclimatization Day at Manang
Annapurna Circuit Trek, Nepal- Day 6 Manang to Letdar
Annapurna Circuit Trek, Nepal- Day 7 The Snowfall at Letdar
Annapurna Circuit Trek, Nepal- The Retreat, Day 8 Letdar to Humde
Annapurna Circuit Trek, Nepal- The Retreat, Day 9 Humde to Timang
Annapurna Circuit Trek, Nepal– The Retreat Day 10 Timang to Chamche