Last year I trekked up to Everest Base Camp in Nepal in May so I was determined to go back this year. I could not take leaves in May, the earliest I could leave was 8th June. I landed at Tribhuvan International Airport on that very day. The plan was to trek the Annapurna Circuit. In my enthusiasm I did not factor in the monsoon at all! I was trekking with the good folks at Above the Himalayas again.
There is a road for the part of the way of the trek, a jeep track up to Chame and a motorcycle track up to Manang. When I started from Kathmandu I thought the bus would go all the way to Sangey. But it stopped at Beshishahar, where the restaurant had a functional wifi!
On the way to Beshishahar there were times when I was happy for the Avomine induced sleep and then there were times when I hated it. I hated it when I realized the views were beautiful but I would still fall asleep because of the medicine.
After lunch we took a jeep for Sangey. The jeep kept playing musical chairs within the city first. And for my life I could not figure out who the driver was, so many people drove it for a short distance. The real driver was eventually revealed, thankfully he was a cautious driver.
The road, no not actually road but the dirt track required driving skills and our driver had it. If you have a bad back, this road is not for you. If you have a normal back, chances are you will develop a bad back. But it was worth it for the views that greeted us! At Sangey the lodge was right next to the river. After a hearty dinner I fell asleep easily. I woke up at night to thundering rain, only I convinced myself that it was the river and not the rain. Anyway I was happy it rained like that at night, not when I was walking.
A Waterfall near our Lodge at Sangey, Annapurna Circuit Trek, Nepal
After reaching Dharapani I wrote the following in a dairy I maintained on this trek
You can watch 'Colors' (Hindi TV Channel) at Dharapani. It is equally unbearable to watch at 1960 meters. I wonder what it is with me and treks. Due to one reason or other my treks just seem to be beyond me. This time I might be a tad fitter than the last time but the season I picked up! Today it was completely overcast, rained thankfully only for 1.5 hours, but not too hard. If it remains overcast I might walk through the entire trek without any views. So next time if I do not get leaves in May I will trek in Spiti or Ladakh.
Before I will head out for a major trek next year I will read this account again. Hopefully the above paragraph will knock some sense into my stubborn head.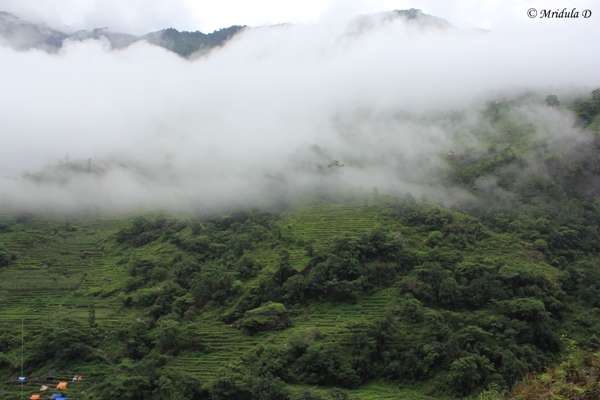 Trekking in June, Sangey to Dharapani Walk, Annapurna Circuit Trek, Nepal
When I started from Sangey, I was happy to see various waterfalls and streams. We stopped for a mint tea at Jagat after two hours. I desperately needed it. My lunch was at a very scenic place called Taal. The trouble was that rains started about an hour before. Also we had to get down from the road to get lunch. This would mean we would climb to the road again but that was the plan that my guide Hari recommended, so I went along with it.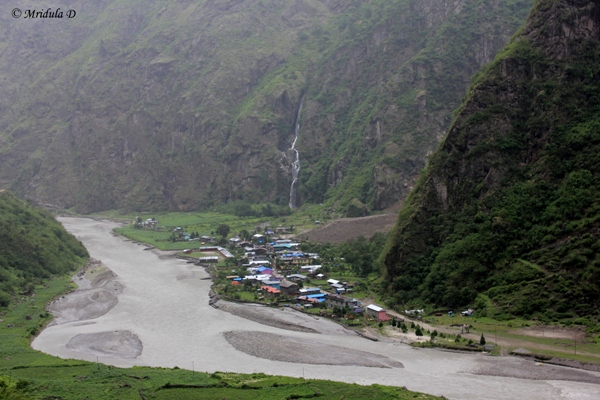 Village Taal, Annapurna Circuit Trek, Nepal
Lunch on a trek is not a chore, it is also not a calorie counting exercise. I eagerly look forward to it. I eat without any guilt because I know if I do not I will eventually faint on the way itself! While I waited for my Daal Bhaat (rice with curry) I was happy that I was out of rain. Soon my food arrived, the rain stopped and that surely lifted my spirits. We walked back to the road again after food and all that was left now was to enjoy the view and reach Dharapani.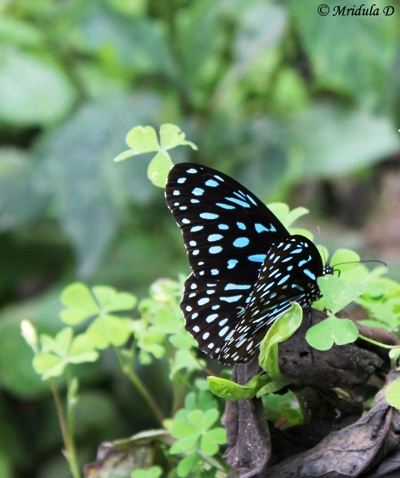 A Butterfly on the Way, Annapurna Circuit Trek, Nepal
As this was the first day, I could still bend to click butterflies. I was using the 18-55 lens as changing lens while walking does not appeal to me. This beauty was obliging as well, it let me click quite a few pictures before saying enough is enough!
On my treks I have often felt like a hobbit when I walk with my guide, when no other soul to be seen around for miles. But this time when I put my bulky raincoat I felt like Gandalf in his cloak sans magic. But it was magic what I needed to stop the rain, tear the clouds away and get those fabulous views.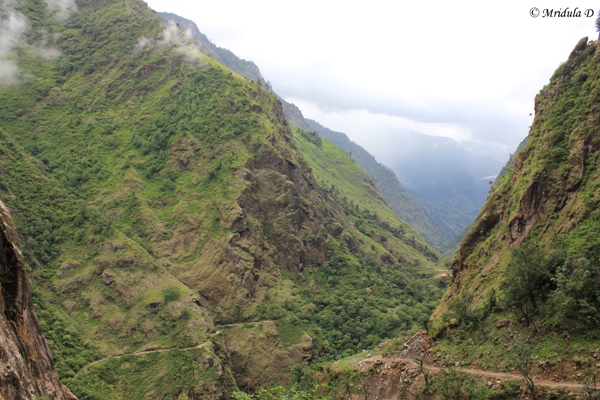 Miles to Go, Annapurna Circuit Trek, Nepal
Walking for the first time on the route, I obviously do not know how far I had to go to reach Dharapani, though my legs were screaming that they wanted to know. When I asked Hari, I got the correct answer whatever it was. It was not the pahari (hill people's) answer, which is- it is just a short distance away!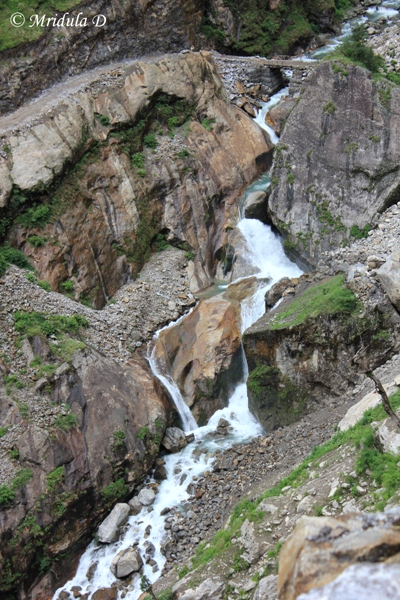 A Stream at the Annapurna Circuit Trek, Nepal
Finally taking one step after the other, some seven hours later after we started from Sangey I stumbled at the lodge at Dharapani. The last thing I wrote in my diary on this day was- "Why do I do this to myself and why is my damn phone not working"
Next day we would walk from Dharapani to Chame.
Read another day's account from my Annapurna Circuit Trek in Nepal
Annapurna Circuit Trek, Day 2- Dharapani to Chame
Annapurna Circuit Trek, Nepal- Day 3 Chame to Pisang
Annapurna Circuit Trek, Nepal- Day 4 Pisang to Manang
Annapurna Circuit Trek, Nepal- Day 5 Rest and Acclimatization Day at Manang
Annapurna Circuit Trek, Nepal- Day 6 Manang to Letdar
Annapurna Circuit Trek, Nepal- Day 7 The Snowfall at Letdar
Annapurna Circuit Trek, Nepal- The Retreat, Day 8 Letdar to Humde
Annapurna Circuit Trek, Nepal- The Retreat, Day 9 Humde to Timang
Annapurna Circuit Trek, Nepal- The Retreat, Day 10 Timang to Chamche