It has been after a very long time that I went out during Dusshera! I took my daughter and her friend out to two celebrations which were close to each-other.
This was the first pandal we visited and both the girls after  saying a brief prayer took a ride in a small 'giant wheel' which the owner could operate by hand! They had a shrieking good time. We visited it during the day as finding a parking during the night is more difficult.
I didn't get much time for taking pictures as my primary task was to keep a sharp on the two girls, one possibility was that they would fight with each-other and the second that they will run away here and there and I would get a panic attack if I could not locate them even for a second.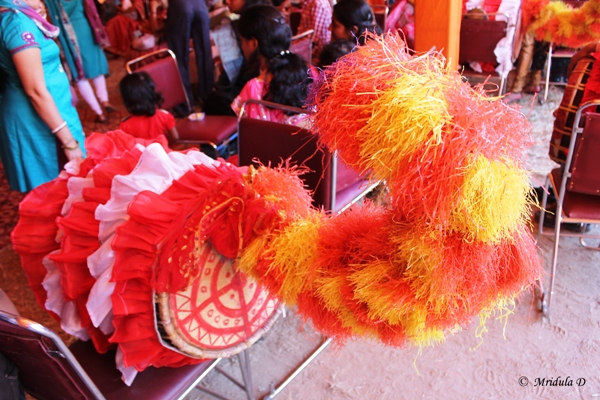 In fact whenmy daughter and her friend were playing with this dhol (also known as Dhak) a mother came and asked me if I had seen the little boy who was playing there a while ago? The little boy emerged a while later from a tent flap ten feet away but I would surely would have freaked out in those ten seconds! So these are all quick shots after I physically herded them close to me. They would stand still for 5 seconds which is an improvement from the past!
Both of them were quite interested in shopping. They are sporting their new bangles while asking me to buy gada (Indian mace) which you can see in the picture. They bought toy swords too. Then they asked me to take them back to the pandal so that they could play. I was quite scared that they would hit each-other but as their stomachs were full, they played peacefully.
After a while it was time to head home and we all were content to do so after over small outing. I think I am strongly motivated to get out the next year too, by then my daughter would have learned to stand still for at least 10 seconds!