It is such a common flower in India I never thought it would have this complicated name- Wingpod Purslane! The flower is also known as Portulaca. The images below were clicked at the Taling Chan Floating Market in Bangkok though. The market is situated on the Chao Phraya River. You can easily hire a long tailed boat and go to the market.
I wonder who gave such a drab name to such pretty flowers. In the market they were for sale in hanging pots and the whole place was a riot of colors. Here is another look at the same flowers. I would have bought them if I could bring it home. I so wanted to buy them but I could not have dragged them across Thailand and Cambodia. More so every time we clear customs in India after arrival where we tick that we are not carrying any plants, or fruits from other nations.
As it is prohibited to bring flowers, fruits, seeds etc from another nation, hence I had to be content by just clicking the pictures. They added so much cheer to the place! There was a lane devoted to flowers and it was so pretty. The orchid stand was bursting with colors- orange, purple, pink, white yellow and many more.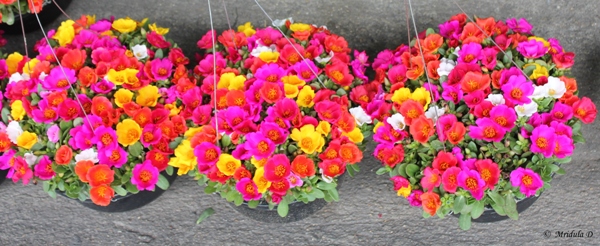 Wingpod Purslane Flowers
Other than the flowers, I remember the place for its food. I tried many Thai delicacies for the first time in this market. It is a pity that I have not picked up the names of the dishes even now.
We were a bunch of bloggers invited by Thailand Tourism Authority who visited the market together. When I visited the place was not too crowded. We exited by the road, so I am sure there is a road route to the place as well. The market certainly is aimed at the tourists but I enjoy tourist places as well!