I am back from my attempt to trek through the Annapurna Circuit Trek. Attempt because I had to give up the trek at Ledar (4200 meters). I was perfectly fine and looking to move to the high camp at 4800 but the weather was not. Anyway it is a long story and will be told day by day. I am back now. This time also I trekked with Above the Himalayas. But I wonder why do we trek?
Why do I lament so? Here are some of the reasons!
Two of toenails are trying to come out right now. Last year when I trekked through the Everest Base Camp in Nepal two of my toe nails actually came out. This time they are only trying to come out.
There are deep gashes above my ankles from my new shoes. No, I tried to break them before I went, only by walking on a straight road. I have no access to the mountain tracks before the trek.
There were days (more than one) when we started trekking in rain and it was still raining till we reached the next stop. Which would mean at least 6 hours of rain for me.
Last year I trekked in May and I was so besotted by Nepal that I had to trek again this year. Only I had no leaves in May. In June it rains. I who come from a family that treks and countless friends who trek too, it occurred to no one (particularly me) that it is the monsoon when I am trying to trek!
At Ledar (where we gave up and turned back) when I woke up the next day (the day when we should have gone to the high camp) it was raining hard. It soon turned to snow. When I went for breakfast it was snowing. I was thrilled. After all how many times do I get to see snow? When I went for lunch, it was snowing, hard. When I went for evening tea it was still snowing. When I had dinner you guessed it right, it was snowing, still. And when I went to bed, well what else, it was still snowing. I was sick of it by now. The next day we turned back and walked all the day in snow and rain.
There is a road (if you like to call it so) for part of the way on this trek (jeeps up to Chame and motorcycles up to Manang). And a lot has been written about it. When we started there were regular jeeps till Chame that would honk us out of the way. When we gave up the trek due to rain and snow there was no road left at Chame. There were only waterfalls and landslides on the road.
No one knew for sure if there was a jeep at all from anywhere to anywhere anymore!
We walked for three days, 9 hours, 12 hours and 8.5 hours before we found the jeep and eventually that rainbow at Chamche (and not Chame where the jeeps originally were to be found).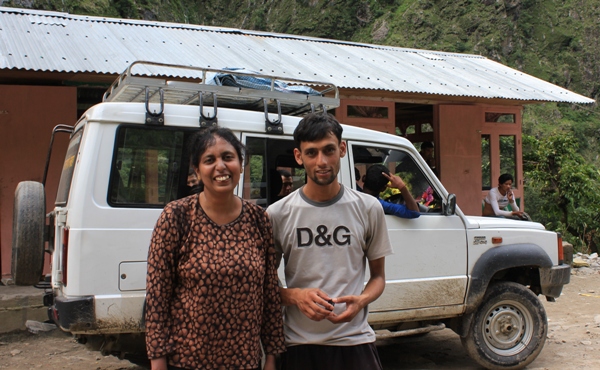 All Smiles after Finding the Elusive Jeep, With my Guide Hari from Above the Himalayas at Chamche
My knees hurt like mad while climbing down.
And I pay good money to do all this to myself!
I could have lived with all of it but for the views. Hardly any high peaks for me this time and that is what I miss most. This time it was more of a character building exercise than an actual trek.
Will I trek again? You bet, but not in June and if it is June then not in Nepal.
Why do we do this to self? My guide in Uttarakhand (and yes he is safe) Sohan Singh Bisht has a theory. He says some of us trekkers drop a nut from our brains somewhere on our very first treks. And we just keep going back in the hope of finding it somewhere again. Nothing else can explain it!