I am now back from my trip to Kerala with Travespire. If you are looking for off beat experiences you should try Travspire, they know just the places that will leave you spellbound.
My plane landed past 11.00 pm yesterday and I was at work today morning, so not much rational writing is possible at the moment. I will just share this beauty of a bird that I saw at Breeze Backwater Homes at Alappuzha, Alleppey.
As soon as I entered the Breeze Backwater Homes, I felt at peace. It was a charming place that rents out 4 rooms. Imagine a property of only four rooms and they are only five steps away from the backwaters. It was one of the best homestays I have ever stayed in! And I tell you, Travspire is just the place to ask about such off beat places. Wait till you hear about my experiences properly.
But back to the bird. The birds liked this berry tree and there were two of it on the premises. Shrejeeth, the host at the place even plucked a berry for me saying it is very sweet. Even though it was not ripe the berry indeed was sweet. Hence there was a constant flow of White Cheeked Barbets at the tree.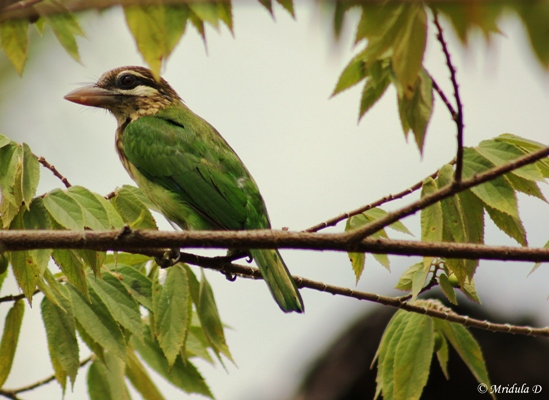 White Cheeked Barbet
I actually settled down with a book (what else but a mountain book) quickly after arriving. But then I saw these birds. Book and everything else was dropped without any hesitation. I ran to my room to get the correct lens and the camera out. I was lucky, these barbets liked the tree a lot and they kept coming and going. So photographing them was relatively easy.
Stay tuned to hear about my Muziris Tour, cycling and kayaking all in Kerala with Travespire.