So here is the first ever contest that I am holding on this blog and I am quite excited about it. I hope I will manage to pass on some of the excitement to you as well. After all, would it not be fun if you got some money to spend on your next travel or purchase?
The Deal
The contest is simple and fun for travel lovers. Visit the Groupon India site and pick up the best travel deal that you can find. Leave the link to the deal and your brief comments on why you liked it as a comment on this blog. The comment has to be on a travel deal at Groupon India website to be eligible. It can be from any city in India.
What is Up for Grabs?
Two Groupon India Vouchers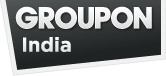 1X5000 Rupees
1X3000 Rupees
You can use the vouchers to spend on any deal (and not just travel) on the site. If the cost of the deal exceeds, the difference has to be paid. If the cost of the deal is less the balance will remain in your account to spend later. The coupons are valid only for Groupon India site.
When Can I Start Posting Comments?
Now!
When does the Entries Close
Comments made after 12 February 2013 will not be eligible. That means you can post on 12 Feb till 11.59 pm India time.
How do we Decide the Winners?
I am drawing out the winners by lottery. You may ask why and you have every right! It is because we want to have some fun. Remember waiting at a lucky draw or playing tambola? Do it again with Travel Tales from India!
So the aim is to have fun and I am really happy that Groupon supported me in hosting my first blog contest.
When will we Announce the Results?
I believe in giving fast feedback, so the results would be out with the post that I do on Feb 13th (under normal circumstances).
So head on to Groupon India site and tell me which are your favorite deals and why in my comment section.
You can check the results here.