When the camp folks (Near Muni Ki Reti, Uttarakhand) told us we were going to do rappelling after a small trek I was more excited about the trek. I had no idea that the way was full of waterfalls. So when I came across the first one I did some acrobatics to get closer to it and take a picture. All these pictures featured here today are from Muni Ki Reti area.
There was a tea and Maggi shop next to it but they kept the surroundings clean. I love to eat Maggi during treks but on this day I had not walked enough to feel hungry. So we went ahead. There were a lot of school girls coming down and the talk that was reaching my ears was mostly about smart phones and Facebook.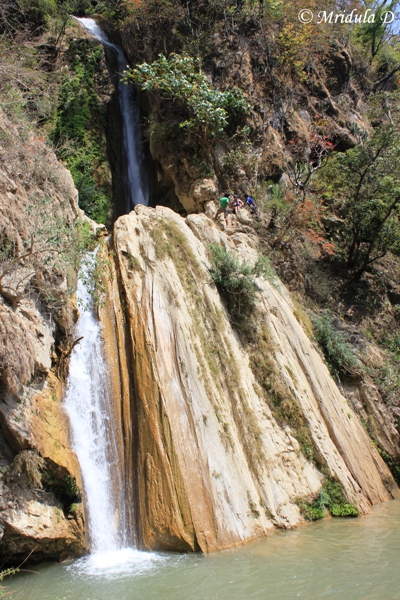 The Bigger Water Fall near Munti Ki Reti, Uttarakhand
This is a special waterfall for me as it is the first one beneath which I stood. We did rappelling on the dry side of this waterfall on the right in this picture. I also enjoyed putting my feet in the water and doing nothing for quite sometime. By the time everyone in our group was through with rappelling and getting drenched it was mid afternoon. I was now looking forward to tea and Maggi.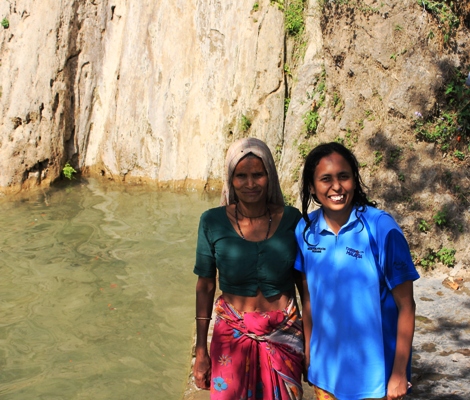 The Lady Who Sells Maggi by the Fountain and I
There are two people who sell Maggi and tea at the fountain. The gentleman is who you see first as you arrive. So almost everyone orders with him. The lady is extremely bitter about it and would ask all of us who didn't order at the first instance. That is how I ate Maggi with her and asked if she will pose with me.
After Maggi and tea tucked inside I started walking back to the place where our bus was parked. It was a day well spent, one that I will remember for a long time!