Recently we visited Jagatsukh and this was out second trip to the region. I walked by the road last time, as well as this time. Last time I walked only towards Manali but this time I walked on the road towards Naggar too. There is a beautiful waterfall on the Manali-Jagatsukh road near Prini. I got an opportunity to revisit the waterfall.
This time there was a makeshift bridge across the waterfall. So I could cross the stream and get closer to the waterfall. This waterfall is right next to the bigger traffic bridge near Prini. If you walk around Prini you are bound to find this waterfall it is hard to miss, you can hear it loud and clear from the road itself.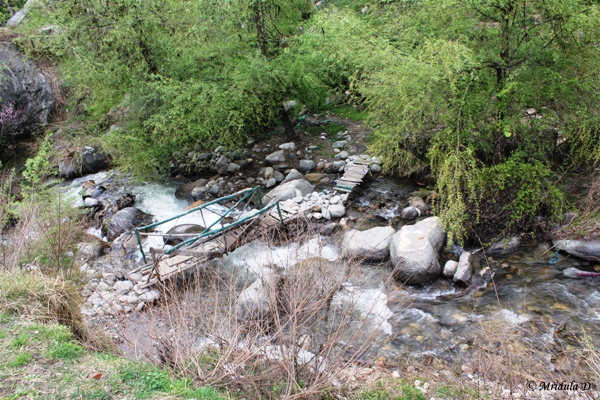 The New Makeshift Bridge
I also thought there was more water in it this time. I took the dirt road to get down to the waterfall and clicked a few pictures. I was happy to dump my small shoulder bag near the bridge as there was no one around apart from me. I like such places. While I started walking off I realized it was quite late in the evening and if I played around will the shutter speed of my camera I would get this milky flow of water.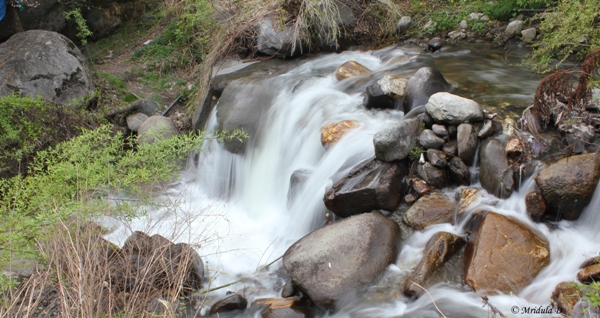 The Prini Waterfall, Himachal Pradesh
So I first set my camera to TV mode (Canon) and reduced the shutter speed to 1/5 seconds. I liked what I saw on my display screen. So I climbed down again, crossed the bridge and clicked a few more pictures. I also love the fact that even though this is within the sight of the main road there was no one around. By the look of it this is not a tourist stop anyway.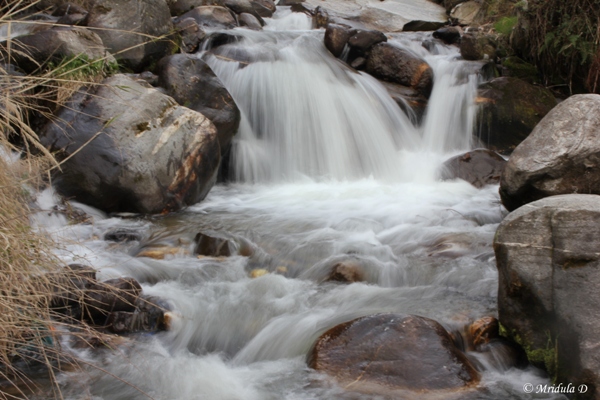 A Beautiful Waterfall in Himachal Pradesh
When I look at the pictures from the previous trip I am so surprised that this type of photography didn't even occur to me even though the light conditions were very similar.
PS. One more reason why I love walking, that way I can go chase every waterfall and flower that is on my way. In a bus they flash past in a blur tantalizing me to slow down, to stop and click.