For this lazy Sunday I present the magnificent Wat Arun Temple from Bangkok, Thailand. It is a Buddhist Temple said to be build in 17th century, though the spires are said to be added by King Rama II in early 19th century. Wat actually means temple both in Thailand and Cambodia. Both Thai and Cambodian temples have dress codes. They basically want you to cover your shoulders and knee while entering a place of worship. I thought it was an easy dress code to follow. They are not equally strict at all the temples but they are quite particular about the dress code at Wat Arun.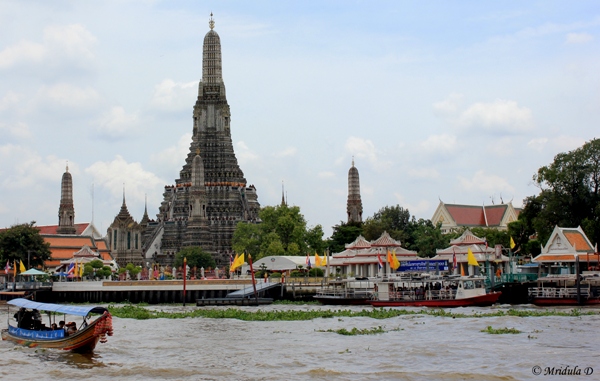 Wat Arun, Bangkok, Thailand
We approached it by the ferry. Chao Phraya river flows through Bangkok and adds so much to the charm of the city. If you take a local ferry from Tha Thien pier it will cost you three baht to reach the temple. The tourist boat would be much more expensive.
The temple has steep steps, but once you climb them you can see a beautiful view of Bangkok City. I found going up the stairs easier than coming down. But they did not pose any real trouble to me. I saw others who had their eyes shut and were being escorted down by their friends on those stairs.
A small number of vendors are present immediately around the Wat Arun temple. I had the most delicious coconut water ever next to this temple. They put the shell in ice so it is even more delicious.
When I visited the temple was not too crowded. I was there in September 2013 and on a week day. If you are interested in photography Wat Arun catches the best light at dawn. Arun actually means sunrise. So that is the best time to photograph at the place. Alas I could not manage to do so on this trip.