I quit my job about 4 years ago, I was totally not planning on it. I often say I do not miss work, but I certainly miss my salary. My blogging income is nowhere near my professor's salary. But since I quit my job, it is assumed I quit it for traveling. Here is what I wrote after six months of quitting my job, it is in no way glamorous!
Today I was looking at my Instagram message requests, when I decided to reply to a young boy. To everyone who asks me about quitting their studies or jobs, you will be directed to this post. It is an actual conversation which I have edited minimally for clarity. There is no identifying information about the person who had this conversation with me. So here we go! The boy goes by the acronym YB for young boy and I am ME! Text in the parenthesis is mine added for clarity!
YB: Hello ma'am I want to be a travel blogger please help me
ME: Good luck if you have a specific question do let me know
YB: Ma'am i need a little bit of guidance…pls if u can show me the path
YB: Ma'am if u wish i can tell u my whole journey
ME: Not possible
ME: You need to start a blog somewhere
ME: Or be active on Instagram
ME: Also no point of a private profile (YBs profile is private on Instagram)
ME: Sponsors can't view it
YB: Ma'am i want to make it as a career
YB: My only passion and love all my life has been to travel and travel
YB: And i do it for my own happiness
YB: I just hate sitting in a classroom listening boring lectures
YB: Ma'am i dont want to kill my passion
ME: I was a professor before I quit giving those boring lectures
YB: Oops sorry mam
ME: Worked for 13 years full time
ME: Saved money
ME: Husband still works full time
ME: Answer the question for yourself- where will the money come from?
ME: And you are sorted
YB: Ma'am if i do good work which impresses people..somehow things would work out
ME: Too many people thinking the same, buying followers …
ME: Try side by side
ME: I make nowhere near my salary from blogging
YB: Ma'am i made a vlog and showed it to my frns..
YB: They liked it
ME: Show it to a sponsor and see if anything happens
ME: Try side by side
YB: I don't know any sponsor
ME: Search on Instagram
ME: Connect with them
ME: Message them
ME: The companies you want to work with
YB: I just want to show true nature to people…
YB: Is there any particular company
ME: You have to think about it
YB: Mam how to search for companies..
ME: Using the search button (on Instagram)
ME: Or Google
Me: I would search for example Samsung
ME: If I wanted a cell phone company
YB: Mam i want to tell one thing
YB: When i made my first travel vlog..the energy i received was tremendous..it felt i was very happy..and suddenly as if i became a new person
YB: Thats when i found that this is my passion
YB: Now i don't want to leave this
ME: Yes good luck
ME: Try it out while studying
YB: Ma'am the study is like a burden on me
ME: Beta (son) you are a burden on your family
ME: Who are educating you
ME: Become independent and do whatever you want
ME: You are talking to the wrong blogger
ME: I would never advice you to quit
ME: If my daughter did this I would ask her to finance it herself
YB: Ok ma'am
ME: Take care, use your free time to follow your passion
ME: And complete that degree or school
YB: Ok ma'am
ME: What do you study
YB: I m doing MBA
ME: What is the fees
YB: 10 lakhs
ME: Who paid it?
YB: Parents
ME: See, you would value it much more if you arranged it.
ME: Got a loan
ME: Paid your own fees
YB: Ma'am had i arranged it..i wouldn't have done it in the first place
YB: I just randomly gave the MBA entrance and got 98%ile
YB: So i have to join it
ME: They (YB's parents) could have gone on a trip to Europe instead of paying your fees!
ME: Now that you have joined do justice to their money
ME: Don't let it go down the drain
YB: And should continue doing something where i don't have interest…
ME: Should have thought about it before you took admission
ME: You think blogging is fun?
YB: Ma'am i told u i want to make it as a career
ME: Yes but use it (MBA) to get a job
ME: There is no fairy tale in blogging
ME: It is not vacation
ME: And it won't give you money for years to come
ME: Who will pay for your travel
YB: Ma'am when u like something u just arrange somehow
ME: Yes just repay that 10 lakh and do whatever you want
ME: I know the value of 10 lakh
ME: If my child wasted it I would ask it back and go on a trip to Antarctica
YB: Mam its not that…i would get the job..but doing that won't give me satisfaction
ME: Yes so change your career
ME: Your parents money was not plucked from a tree
ME: Once you are earning your own money use it to fuel your passion
ME: No one will bother you then.
ME: And as the saying goes you get to know aate dal ka bhav or the cost of visa and flight tickets
YB: Ok ma'am..i would make it a side career
ME: Yes and switch once you are confident.
ME: Bye for now and good luck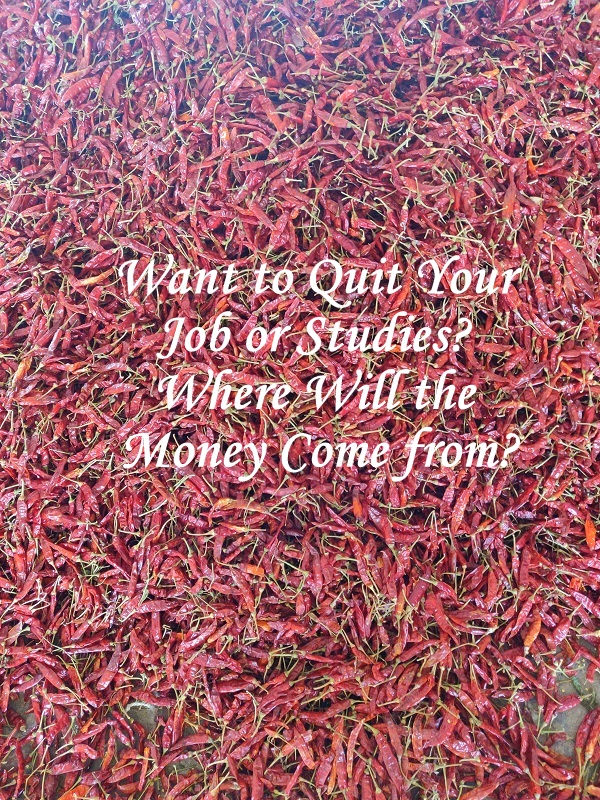 YB: Thank u ma'am
ME: You are welcome