I have to admit I am not very fond of walking on snow. My first experience of walking on snow was at my first trek, the Sar Pass Trek. And I was wearing a sneaker. If you have tried to walk on snow wearing a sneaker you know what the experience is like. If you have not done it my advice is not to try it unless you are a mountain person! That first tryst left a strong impression and since then I have not been too fond of walking on snow, ever. But as I try to trek every year I have been forced to walk on snow now and then but with better shoes and better results. But if I could have it my way I would avoid snow on my paths.
Now on my recent trip to Gulmarg I had no choice. At Gulmarg, I once again found snow, a lot of snow and without any attempt at trekking. It was simply there everywhere, even in March.
The good folks at The Khyber took us to a local shop where we could hire snow boots. My shoe size is small, it is woefully small and usually it is a pain to buy even sneakers. There were four of us on this trip and Neehar and I first tried the adult black boots. After everything turned out to be too big, the shopkeeper went into the inner section and came out with these!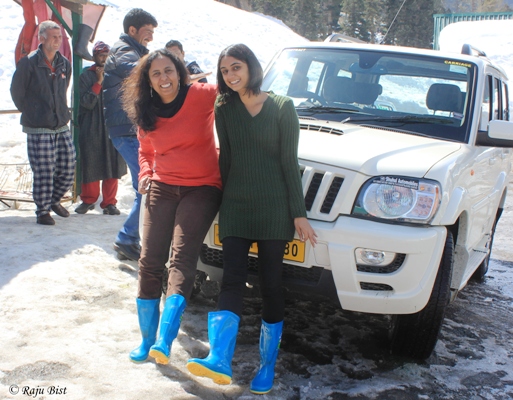 Neehar and I with Electric Blue Snow Boots, Gulmarg
As all the adult black snow boots were two big for us, thankfully both of us, we ended up with electric blue ones meant for kids! Thank god I had company! Blue and all notwithstanding the shoes did the job. I hardly ever slipped. However, the same cannot be said about everyone. But I am not going to make any flippant remarks because I often go to hills and I know they are no laughing matter! This time they spared me but it is they that decide!