On our recent trip to Qutub Minar it was Chhavi who created all the whirl and the wind and I was simply caught in it! When there is a UNESCO World Heritage Site like Qutub Minar in the vicinity it gets ignored. The last time I was there was when my nephews, Brat 1 and Brat 2 were young and Brat 3 (my niece)  and 4 (Chhavi) were not even born!
I decided to take Chhavi to Qutub Minar over the weekend, after all they say catch them young! My original plan was to visit the Agrasen ki Baoli near CP but as we were late in getting out of the house, I settled for Qutub Minar. There was a queue at the ticket counter and I mean a proper queue. They charge Rupees 10 from an Indian national and 250 from foreign nationals. Children below 15 years are free. Chhavi was quite annoyed that she didn't had a ticket for herself! Normal cameras (including SLRs) are free. There was a queue to enter as well and again it was a proper queue. Two proper queue in one place, it was amazing!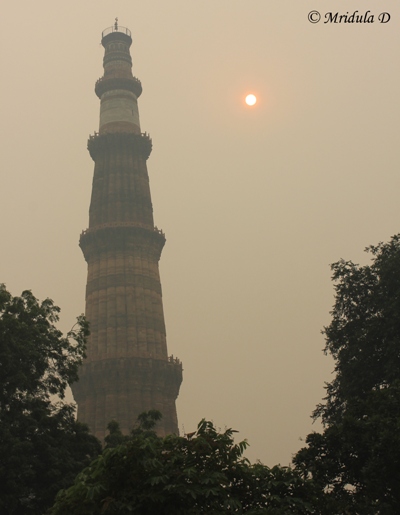 The past few days, Delhi and NCR has been surrounded by an ugly winter haze and this was the state at 3.00 pm. I mean, I associate red sun with the sunset hours and not early evening! This haze is what I and everyone has been breathing for the past few days and it is a bit scary. But for Chhavi it was fun, she was at a new place and there was plenty of space to run around. Whenever I visit a monument I do read the descriptions but this time I was constantly running behind my daughter! There was an audio guide available at the entrance, I have tried it at Jaipur and I liked it. I am glad I didn't hire it this time, with Chhavi there was no chance to stand still.
One of the first things she did on reaching was to go to a lawn and remove her shoes! I let her do that! After that she kept running through the premises and I kept playing catch up. There was a tree on which a lot of people had gathered to get photographed. She climbed on the lower branches. I persuaded her to go towards the main structure so that I could click a few pictures!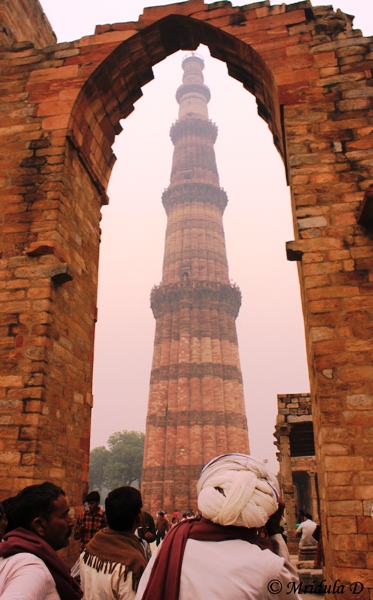 After getting stubbed by a few stones she agreed to put on the shoes again. Her treasures were a small colored glass and a tiny iron bolt she found (I shudder to think when these will get swapped for mobile phones and all). I stopped her once to read a sign board and after that she would stop at every signboard and pretend that she was reading it!
They have now fenced off the Ashok ke Laat (Ashoka Pillar) and she wanted to go under the fence! I did manage to stop her from doing so. She went up a wall instead and the security guard yelled at me for letting her do so!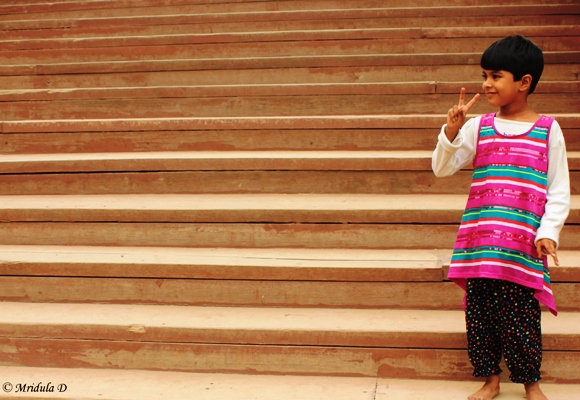 Chhavi at Redstone Steps, Qutub Minar, Delhi, India
So the trip was all about the lawns and the trees, I don't think she cared much about the monument. After running for an hour she was tired and told me that she wanted to go home and that is what we did.
So you can see this trip was not at all about history (that Qutub Minar dates back to the 13th century, it is  72.5 meters tall and all that) but about wide open spaces and a child's joy in running through them!
Accessibility Report
I have decided to include a accessibility report for the places that I visit. There was a separate accessibility ticket counter but as you can see it in the picture, it was closed.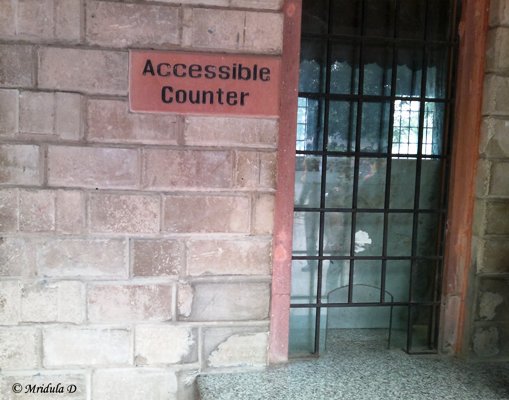 There are ramps around the main structure but I did not see anyone using them who needed access.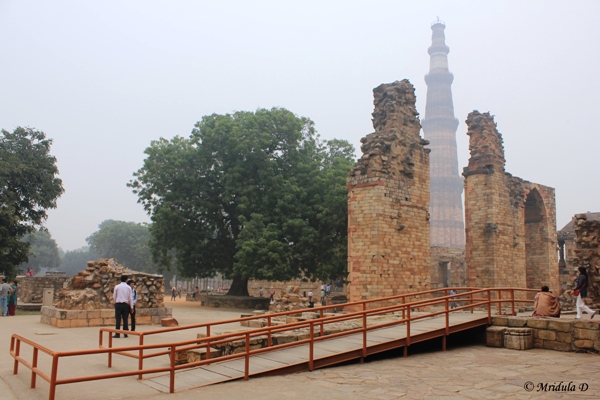 Ramp at Qutub Minar, A UNESCO World Heritage Site, Delhi
So I am thinking of going out again and exploring Delhi the coming weekend with Chhavi!