Visa on arrival for Maldives was a simple affair for me. I love the countries that give me a visa on arrival. As of now I have visited a few nations which give visa on arrival. I have been to Hong Kong, Thailand, Bhutan and Maldives. Next, I also love the countries that give me electronic visa like Sri Lanka. You apply online, get approval online and then go to the country and exit easily.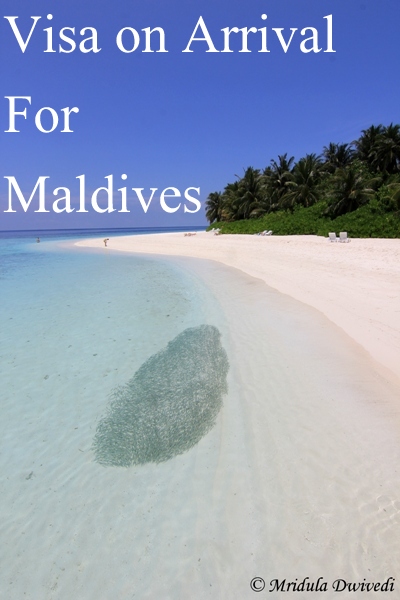 This post is about my experience of Maldives visa on arrival from India. I am quite alright with many things on a trip. I do not care much about food, as long as it is edible and vegetarian. I am fine with rooms as long as they are clean. I am fine with transport as long as I am not hassled. But one thing I am not good at- waiting for visas. My South Africa visa came on the last possible day, my Finland visa came on the last possible day, my Malaysia visa came on the last possible day, actually a lot of them came on the last possible day. While I am waiting I do not know whether I should pack or nor. I anyway do not like to pack, so while I am waiting for the visa, I have all the more reason not to pack! Then at the last possible moment the visa arrives and I am now harried in another way! I also end up taking leaves to apply for a visa. I save up on leaves if I visit the countries which have visa on arrival like Maldives. Before such trips I can pack when I want, there is no uncertainty involved.
Maldives not only gives visa on arrival to Indian citizens (and many others) for thirty days, it is also free of cost. While I have not traveled to USA, for my various UK visits there were retina scans and finger printing (after 2007) and that means always appearing in person! No such issues with those lovely countries that give me visa on arrival.
When my Spicejet flight landed at Male Airport (which is on a separate island than Male City) we joined a queue at immigration. It was long because a jet of Singapore Airlines landed before and their passengers were ahead in the queue. My line felt to be the slowest. The immigration website of the Maldives Government lists all the documents to get a visa on arrival. With valid passport, return tickets, hotel reservation and proof of funds it is a fairly easy list. They don't even ask for a photograph. Visa on arrival for Maldives is given free of cost! When my nephew and I finally arrived at the counter they did take some time to look through my passport, probably checking every stamp that I have. But they did not ask for a single document from me. This could also be because I was holding a thick bunch of papers, ready to produce anything they needed. I have heard from people that they can get finicky about hotel reservations. Soon, our passports were stamped and we were on our way, to the luggage belts! The luggage has arrived by this time.
I also heard about islanders not picking you up from the airport on time. I was really wondering if it would happen to us. I was lucky the representative of the Picinic Inn, Maafushi was right there, waiting for us. The good person even suggested me where to go and buy a sim card. By the time I got my sim card other guests of the hotel were also there. All we had to do was to hop into the waiting speedboat and head to Maafushi. Visa on arrival for Maldives in the end was a breeze.