Visa on arrival for Indians in Bhutan is a simple process. My experience of getting was quite smooth. As only Druk Air, the national carrier of Bhutan, flies into the country, it is quite unlike other airports in the world. There are no jet planes landing one after the other, leading to huge queues at visa counters! At Paro International Airport in Bhutan, it doesn't get crowded as there are not too many flights that are landing at the same time! And it you were wondering, Druk means dragon in the local language.
When you are flying into Bhutan you should ask for a left hand side window seat to get the views of high mountains. While coming back it is the other way round. There is no online check-in available with Druk Air so it pays to go to the airport early if you are keen on that window seat.
Indians need a valid passport or a voter's ID card to enter into Bhutan by air. I was using my passport but a journalist in our group could easily enter on his voter's ID card. At the immigration counter they usually ask for the name of the hotel you are going to stay at. They did not ask me for the reservation proof but I had it ready if they wanted to inspect it.
As it was only our flight that had landed and there were many counters, getting the visa on arrival was a breeze. I handed my passport, the immigration officer asked for my hotel name and just as he was about to stamp my passport, I made my request with folded hands, "Please use a used page of my passport, there are very few fresh pages remaining." I have 5 pages left in my passport which is valid for the next five years!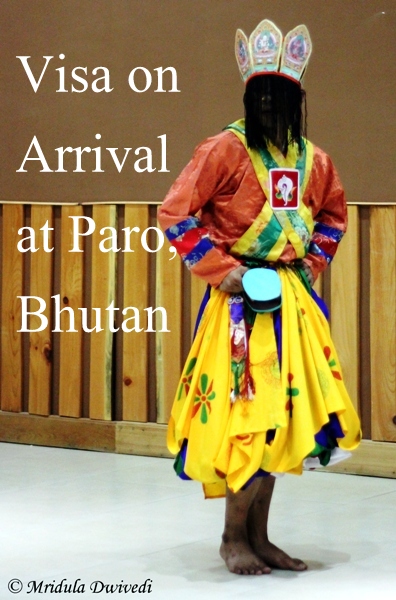 He was kind enough to listen to me and stamp a used page. Since I became aware that my passport pages may run out before its validity, I have been requesting immigration officers at various airports, including Delhi, not to use a fresh page. Surprisingly they are quite accommodating about it!
It was that easy, in the end, to get a visa on arrival for Bhutan on my Indian passport!
PS. I was invited by Makemytrip to visit Bhutan