I have lived in hostels for close to 12 years and mess food killed all my taste buds. However it has been 11 years since I left hostel and I am regaining some interest in food. Mind you just a little, so don't expect much out of this post. I am now going to talk about vegetarian food in Thailand and Cambodia. More likely you get to see how the food looked in those parts of the world!
It also doesn't help my cause that I am vegetarian. I am not that strict a vegetarian. If push comes to a really hard shove I can eat a little bit of fish. Give me rice and fish gravy and I will survive but that is not the food of my choice. I do eat eggs, that gives me another weapon to survive when I travel abroad. I have managed in many parts of the world because they eat rice and vegetables and they are hospitable enough to produce something for a vegetarian customer!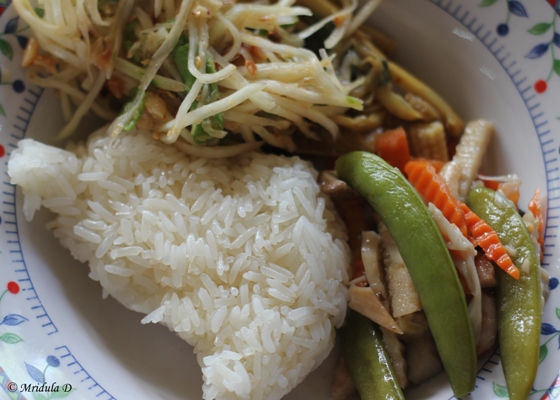 My Lunch Plate at Ban Dong Krathong Yam , Thailand
So I was happy with my lunch plate that had rice, noodles and vegetables. But Thais have great curries too. They have (among others) Massaman Curry, a Red Curry and a Green Curry and all can be done in vegetarian versions. When I travel abroad I give up completely on looking for Indian food. First of all I am not going to find it, secondly if I do, it is going to be overpriced and thirdly I didn't travel to another country to eat Indian food, I get it at home quite easily. Hence I am happy with whatever I can find, as long as it is largely vegetarian.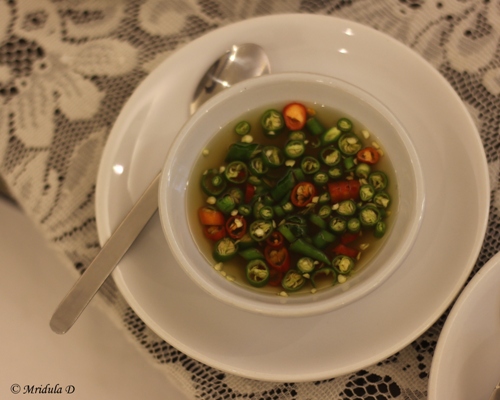 Chilies are Easily Available
Thai and even Cambodian food is flavorful and spicy. I can't take too much spices, particularly chili. My eyes start watering and my nose becomes red if I chew on one small piece of chili even by mistake. But if want your food to be more spicy you can add more chilies! They are easily available in Thailand.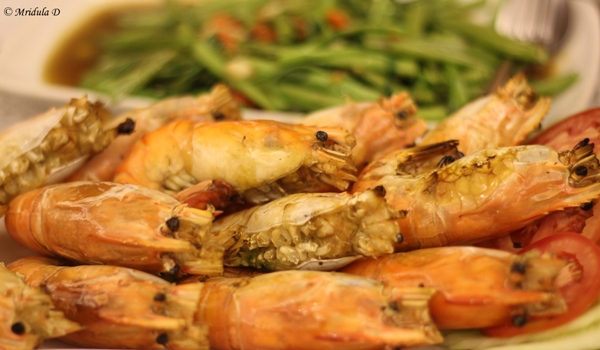 Sea Food at Ploen Restaurant on Viphavadee Rangsit Road, Bangkok
If you like sea food and non-vegetarian of course the entire world is your playground! However, I like travel so much that I am willing to survive on bread and butter rather than miss out on a travel opportunity! I would also say vegetarian options have gone up with time. Ten years back, there have been a time when I have actually survived on bread, jam and cake!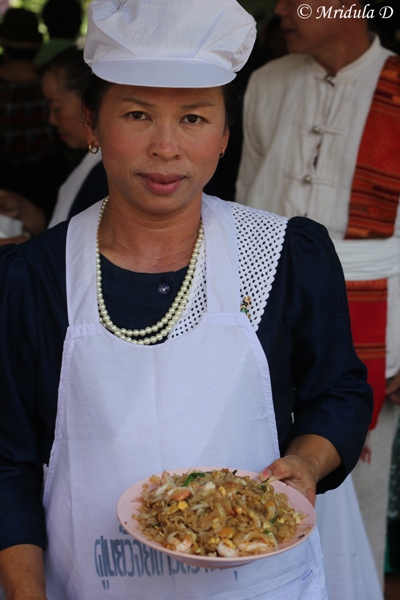 More food from of Ban Dong Krathong Yam, Thailand
And if you are wondering why did I click so many pictures at Ban Dong Krathong Yam, it was because light was good. The lunch was held under a partially covered auditorium which made for better light and pictures. A lot of restaurants keep the light so dim that it becomes a task to click pictures.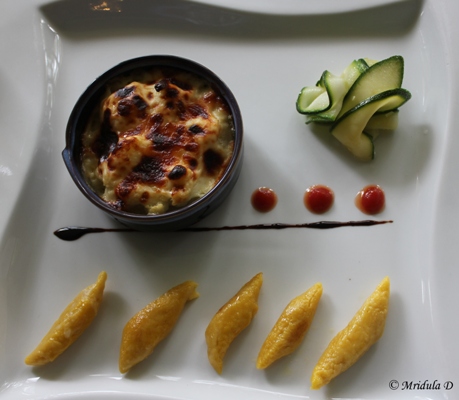 The Starters at Cassia Restaurant in Siem Reap, Cambodia
I usually don't get fazed by whatever I am served. When I looked at this plate, I thought it was the main course. I have to admit even I was a little daunted. But this was just the starter, for the main course we had enough rice and curry to eat for two days if we wanted.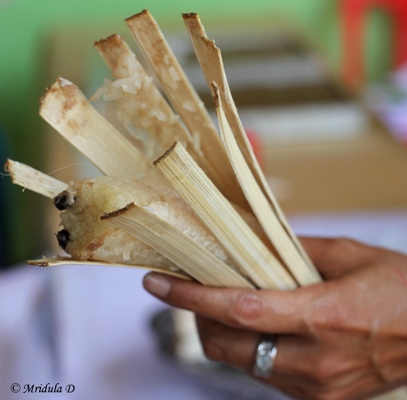 Bamboo Sticky Rice at Ban Dong Krathong Yam , Thailand
I just loved Bamboo Sticky Rice. It is cooked in a kiln in a bamboo and it tastes great. They make an excellent dessert out of the sticky rice with coconut milk and mangoes. Thailand and Cambodia have brown rice as well and it was a delight.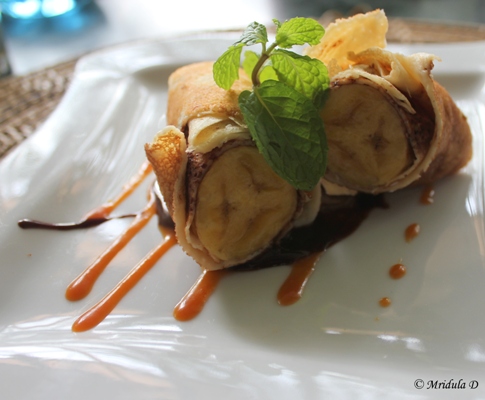 Banana Sweet Dish at Cassia Restaurant in Siem Reap, Cambodia
I am very fond of desserts. I almost never give them a miss. I would be very happy to see when they served a fruit platter for dessert. But I sampled many others too. For example, for this banana pancake like dessert was excellent. Now if you feel that I am not telling you the exact names of the food, remember I am the one with almost no taste buds, my food forays are new. I will get better if I keep at it, which I think I will.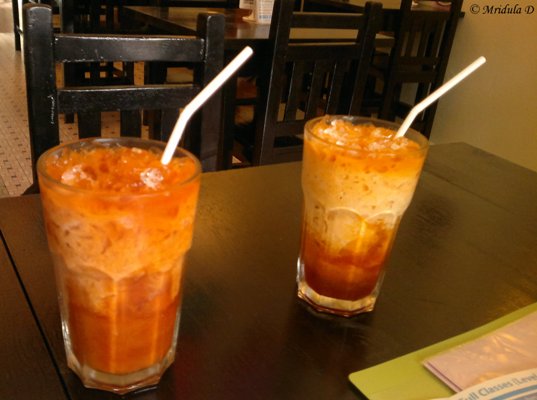 Thai Iced Tea with Milk at May Kaidee's, Bangkok
And that brings us to the most important thing for me, tea. It was different from the milk tea I am used to at home but then I am lucky. I can enjoy tea in its various forms. Thai Iced with Milk is excellent but I have to admit I start longing for my adrak/tulsi chai after a few days! I don't miss the food but I do miss my kind of tea sometimes. But then I love travel so much that I am ready to survive on bread and butter and whatever goes for tea!