What do you say if 5 plates out of 15 are desserts in my collage from Sharjah? Well, I don't need to look far as to why I don't lose weight anymore! I could find vegetarian food in Sharjah. Most of my meals in Sharjah were in hotel buffets. There was a reason for this. On the FAM there were bloggers as well as travel agents. When travel agents are part of the group, you get to see a lot of hotels. And the hotels then mostly host us for lunch or dinner! I ate at Royal Tulip Act, where I stayed, Sheraton Sharjah, Oceanic Khorfakkan, Golden Tulip Sharjah and Zahr El Laymoun, which is a restaurant. I also had a lunch Sultan Saray, Ajman.
Arabic cuisine has fantastic mezze meal which has Pita Bread (Kuboos), hummus, Babaghanoush, fattoush, olives, falafel etc which for me is good enough as meal. However it is otherwise treated as starters.
They also make excellent lentil soup. The bread selection at all the hotels was good. For me the starters and soup and bread were quite filling in itself. I could easily find rice at most of the buffets. Arabic bread feels like roti.
But then what happens when the novelty wears off after a few days? I could always find rice at the counters, sometimes we would pour the lentil soup over it as it tasted like our दाल (curry). But I did not see dedicated vegetarian counters in the hotels. There were live pasta counters at some buffets and they were popular with vegetarians.
In desserts all kind of pastry was available. There were a few local desserts that I tried but I remember the name of only one, the most popular known as Umm Ali. If you don't believe me you can google the name and see if it is a dessert or not. It is made of puff pastry and condensed milk!
But the most rocking thing I had was Arabic Coffee with dates. It is kept in the hotels around the reception area for the guests. The cups are small and the coffee is black and bitter. But it is to be taken with dates (not the valentine day dates but dates as in खजूर) which counters the bitter taste. I wonder how I managed to miss it in Dubai!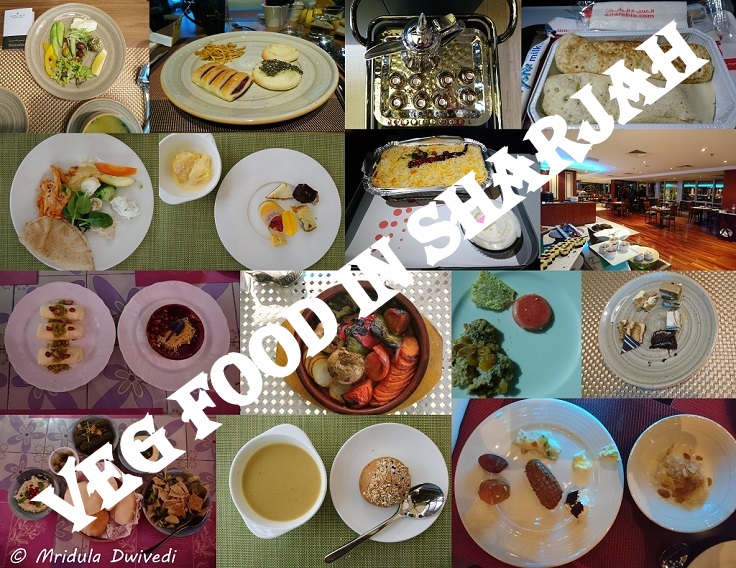 So overall I was fine in Sharjah as a vegetarian. I have a feeling that if we went to more restaurants rather than hotel buffets, probably it would be easier to find more variety in vegetarian food.
PS. My trip to Sharjah was sponsored by Air Arabia and Sharjah Tourism Board.