Let me start off by saying I never faced any problem in finding vegetarian food in Dubai. Right off from the flight with flydubai to the last meal at Meliá Dubai., there was always good vegetarian food available for me.
I was pleasantly surprised by having a vegetarian option in the flight menu of the flydubai itself, there are some perks of flying business! There was rice, vegetable korma, cheesecake (I eat eggs) and more right in the flgiht.
At the hotel breakfast had plenty of vegetarian options. Actually, breakfast almost anywhere in the world is good, more so because I do eat eggs. I could have salads, sprouts, fruits, cereals and then I would top it up with waffles! While traveling breakfast is my favorite part of the day.
I ate a few meals at Meliá Dubai, I could order veg pizza, veg noodles etc. right off the menu. They used to make a great lentil soup, which I was told is a part of traditional Arab cuisine.
But most of the meals we ate out, I think two of my lunches were in Dubai Mall. We sat out as the weather was great in December. On both occasions a variety of food, falafel, breads, wraps, Baked Alaska and the like were ordered and enjoyed. While sitting out for one of my meals, I once reconfirmed with the waiter if the food was vegetarian. He told he, "Daily at least 100 Indians come and eat here and they ask for vegetarian food. You have to trust me that it is vegetarian." I stopped double checking after that!
My feast came at Signature by Sanjeev Kapoor though. Signature for me is conveniently located at Meliá Dubai. I had a dinner there and it was a feast with tomato shorba, chat, pulao, dahi ke kabab, gajar ka halwa and much more! I also enjoyed a drink at the Skybar of Crowne Plaza in the festive city area.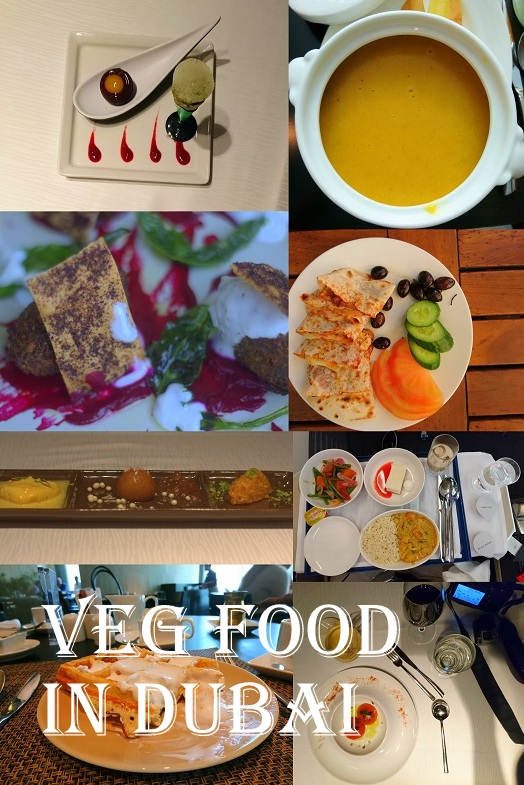 And while I am writing this, I am sitting at the airport waiting to catch a flight to Sharjah, Dubai's neighbor. And once again I am looking forward to some good vegetarian food.
PS. My trip to Dubai was sponsored by flydubai and Meliá Dubai.