I was revisiting Udaipur after 14 long years. And this time I was spending even less time in the city. I had one evening to be precise. I was invited by the Rajputana, a Justa Group Resort. The good folks were willing to host me for longer. It was I who had no leaves left in March other than the Friday I managed to club with the weekend. How I wish I had one more day! At Udaipur I spent some time at the City Palace and the Monsoon Palace. I am sure I have missed out on a thousand things but just these two made for such a memorable evening.
I did a rushed tour of the city palace, you guessed it, due to lack of time. But even then there were places which would make me stop dead in the track. This view of the city for the kings and queens was one such spot.
I was moving around the city palace like a woman possessed as I had only one and a half hours to spend before it would close for the evening. I realized how big the place was when I tried to cover it all in that short span of time. Still this warrior made me pause again for the rich details in the painting! They made things to last for a really long time in those days!
When I reached the Monsoon Palace the sky was already in a benign mood. The palace offers excellent opportunity to watch the sunset over the city with panoramic views all around. I had missed it when I visited Udaipur in the year 2000. I highly recommend this place for its views of the city. The palace has not much to offer in itself but the views are to die for.
As it was March, the flowers were in full bloom. There were other visitors too but not so many that we got on each-other's toes. In fact I asked a few of them to click my pictures too.
Kunal, my host from the hotel, and I were discussing later that school books conveyed such a typical picture of Rajasthan! I for sure thought that it was all desert till I visited it for the first time in 1990! Greenery and hills are so contrary to the typical notion of desert and yet this is Udaipur, Rajasthan.
This is one of the views you get of the city from the Monsoon Palace. If I am not mistaken the lakes are Pichola and Fateh Sagar. The drama in the sky provided the icing on the cake. I tore away myself from this spot with a lot of difficulty.
I was one of the last persons to leave the balcony, so mesmerized I was with the view.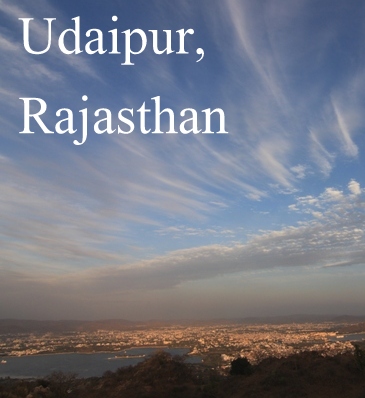 It is a pity that I had just a few hours in the beautiful city of Udaipur but on this occasion they were enough.