So many emotions that run through my heart when I think of my recent trek with Chhavi. We trekked up to Jamadi in Himachal Pradesh. It is not the first trek that I did with her. In fact, we took her on treks when she would go up on a pony. This was the first trek where she walked all the way on her own along with me. Trekking with my daughter is so special.
As I said before, I would lying if I would say it was easy. But it is quite incredible the way she has grown up and the distances she can walk now! We both enjoy being outdoors.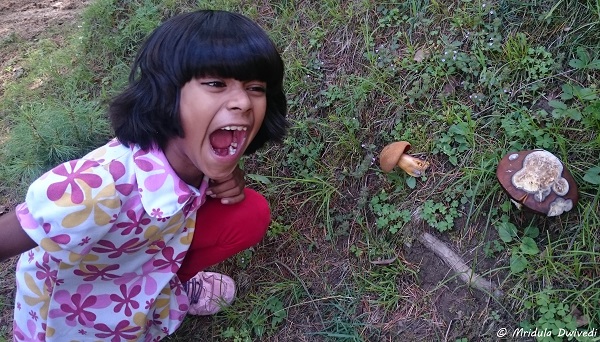 In a way we are similar. Both of us do not like to get our pictures clicked. I have realized that it is easy to click if she is doing something, for example pretending to eat a mushroom! But let me start at the beginning.
Long time back, in 2011 we walked up to the temple above Jagatsukh. Chhavi was so small that she was mostly carried by people on their shoulders. I clearly remember that she fell asleep in Om Prakash ji's lap while coming down. It was difficult to wake her up later in the evening.
This time, our first campsite was beyond the temple at a place called Baggi. And she gave us absolutely no trouble in walking up to Baggi.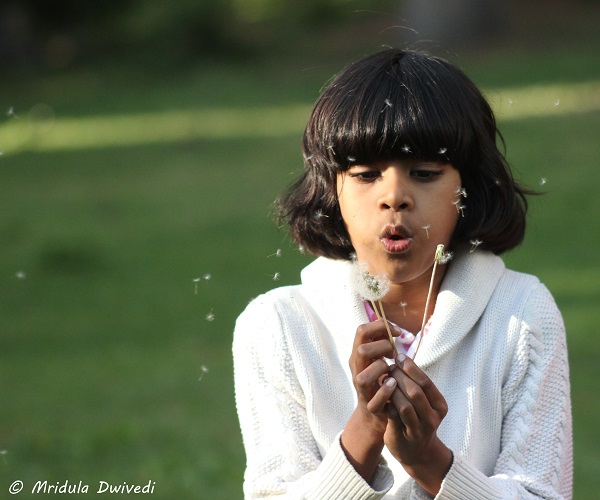 The days were really long, so we had ample sunlight after reaching the campsite at Baggi. She played with a mountain dog most of the time along with her friend Kashwi. She obliged me with the photograph as well! She ate well and posed no problems in falling asleep.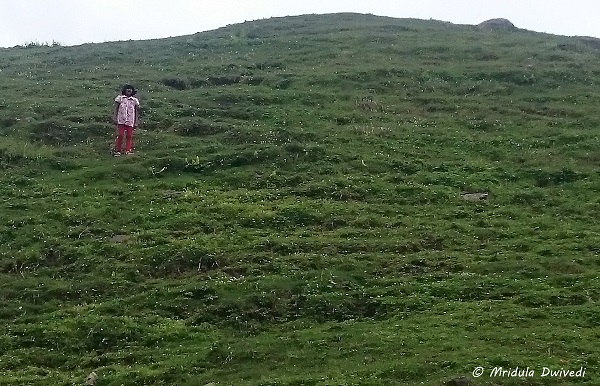 The second day's walk was longer and more uphill. Mid way both the kids started cribbing that they were tired. We took ample breaks. Just before this hillock, we gave them chocolates and juice. Something happened to Chhavi after that.
My husband and I were never any match for Chhavi when she got down. Even two years back she just ran downhill while I would tell her to slow down or else I would fall.
This time after chocolate and juice she started running uphill, leaving me far behind. There she was, standing quite close to the top and telling me, "Mommy don't stop, trekkers should keep walking!" And there I was huffing and puffing and marveling at how fast they grow up! Right behind the edge was our campsite!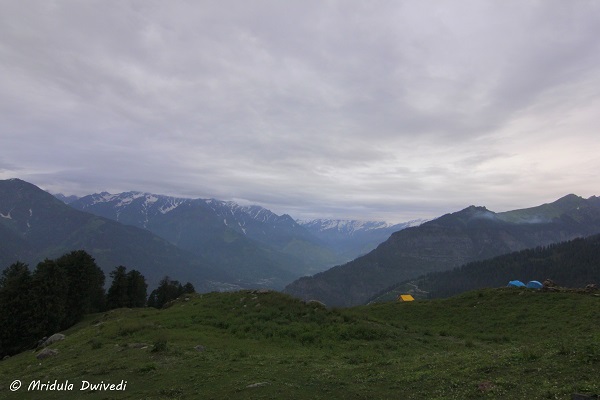 All the three tents belonged to us. Actually there is a more popular campsite a little ahead but as the kids were tired, we camped before the main place. I loved it, having the whole place to ourself!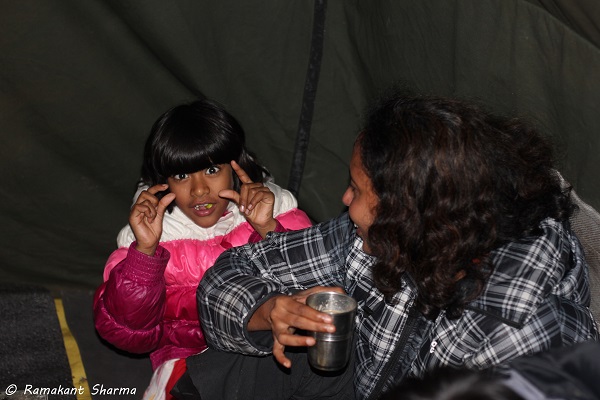 At Jamadi it was cold, the jackets were out. After walking so much, the kid was hungry and would eat on her own! It is such a blessing. She has never been fussy about falling asleep!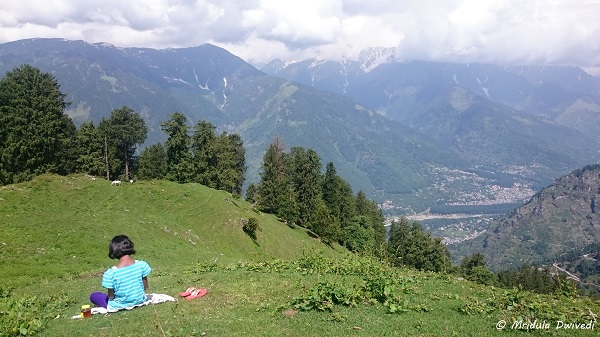 The next day by the time I emerged, she had found a quiet spot for herself and told me that she wanted to be left alone! This was a first. My guess is that the kids fought with each-other and hence this demand for isolation. She was having her breakfast sitting there all by herself. She would ask me to pass on the beard and stuff but nothing more!
However, as soon as she had some bread inside her stomach, she told me she was sorry that she asked me to go away! I said it was alright as I do the same at times!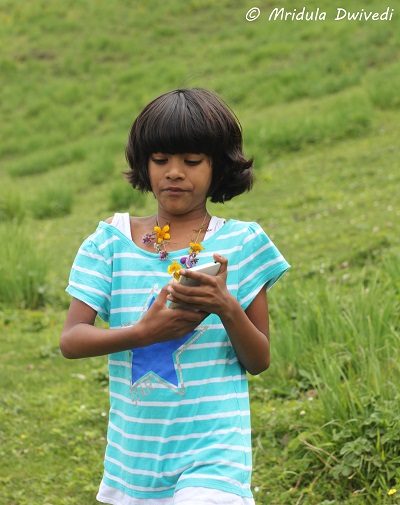 When I asked her what she liked most about the trek, she told me loudly- the flowers! The meadows were full of wild flowers which the kids loved to collect. Rama Kant ji made this necklace for her! When I asked her what she liked the least, she told me- the rains!
It was a strange trek in the sense that our phones worked. Because of the kids, we trekked only a small distance. She would talk to Seshadri everyday. When she would be very tired she would tell me, "isse acha hota mein aate hi nahin, papa ke paas rahte." (It would have been better if I stayed home with papa). She once started crying that she was missing papa as well.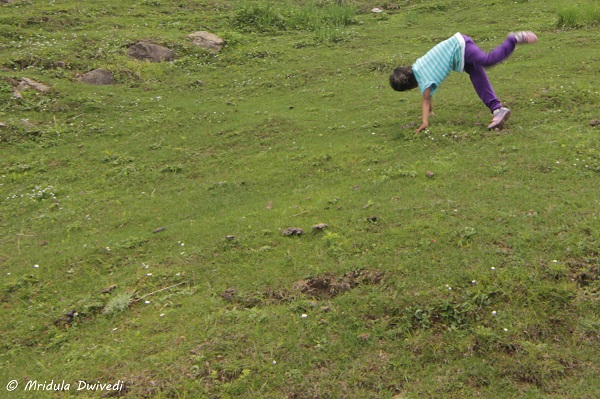 And when she would be in a happy mood, she would start doing cartwheels without any warning! Overall if you ask her if she would trek again her answer is a firm yes!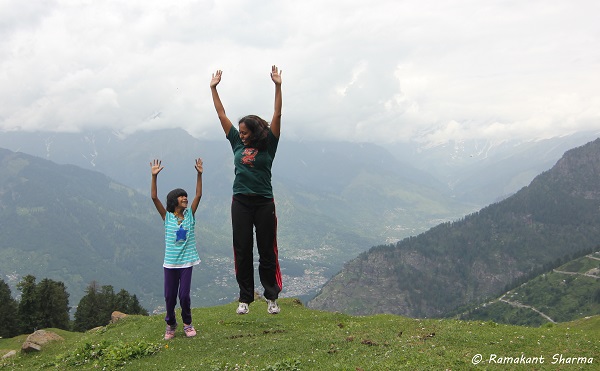 And here it is, when she would simply rise her hands and laugh at me, who jumped for the sake of the picture!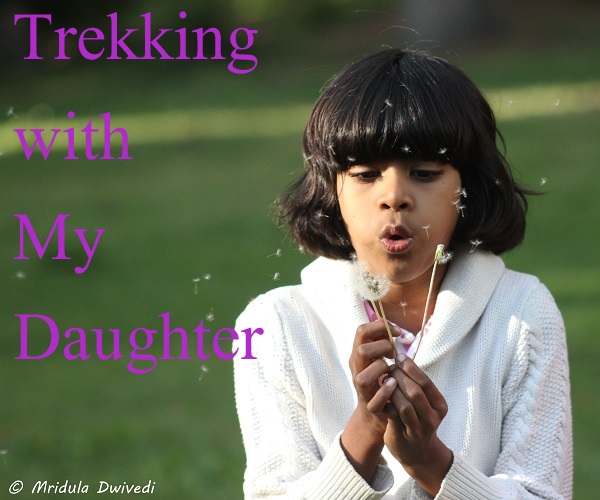 True to her form, she just ran through the way while getting down to Jagatsukh, whereas I made up the rear with my creaking knees! But trekking with my daughter is so much fun. I hope she will like trekking even after she grows up!