The recent Pushkar trip was the first daughter-mother trip. She has been with her father alone many times, the best their trek to Kareri Lake in Himachal Pradesh. The way the trip went, I think there are going to be many more daughter-mother trips. Here are some things I learned while traveling with her. It is my experience of traveling with a child in India.
Taking it Slow: When I travel alone I completely tire myself out. Seshadri and I last traveled together in 2009 before we adopted Chhavi. I have almost forgotten how it was when we used to travel together! With Chhavi I have to take it slow or else I would end up with a very cranky child. So after we landed at Pushkar we ate at the RTDC hotel itself. And then we went to sleep as we took the early morning Shatabdi. Now if I was traveling alone, the motto has always been- sleep be damned, that sunset is more important. When we woke up we headed to eat something. She took some milk and I had my tea and pakora. I would never do it if I was alone. I would have rushed to the lake to click the sunset. This way I have only one sunset but I think it was one of my least tiring trips.
What Works at Home … What works at home may not work on a trip. This was the biggest lesson I learned on the Pushkar trip. Chhavi likes to color and we encourage her. It is much better than watching TV all the time. She also likes to run around and play but sometimes we need quite time without TV and running around. And painting as she calls it always comes to our rescue. So I bought her a color set and a giant coloring book at Pushkar. Only she converted one of the white hotel towels into multi-colored hues! That was a big lesson for me. At home even if she splashes color over something accidentally either it can be cleaned or it is to be written off. The hotel staff was very nice but colors and white linen don't mix well!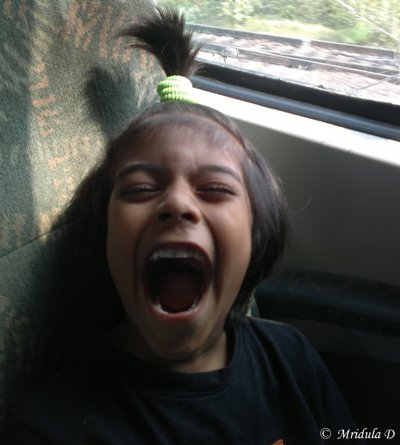 Pretending to Shout- When All I wanted was Sleep
When You Want to Take a Nap! In the Shatabdi Express train (which has chairs and not sleepers) all I was looking forward to was sleep. I do not take well to getting up early because I always find it impossible to sleep early. My daughter had other ideas. We had two seats, window and middle. I put her on the window seat thinking that I would wake up if she ever tried to cross and go out of her seat. She never budged from her seat but every three minutes like the Shrek's donkey she would wake me up and ask- "mamma kaab aayega" (which would actually translate to- are we there yet)! I had it after 160 times. I made her sit down and within 15 seconds she was fast asleep. However, I was now wide awake. While returning I told her she is not to ask to 'kaab aayega'. And surprisingly she didn't. I still don't know of an easy way of taking a nap while traveling with a child.
Simple Things: Traveling with Chhavi makes me appreciate the simple things. She will not judge the room and so what if the TV was small and not mounted on the wall. She was happy because she could watch her cartoons. The lawn behind the hotel was big and she didn't care for anything else, she would go running around it and have a jolly good time. For her the market was a treasure trove and not just a few small by-lanes. The lake was where she spent most of her time. But while walking out of it for the last time even she said- "isko thoda saaf kyon nahin rakhte" (why can't they keep it a little clean)? If I had not seen Pushkar through her eyes and pranks I wonder if I would have enjoyed it as much!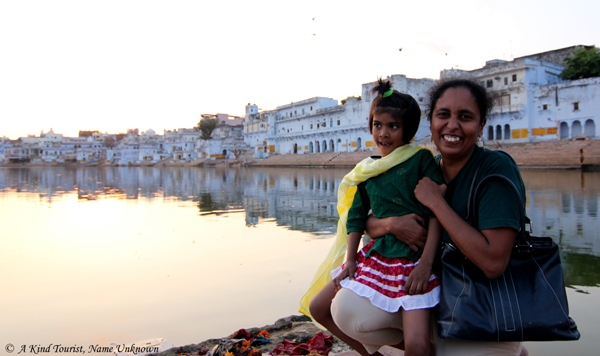 Daughter Mother Trip
Traveling with a Child is Fun: In the end I can't remember when I had so much fun on a trip! I am thinking of dragging both Chhavi and my niece Vasu on my next trip. I would get hassled with Chhavi but in the end she is an accommodating child on trips. She has this fascination with tissue papers (since we took her on our first trip to Rishikesh) kept on the table. She can play with it for hours without getting bored. Now did you ever noticed tissue papers in a restaurant? Well, neither did I! She surprises me as well. I told her that on the last day we were not going to do much as we were going back. I expected that she would protest. But she told me- tihk hai, nahin tou hamre train chut jaayege (that is fine or else we will miss our train). She likes to travel but in the end she is happy to go back as home is the familiar territory.
These impressions are based on just one solo daughter-mom trip. I am eagerly waiting to travel more with her and to update my wisdom list!