Chhavi and I are back from Deoria Tal. It was one roller coaster ride from here to Deoria Tal and back. Traveling with a child makes it all the more fun and unpredictable. There are a lot of dos and don't for my travels. A child makes them go haywire without even trying!
Traveling with a Child
5. Avomine and Sleep: I have motion sickness on the mountain roads. Do you see the irony? I love mountains and yet to reach there either I puke or I take Avomine and get zonked on it. I miss out on the scenery completely while I am on the road! After taking the medicine I fall asleep and I wake up only when we are close to the destination. There were times when the cab driver had to wake me up saying you need to get down now! So my theory was that you cannot keep awake after taking Avomine. It took a child to prove the theory wrong! This time even after taking the anti-nausea medicine I was wide awake most of the time because I had to make sure that Chhavi was comfortable. While coming back from Deoria Tal to Haridwar I didn't sleep a wink and that is a personal record. This was the first time I could see some of the views on the route. There are unexpected benefits of traveling with a child!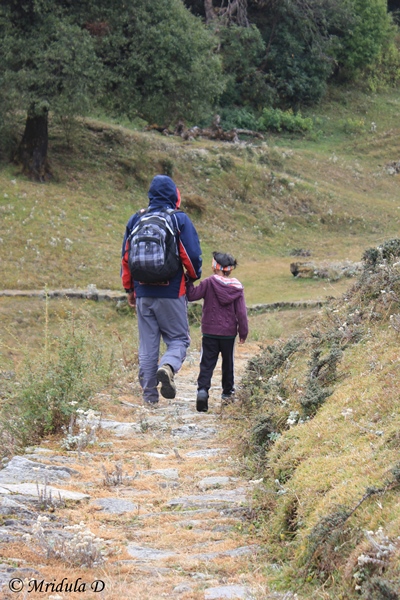 Chhavi Walking Downhill with our Guide Sohan Singh Bisht
4. Shelling Out Money: We started from Deoria Tal on foot. After walking downhill for 3 km we reached Sari village. Chhavi walked down for most of the way. It was for less than half a kilometer that Sohan Singh ji carried her down. Then we took a booked jeep to Ukhimath, after that a shared jeep to Rudraprayag. Then we said bye to Sohan Singh ji who was going to Joshimath. We boarded a bus to Haridwar but realized it was going up to Srinagar (there is one in Uttarakhand too) only. Then we took a bus to Haridwar. We started at 8.00 am and reached Haridwar at 8.00 pm. Imagine doing that with a 6 year old! It is my motto to do budget travel (unless invited!) but I broke it this time. I asked for the phone number of Country Inn and Suites at Haridwar from my sister. Then I called them and asked if they had a room? When the reply was affirmative I told them to hold a room for me. I spent on the room, food and cab to the railway station in one night what I did on the entire trek! But Chhavi was so tired that I didn't want to get down at the dark bus station in Haridwar and search for a reasonable budget hotel. She loved the room and I think once in a while it is OK to break my cardinal rules!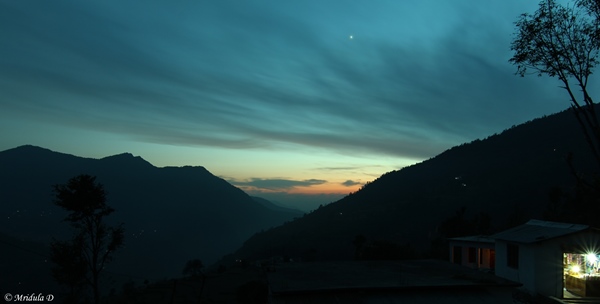 Sari Village at Dusk, Uttarakhand
3. Chhavi and Motion Sickness: We have taken Chhavi to the hills many times before. She never felt motion sickness. So we assumed that she is lucky she doesn't get it. All our previous trips have been overnight where she slept like a log within no time. This time we were on the mountain roads during the day as well. On our way from Rishikesh to Rudraprayag she told me she felt like vomiting. I was quite surprised. Thankfully the bus stopped for breakfast soon after and I gave her less than half an Avomine. The bus started and she vomited within no time. You know how bad it feels when kids become unwell. She had vomited the Avomine too. But my little one slept after it. Thankfully we had an hour's break at Rudraprayag where she settled down. I gave her less than half an Avomine again and she managed fine till Sari Village. There is one thing about Chhavi that makes traveling easy with her. When we are in a real crunch she will never trouble me. But give her a nice seat in an AC coach and she will be up to a thousand pranks!

Chhavi Making Paratha at Deoriatal
2. Making Parathas at the Tea Shop in Deoriatal: The young boy running the canteen invited Chhavi to sit near the fire in the morning as it was cold. She wanted to help in preparing the breakfast. And they gave her an opportunity to roll out the parathas. I was surprised how well she did it! The boy actually used her creation to make the breakfast!

Chhavi Selling Tickets to Haridwar!
1. Selling Bus Tickets to Haridwar: When we boarded a bus at Srinagar which would take us to Haridwar, I was quite worried. It had already been a long day and we had 4 hours of bus journey still to complete. I bought two seats so that Chhavi sit in peace and sleep as well. She had other ideas. If you have traveled on Indian buses you know how conductors shout the name of the destination where the bus is headed to. Chhavi decided to join in and tried her hand at selling tickets to Haridwar! She took the conductor and me completely by surprise. You never know what will happen next when you travel with a child!