I was in Nepal when I first got to know about the Kedarnath (and related areas) tragedy. I was trekking in the Annapurna Circuit region and phone connectivity was not good at all. So the one day when I could call home from Nepal I heard of the cloud burst. At that point the damage figures were still being quoted low.
Once I came back I just refused to watch the visuals related to the tragedy, I do not feel brave enough. I only saw some passing images on TV and was shocked to see some Hemkund Sahib visuals as I trekked there last year myself.
Then came the news of mass cancellations of holidays in Uttarakhand and I had a personal dilemma. I was invited by Te Aroha at Dhanachuli, Uttarakhand quite a few months before and I had given the date of 28th June to 1 July. Now this was much before even my trek in Nepal and there was no sign of any tragedy in the region.
When I was in Nepal and I didn't know much I too, with a heavy heart, thought I would have to cancel the trip. But once I came back and started reading I came across an appeal (and for love or search I can't find it again) which said that tourism in the unaffected areas is taking a severe beating and it would be detrimental to the economy of an already devastated area. That was my starting point.
As I said in a previous post I then did a Google Earth search for Dhanachuli and Kedarnath and the difference in the visual was quite reassuring. Then came the task of convincing the family. Surprisingly it was not too difficult. Folks were not too happy about my trip but they did let me go.
Uttarakhand is vast and not every area is affect. I visited Dhanachuli after taking the Shatabdi from Anand Vihar Railway Station to Kathgodam. It is entirely operational without a hitch and there is no rescue work going in this area which my visit may hamper. In fact the hotels want tourism because these are the months when they earn. And these areas are safe with the normal hassles of mountain rains. On the way I crossed Bhimtal and it was also entirely connected and normal. My cell phone worked and roads were there as they are in the rains.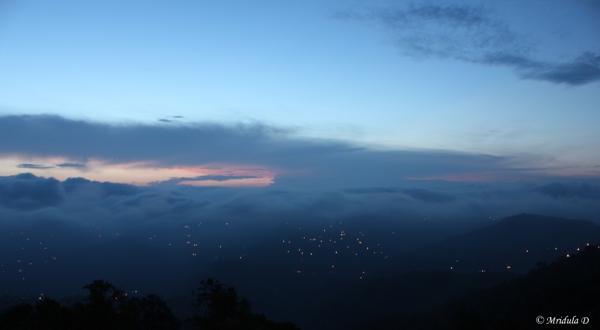 Dusk at Dhanachuli, Uttarakhand
Even Te Aroha has seen cancellations but some tourists have started trickling in. When I was there there were other guests. One family with a small toddler too. I had a great stay and some rains. Hardly any big mountain view (but this seems to be the theme of my summer travel this year, after all I came almost empty handed from Annapurna region in Nepal) but very nice weather and a fabulous time in all. The posts will follow but I thought the ground condition needs to be clarified once more. Also I will get back to my Nepal chronicles once I am done with this small but fabulous visit to Dhanachuli, Uttarakhand.
So while doing the two hour journey from Kathgodam to Dhanachuli the road was clear, a little weary for the mountain rains but perfectly road worthy. So if have travel plans to the unaffected areas of Uttarakhand think again before cancelling them. The industry needs your business. Do check the weather before you go, take all precautions but do not cancel your trip just like that. I will repeat I am talking about the unaffected areas in Uttarakhand.
If you have any questions about my trip do drop in a comment or an email. I will try my best to answer.