I have been so busy traveling that I didn't even think of writing a travel roundup for the first quarter of 2016. I am late by a month, but I decided to still do it! The trips have been short but many. So this is where I went till March 2016.
Ladakh in Winter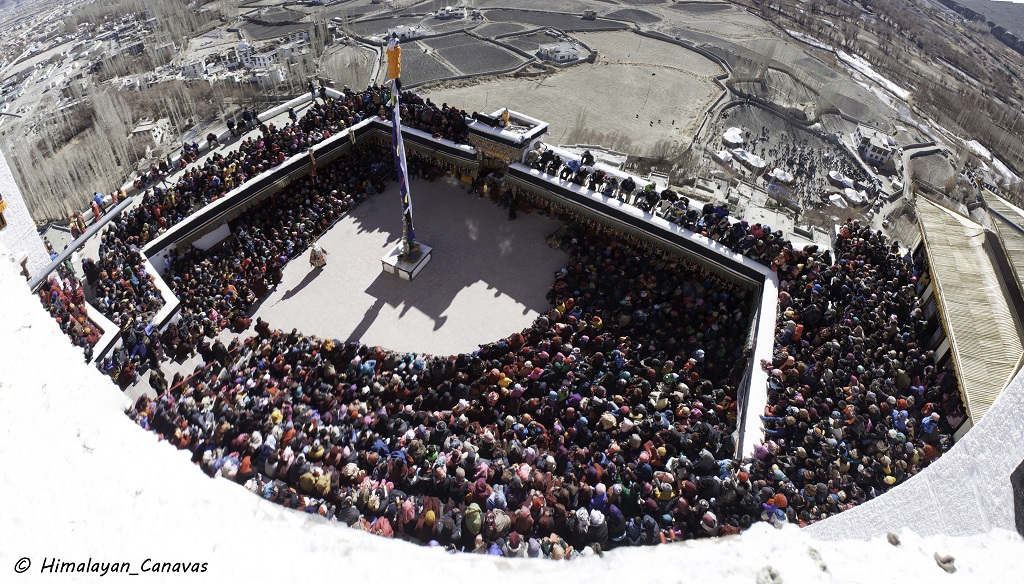 Photo Credit Himalayan_Canavas on Instagram
Ladakh in winter was just the start that I could have hoped for 2016. There is something magical about Ladakh, doubly so without the crowd. There were just a handful of tourists at Spituk Gustor. There were no visitors at Alchi except our group. It was bitterly cold but it was fun. This trip was sponsored by the Grand Dragon Ladakh.
When I stayed in a Palace!
The invitation for the trip came in a mysterious way! The young girl at the other end of the phone told me, "Ma'am we want to invite you on a trip but we can tell you the hotel we can't tell you the destination!" I am glad I said yes, because the hotel was the Umaid Bhawan Palace at Jodhpur. The secrecy was to protect the announcement of the Tripadvisor Reader's Choice Award. I knew the results a few days before but under strict embargo!
And what a trip it was, completely out of my league, more so for my one night stay at the Maharani Suite, one of the most expensive hotel rooms in India. The trip was sponsored by Tripadvisor and Taj Hotels.
OPPO F1 Launch in Mumbai
When I started blogging cell phone reviews (or any other gadget for that matter) used to make me nervous. I now accept gadget review requests without batting an eyelid. I attended the OPPO F1 launch at JW Marriott Sahar in Mumbai. I got to use the phone on a returnable basis and it is a decent phone for its price range! This trip was sponsored by OPPO. And that was all for January.
Sanghol, Punjab for an Academic Conference
Attending a conference at Sanghol was the only touch I had with academia so far! OK that is not strictly true, I review articles for two international journals even now. It is getting on close to one year since I quit my job and I show no signs of going back to work. Along with the conference I was happy to explore the Buddhist heritage of Sanghol.
Gujarat with the State Tourism Board
I had great time in Gujarat with the tourism board. I re-visited the Great Rann of Kutch. Then I explored the Little Rann, Rani ki Vav and the Modhera Sun Temple. Ahmedabad saw me going on a heritage walk. I really liked the trip because Gujarat Tourism Board did not put us up in any shabby hotels. Many state tourism boards cannot get their hotels right. No such problem in Gujarat. Neither did they waste our time. I saw a lot and I had a great trip!
Women's Day with SpiceJet
Like many other airlines did on the Women's Day, the Delhi-Bangalore flight also had an all women crew including the service engineers. But the day was special because SpiceJet invited women who were former prison inmates to join the celebrations. There were women from rural background too. Other than one lady, it was a first flight for everyone from their group. It was an experience completely out of my comfort zone. And that brings us to the end of traveling in February.
Abbotsford, Nainital
March saw Chhavi and I spending two nights at the Abbotsford Heritage Homestay in Nainital. It is always fun to travel with Chhavi! We had a gala time at Abbotsford enjoying home cooked food and taking long walks. The hot water bottle in bed on the cold nights was just super awesome! The trip was sponsored by Abbotsford.
Rajasthan Diwas, Jaipur
The last trip in March was to Jaipur to join in the Rajasthan Diwas Celebrations. It was fun to photograph fashion shows and celebrity singers like Arijit Singh and Salim-Sulaiman. But the show stopper was the army pageant. And I found a beautiful baori near Amber Fort! The trip was sponsored by the Rajasthan Tourism Board.
April has seen me do more trips and there are a few lined up each month as far as August. I can't complain for the travel bit after quitting my job.