It is time to continue with the travel rounup 2014 and pick up just one picture from my next five trips. The next five trips were to Ranthambore, Pratap Palace near Ajmer, Jordan, Thailand, and Kashmir.
Ranthambore, Rajasthan (With Aircel's Save Our Tigers)
In so many trips to various national parks, this was my second tiger sighting! I went to Ranthambore with the Aircel's Save Our Tiger's initiative. I have to admit my tiger pictures from pench are much better but then seeing a tiger in the wild is always special, however fleeting the glimpse might be.
Ajmer, Rajasthan (with Pratap Palace Hotel)
I was staying at the Pratap Palace on this trip. The hotel in mid way between Ajmer and Pushkar. I went there just for one night! I was not sure if it was a good idea, but it actually turned out to be quite fine. I guess traveling by the train made all the difference, I get very tired on road trips.
The picture was taken outside the Ajmer Sharif dargah. I have now been there three times. I do not feel comfortable in crowded places and yet the dargah is a must visit place. It is also a fantastic place to capture images outside on the road. Within the dargah you cannot take in a camera but you can carry your cell phone.
Jordan (with Jordan Tourism Board)
It was a close contest between posting the Pope's photo or this one from the Dead Sea. In the end I decided to go with the Dead Sea because I recently posted the Pope's picture. Jordan was a really special trip because of Pope's event but Dead Sea was also a lot of fun! The most pleasant surprise in Jordan was there excellent vegetarian spread with pitta bread, humus and delicious salads.
Thailand (with TAT New Delhi)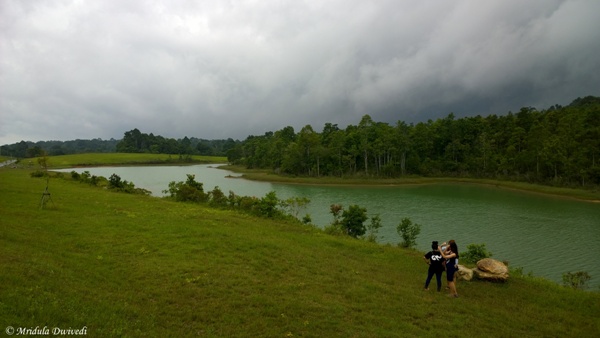 Khao Yai National Park #Lumia1020
Khao Yai is about two and a half hours drive from Bangkok. It is the oldest national park in Thailand. I didn't had much luck with wildlife sightings but it was a beautiful scenic place to visit. We went in for a night safari as well but it rained a lot that night. Of course, I went shopping in Bangkok on this trip. I got many nice pictures on this trip. I think I posed this one because of the greenery.
Kashmir (with Kashmir Tourism Board)
This was my second trip to Kashmir and first stay in Srinagar. I did not get to do the paragliding which was a pity but then clicking pictures is the next best thing that I like to do. This trip gave me many beautiful pictures and choosing just one was a difficult task. But then this one appeals to my sense of adventure.
I will post part 3 in the next week!