I cannot believe that a few months before I was talking about cancelled trips! I have traveled a lot since then. I went to Gulmarg, then we first went to Jagatsukh, then to Sri Lanka and finally I traveled for work to Guwahati and Shillong. And I never thought I would say it but I feel tired today.
Actually between Sri Lanka and Shillong there was hardly a gap! I arrived on 23 April, late at night, took a colleague out for lunch on 24th along with completing paper work for another visa (let me get it and the details to fall in place and then I will talk about the destination. All I can say now is that I am excited) and left the next day for Guwahati from office itself. Now that was hectic. I landed yesterday night at Delhi and today I was back at work (I save leaves for travel so no off day for me just because I am a little tired).
I have never traveled like this before and I have to say I found it hectic. I am not saying that I would ever give up on a trip because it was hectic. But before this stretch I never thought of travel and hectic in the same sentence.
Also with functional internet connection at both Sri Lanka and North East India I managed to keep blogging which adds to something, I don't know what. Don't get me wrong, I love having internet connection while I travel but it means after everything is over I have to find some time to write a post. I know this is self imposed and no one is forcing me to do it but then it probably adds to the fatigue. And I can hardly fall asleep if I have not blogged that day!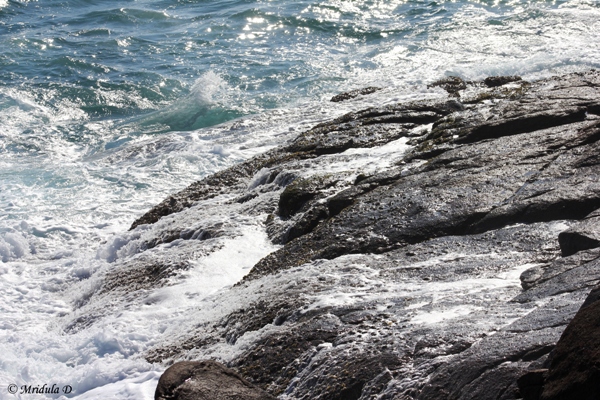 The Sea at Mirissa Beach, Sri Lanka
Also I started missing home food. We are no great cooks and the food is very average at home but after a few weeks of being on the road I was longing for some daal, chawal and ghar ka sabzi. This is also a first for me! Of course I missed my daughter too, a little more than all my previous trips this time!
So while I am looking forward to my trip in mid May (I do hope all the chips fall in place) but from now to 9th I want to recover first. I am going to keep my weekends free and not cram anything else in between. Or so I hope!