We are continuing with our Paris saga, this post has been written by my sister Alka. We visited Paris in November 2018. Over to Alka.
When my sister asked me, what if we visit Paris this year, my joy knew no bound. Paris always fascinated me. Being a student of history, French Revolution, the fall of Bastille and the rise and fall of Napoleon held a special place in my mind and heart. I could not wait for our trip to begin.
Our first stop in Paris was the Louvre Museum as it was on the same Metro Line as our hotel. But at that time, we didn't go inside to see Monalisa. It was late and we decided we would go back early in the morning the next day!
We visited the Eiffel Tower next. The minute I reached there, I felt as if I was in Atta Market, Noida! The milieu was so hilariously similar. If you have been to Atta Market, you can easily understand what Im trying to say.
There you are, enjoying the hustle and bustle of the local market established upon the pavements, with cars and buses incessantly honking and the shopkeepers, busy selling their goodies, paying scant regard to the inconvenience caused to the passers-by.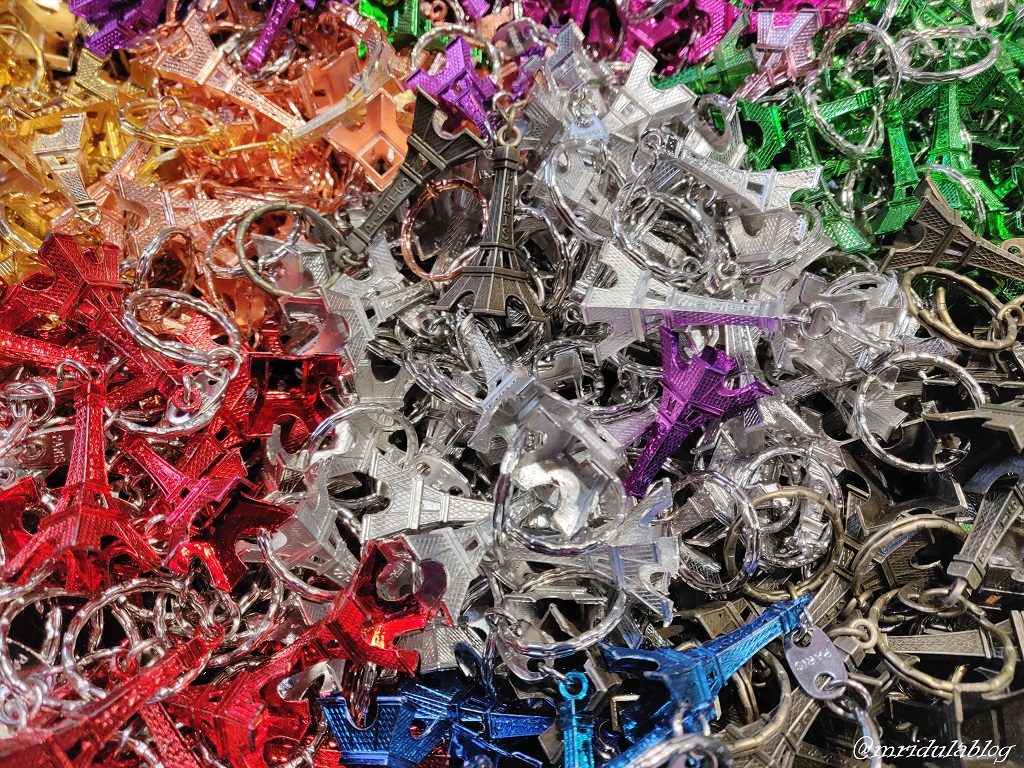 And then suddenly there is this insane scrambling, firstly originating at the extreme end of the street and then causing a ripple of commotion throughout the settlement. The shopkeepers start winding up, collecting their belongings in sheets and running helter-skelter, alerting their fellow shopkeepers, "Committee wale aa gaye, bhaago! Committee wale aa gaye!"
Well, I witnessed something similar near the Eiffel Tower. I first threw a glance at all those shopkeepers selling their goodies, then I beheld the beauty of the Eiffel Tower, engrossed in my "aha!" moment just for a few seconds and then suddenly, there was commotion.
I saw the shopkeepers, scooping their goodies in their sheets in a single, swift sweep, and running away from the payment, just the way they do it in Atta! Uttering and screaming in French, Im pretty sure, "Committee wale aa gaye, bhago!" I laughed uncontrollably.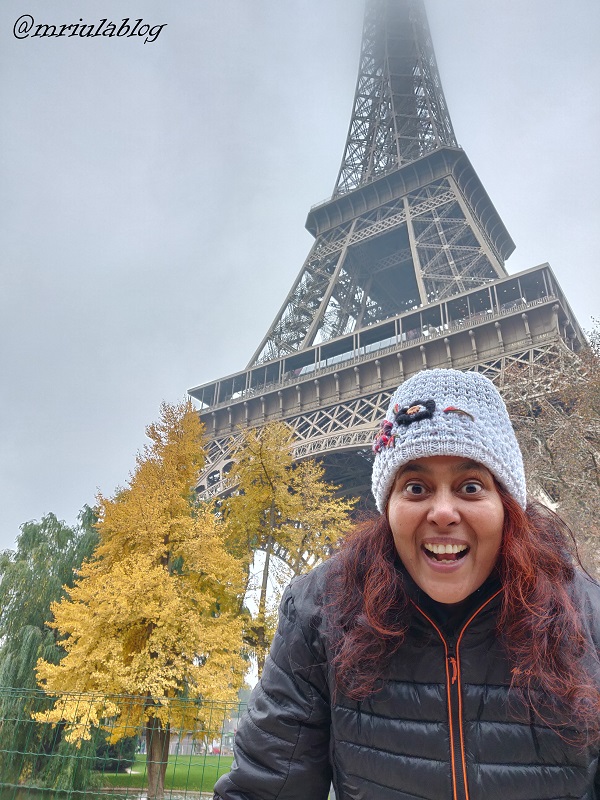 Next we went inside the Eiffel Tower area, admired its beauty and clicked pictures to our hearts' content. I even made a video call to my kid and husband and showed them the Eiffel Tower.
But we decided against going at the top as it was a foggy day and we would not have gotten any view of the city from the top. You see, how with age, wisdom comes knocking at your door, whether you appreciate it or not.
When we came out of the Eiffel Tower, the pavement shopkeepers were back doing brisk business, after happily sailing through the danger and dodging it successfully.
After spotting us, one was even trying to sell us a small replica of Eiffel Tower, by shouting, "Ek Euro! Ek Euro!"
We came out of the Eiffel Tower area and started searching for a place to sit and admire things while munching on something. We had baguette sandwiches with coffee. To two tired and hungry individuals, our snack tasted heavenly.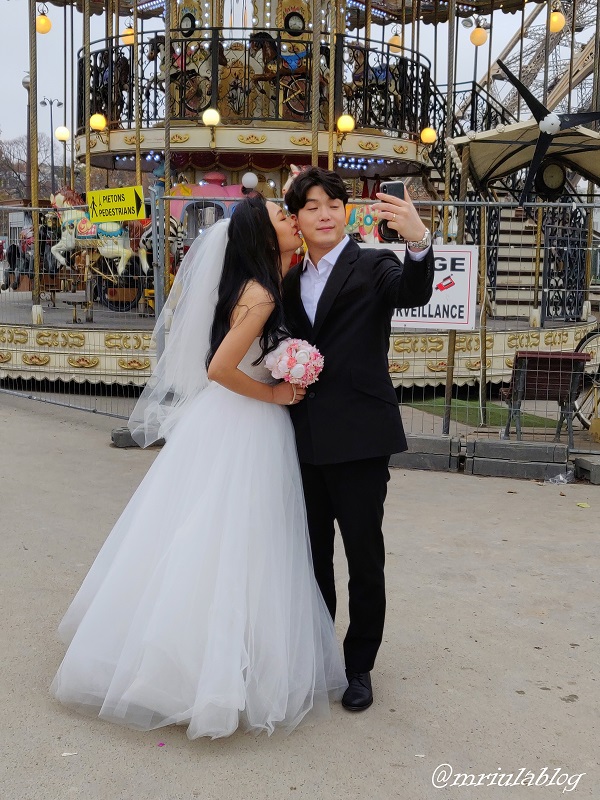 We enjoyed our snacks while watching a wedding shoot. The bride looked out of this world and obviously, the bridegroom beamed with pride at his choice.My sister put on her photographer's hat and gatecrashed the wedding shoot.
After a while I saw , my sister was not alone and others too were clicking away the bride and groom happily. Being the lazy one, I just kept on eating and sipping my coffee and thanking God, that my sister has not acquired the habit of crashing a party so that she can do some food photography!!
I know she is not a foodie, but has a photographer's eye, and an insatiable hunger for good photo opportunities. Rejuvenated, and with our hunger satisfied, we started walking along pathways near the Seine river.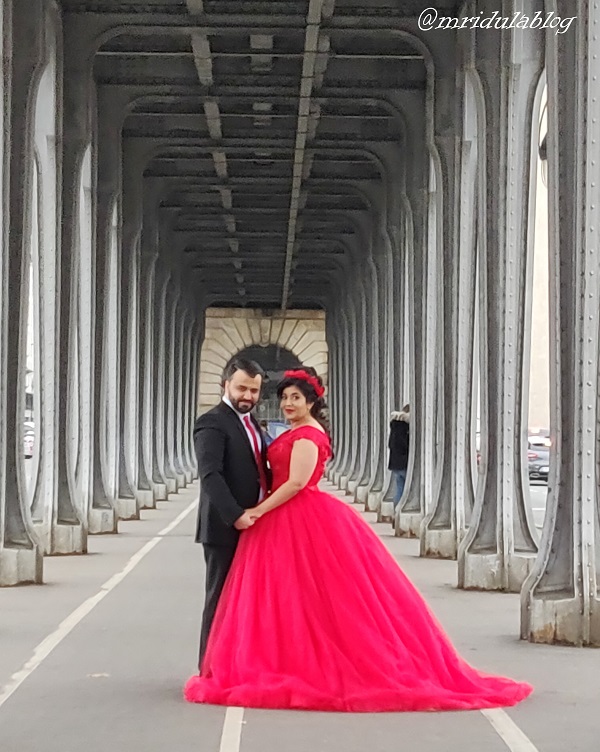 My sister suggested we should go to Bir-Hakeim. It's nearby. We would get a fantastic view of the Eiffel Tower from that bridge. She was absolutely right. And we witnessed two more pre-wedding shoots there!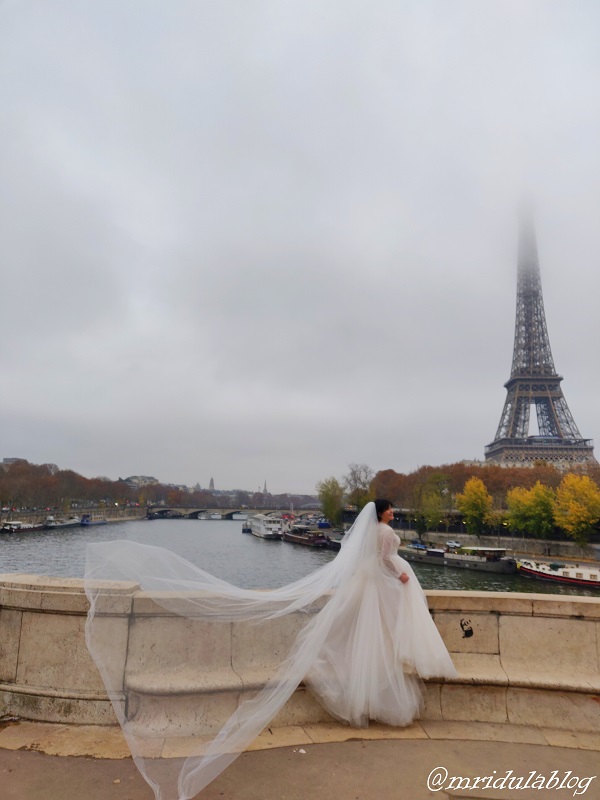 If you go to the Eiffel Tower, please don't miss this bridge. You will get an amazing view and for a while you will forget you are standing in the midst of heavy traffic.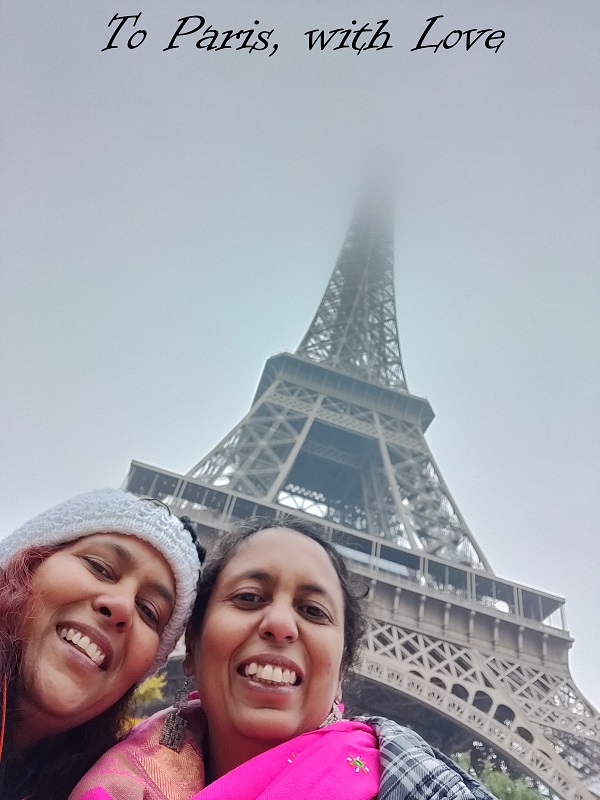 The river , a path lined with trees, and the Eiffel Tower, make you forget everything and what you will carry home would be amazement, contentment and the image of a marvel known as the Eiffel Tower.
PS. Even though this was a personal trip, there were two collaborations that I need to mention. This trip was made special by Atout France – France Tourism Development Agency and Paris Tourist Office who helped us discover the city of lights at our own pace by providing two 6 day travel cards for public transport and 2 Museum Passes for 4 days, allowing us to explore the city at its fullest. I also had the M50 on loan from Canon India, a big thank you to them.