What is there to do in Sharjah? The answer is there are many things to do in Sharjah- from souks to walks to museums and much more.
Shopping
Even though I am not much of a shopping fan, let me start with shopping in Sharjah because that is the first thing I did there! I was staying close to Blue Souk (Central Souk) and that was the first place I walked to! There are local markets like Rolla Market and malls like City Center Mall. When it comes to shopping, there is plenty to explore in Sharjah. And if you still want more, Dubai is a short commute away.
Walks Around the Buharia Corniche
If I get to walk, I am happy and Sharjah is walking friendly. I was staying at the Royal Tulip Act hotel in Sharjah. Across the road was the promenade where I would walk to my hearts content and make friends with seagulls!
I could walk during the day and I could safely walk at the night! I doubly love places which are safe for women.
Sharjah Light Festival
If you can, go to Sharjah in the month of February when they celebrate the Sharjah Light Festival. The mosques are lit up and there are light shows at many places in the city. It is a unique festival that you will enjoy.
Sharjah Museum of Islamic Civilization
The majestic Sharjah Museum of Islamic Civilization opened in 2008. The building originally used to be an indoor market. It is spread over two floors and many halls. It showcases the Islamic civilization to the world. My personal favorite was the section on gardens and their role in Islam!
Desert Safari
I have done desert safaris both in Dubai and Sharjah. Both have their own charms. On the Sharjah side it is quieter and it feels like you own the desert. There are rocks and sea fossils to enjoy. I did the safari with Mleiha, it was an amazing experience.
Sharjah Classic Car Museum
If you are a connoisseur of old cars head to the Sharjah Classic Car Museum. They have a huge collection of old beauties from Mercedes, Rolls Royce, Ford, and many others.
Heart of Sharjah
The official website describes it as- "In restoring the traditional heritage areas of Sharjah and linking them together, not only is the Heart of Sharjah the first development of its kind, but it is also the region's biggest heritage project to date. Seeking to reflect what Sharjah was like over half a century ago, the project will restore and revamp the city's traditional areas to create a tourist and trade destination with contemporary artistic touches, yet retain the feel of the 1950s." It is at the moment a work in progress. There are many souks in the area when you can enjoy for shopping or coffee.
Souk Al Jubail
Souk Al Jubail is where you can buy fresh produces. In the evening there is a fish market, where auctions happen.
Mr. Ali, the general manager of the Souk showed us around. It was fun to watch the auction live, the amount of noise it generated, it was seen to be believed. Mr. Ali told us that many fishermen in the area were from Mumbai. He could speak in Hindi with the staff!
They have a section of fruits and vegetables which smells much nicer. They sell variety of dates there as well.
The Beach Town of Khor Fakkan
Khor Fakkan is a beach town some distance away from the main city of Sharjah. You actually cross another emirates, Fujairah to reach Khor Fakkan.
The road goes via beautiful Hajar Mountains. Do remember to stop to see the oldest mosque in UAE the Al Badiya Mosque.
Trips Around Sharjah
It is easy to visit Dubai and Ajman from Sharjah. So one could actually stay in Sharjah and still visit Dubai and explore all its attractions. However, I had been to Dubai just before this trip so I went to the nearest emirates, Ajman. There is a city bus service to Ajman, it is so close.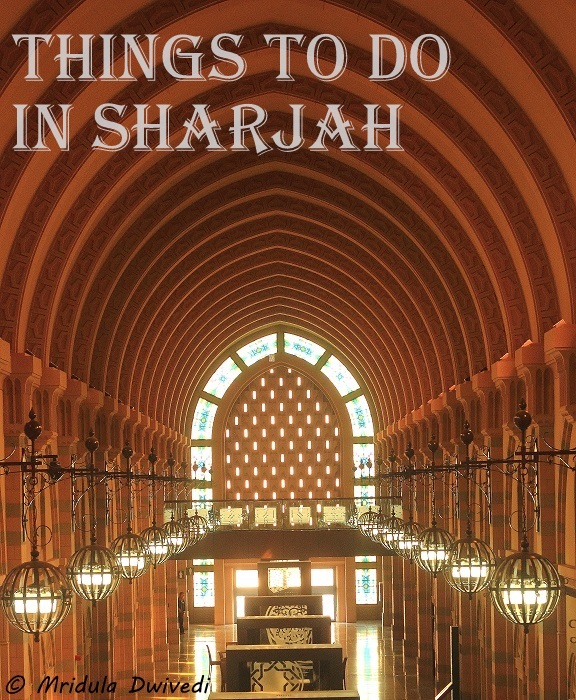 There is a lot to do in Sharjah, what I list is just a short list! If you are a museum aficionado there is much more to explore in Sharjah.
PS. My trip to Sharjah was sponsored by Air Arabia and Sharjah Tourism Board