After the glittering dance performance (about which you can read here) at Siem Reap we were dropped back to our hotel, Sokha Angkor Resort which is a mighty fine hotel. It was surely not beyond 9.00 pm. We had just one night at Siem Reap so we wanted to cram in as much as we could. A group of us decided to head out to the Pub Street. The Night Market is right next to it. Bargaining is the way of life in Siem Reap too.
So, we found a tuk tuk guy who would take 5 of us for USD 5. It was a short ride from Sokha to the Pub Street. All prices are quoted in USD and they expect to be paid in USD. If you want they will quote a Bhat price for you as well. I never used the local currency Riel in Siem Reap, in fact I never converted the USDs to Riel.
As the name suggest people go the Pub Street to go to a pub. I went there to take a stroll. I was not in any mood for alcohol, for me it was more important that I managed to get up at 4.30 am the next day to see the sunrise at Angkor Wat. The atmosphere at the Pub Street was lively and some of the bars played high voltage music too.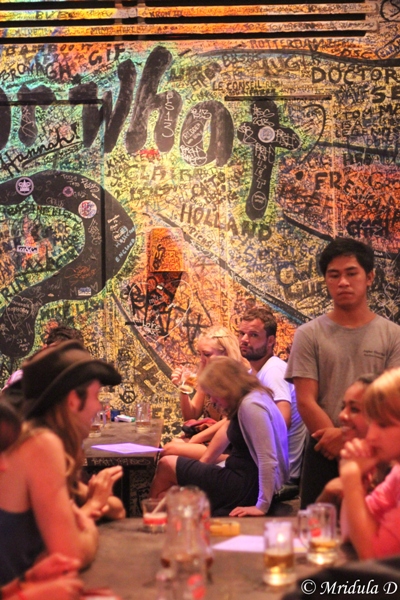 Pub Street, Siem Reap, Cambodia
It was a colorful place, full of energy but you go there to visit a pub, which was not on my agenda this time. After walking up and down for the entire length (which is not much) we decided to head to the night market. The night market is adjacent to the Pub Street so it is easy to cover both the places at one go.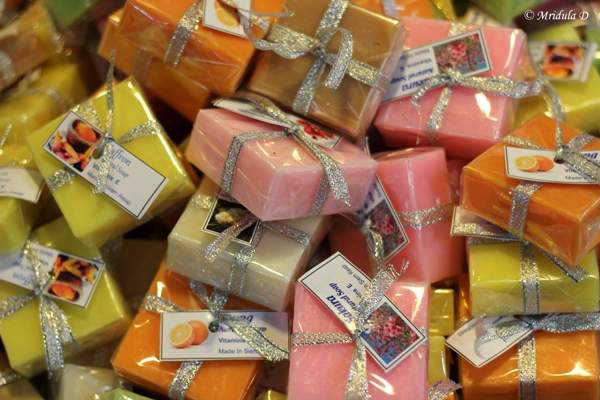 Handmade Soaps, Night Market, Siem Reap, Cambodia
The night market mainly had souvenir shops. I hardly do any souvenir shopping other than fridge magnets. That too I buy for others as Chhavi makes them disappear quite fast from our fridge. I do buy clothes for my daughter, nephews and niece. Other than that I am happy to click pictures of the colorful souvenirs on display. That way I bring them home too, in another way! So, this colorful display above was of homemade soaps. I don't remember how much was the quoted price but I did think it was on the higher side. As I said, bargaining though is a way of life here as well.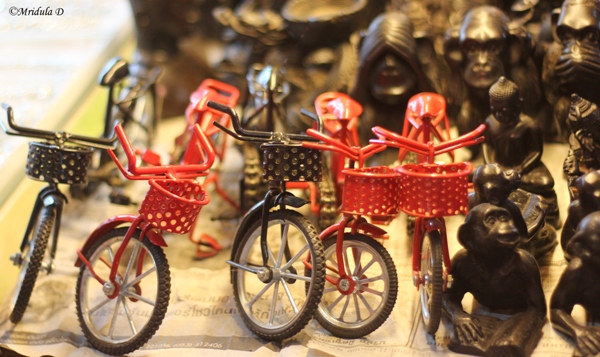 Cycles as Souvenirs, Night Market, Siem Reap, Cambodia
The local population in Cambodia uses cycles a lot. They are available for hire for the tourists too. So they are an obvious choice of a souvenir to carry back, or in my case an obvious choice for a photograph.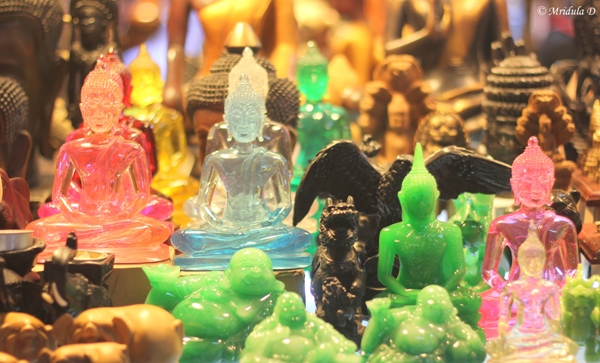 Crystal Buddhas, Night Market, Siem Reap, Cambodia
Buddhism is the dominant religion in both Thailand and Cambodia. I was quite fascinated by the colorful crystal Buddhas for sale. Once again they made for a pretty picture.
All the photos clicked here are night shots. I used my Canon 50 mm prime lens without flash to click all these pictures. I did buy a dress for myself in the end from one of the shops at the Night Market. But I think I need to reduce my weight by a few kilograms to do any justice to that dress.
Around 11.00 pm I called it a day. Two of us went back to the hotel and the tuk tuk driver agreed to take us back for 2 dollars. It was 12.00 midnight before I could wind up everything and go to sleep. But I did get up the next day at 4.30 am to go and see the sunrise ( a video here) at Angkor Wat.