I visited The Khyber at Gulmarg in March. And even though I have been to Ladakh is Jammu and Kashmir this was my first visit to Kashmir region. Gulmarg is the only place in Kashmir that I was able to explore. I visited the place at their invitation and what a grand place it was! Gulmarg has many hotels but The Khyber is a brand new one and it is aimed at the luxury end. The hotel has no bar though.
This was my room at the Khyber Gulmarg and it was gorgeous. The bathroom was equally lavish with a sunken bathtub as well. What did I like about my room most? The view from the room. Actually The Khyber has been featured in the CN Traveller under the 'Room with a View' category and I completely agree with their estimate. The rooms and the entire hotel is centrally heated and I needed it for sure. It was cold and snowing mildly even in March.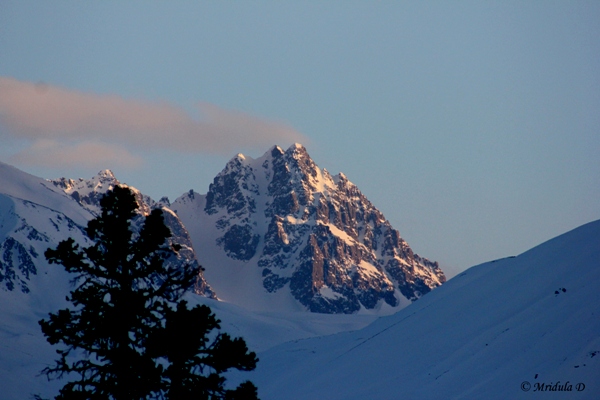 As the Dusk Falls, Gulmarg
My room had a lovely balcony and the mountains opposite it would catch the light at sunset. So this picture was taken right from my own balcony. Apart from my balcony, the Chaikash was my most frequented area where I had numerous cups of Kahwa.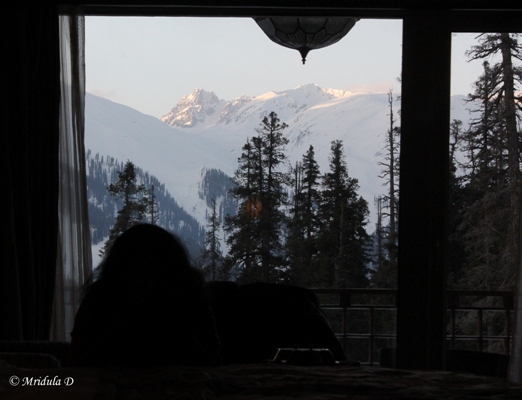 The Mountain in my Room, The Khyber, Gulmarg
Another aspect that completely fascinated me was the mountains in my room! The room had huge mirrors all around and the one next to the bed reflected the mountains! I usually like to read a book when I am in my room but at The Khyber I would be quite distracted my these mountains inside my room and I hardly read anything! So in the picture above what you actually see is the mountains in my room mirror and not outside.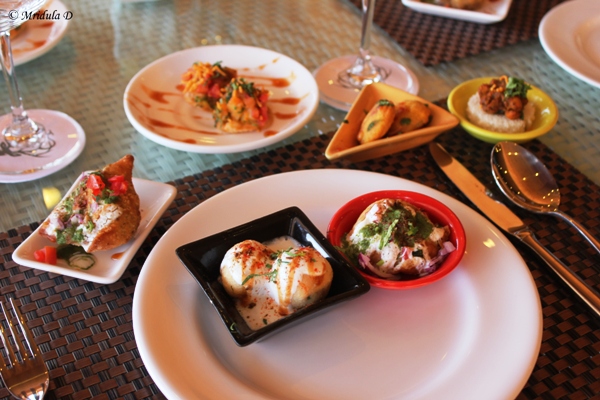 High Tea, The Khyber Gulmarg
The food in general is good at the place but I specially enjoyed two things, the high tea and the Kashmiri lunch. The high tea has assorted chat items and is a riot. And the staff believes in Indian hospitality that means they will stuff you till you can really truly eat no more!
The Wazwan (Kashmiri) menu was exotic as well. It has Galauti Kebab (Veg n Non Veg), Methi chaman- paneer ( Indian cottage cheese) dish with fenugreek leaves and spinach gravy along with Haaq Saag (Collard greens) followed by Dum Aloo and Rista (Non-Veg) fine minced meat balls in red gravy. It also had Nadru Yakhni which Lotus roots cooked with mild aromatic spices and yogurt. I ate only the veg options and I have never tasted such Kebab in my life they literally melt in the mouth! We ate in a Tarami- a traditional hand carved Kashmiri thali sitting on the cushions on the floor. This was a truly memorable experience.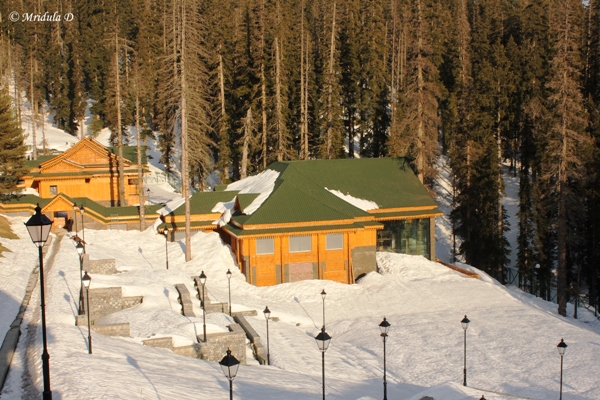 Snow at Gulmarg
If you are looking for a luxury hotel in Gulmarg you are definitely going to enjoy your stay at The Khyber. I will add only one word of caution. Sometimes the road from Srinagar to Gulmarg is tense and you need to figure that out before you start to have a peaceful travel. In almost all instances your hotel will know the road conditions and advice you accordingly. Do listen to them,