This was my second stay at the Grand Dragon Ladakh. The first time I stayed there, it was of January 2016. Both the times I have stayed as a blogger, my stay was complimentary. The January 2016 was a group trip whereas in October 2021 I was staying alone and doing my own things!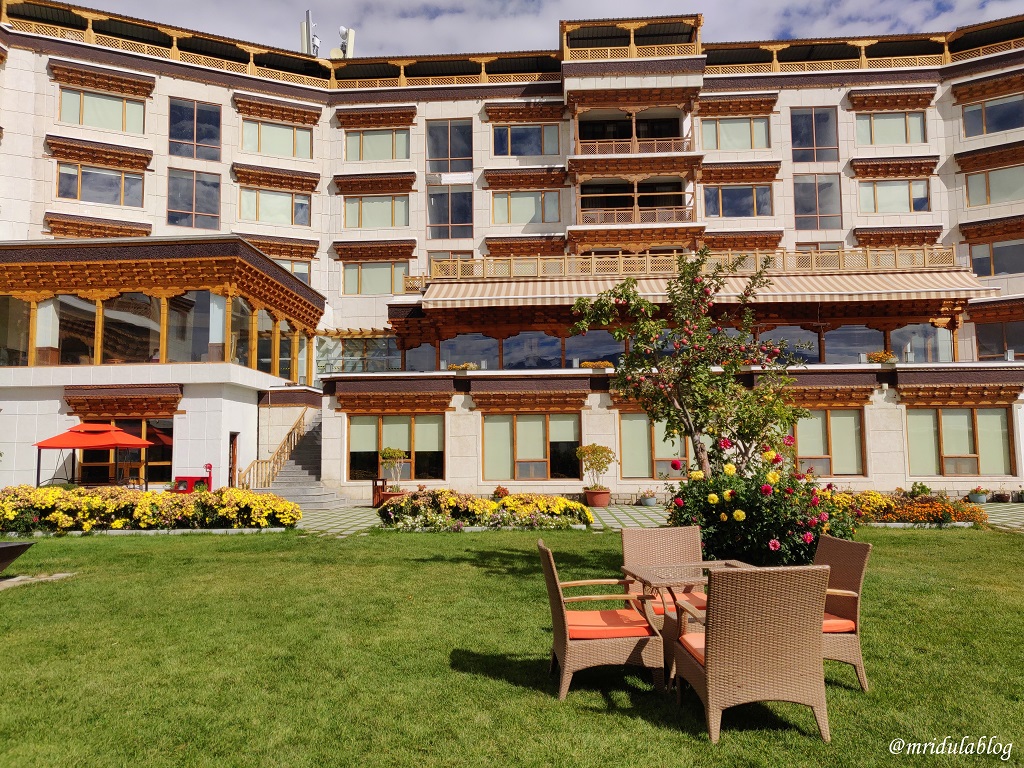 There are two ways in which I can start the story. In September 2021 I called my friend Meenaskhi and asked for a recommendation for a homestay in Ladakh. She convinced me to stay at the Grand Dragon instead. Not that it needed much convincing. I stayed there before, I knew how good it is.
Then on the third day of my trip I was roaming around the Leh Palace at my leisurely pace. I met a girl who was seriously making content, so we started chatting. After a few minutes we connected on Instagram. After looking at my feed for a few seconds, she asked, "So you are staying at the Grand Dragon?" I was once again reminded to be thankful for the wonderful blogging opportunities I get!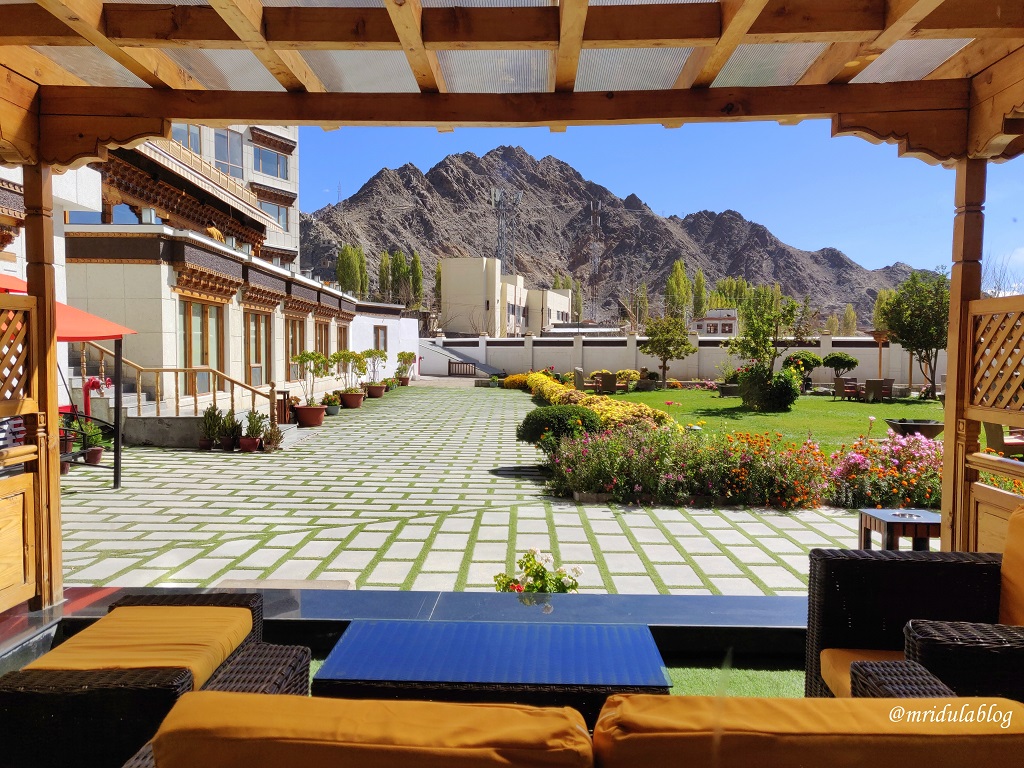 Once I settled in my room, I marveled at the view from my porch, I was going to wake up to it for 5 days. After the tough 2020 that we all had and then the horror of April 2021, this was the sight for my sore eyes! While I was posting on Twitter, Facebook and Instagram, many people messaged me and asked about the weather. I stayed in Leh from October 13 to 18. On all days the day temperature was above 12 degrees Celsius. The nights were cold but I would get tucked in my centrally heated room by 9.30 pm so it was never a problem. The last day on October 18 I woke up to 0 degree but all I was doing on that day was catching a flight! I liked the weather during my stay plus I got to see the gorgeous fall colors!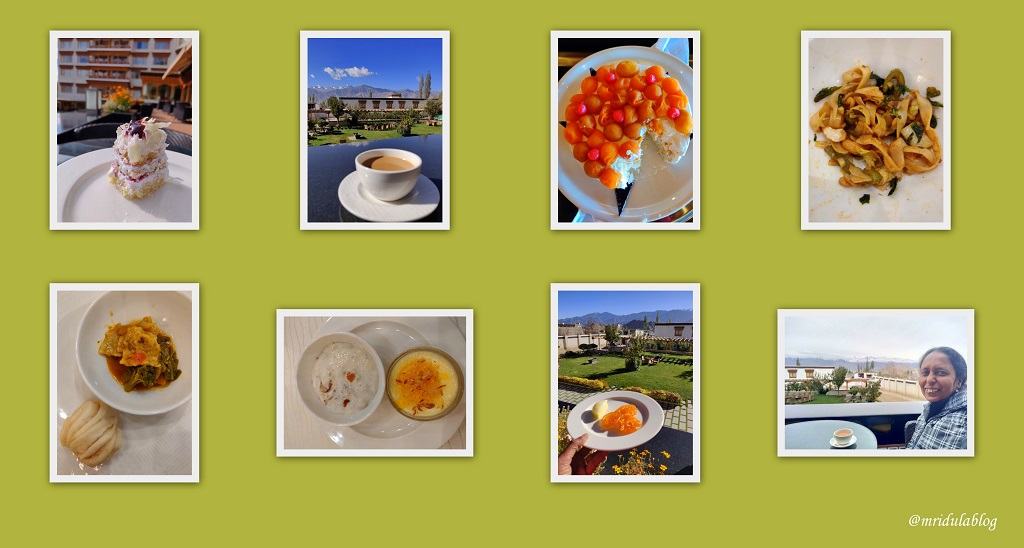 I was eating all my meals at the hotel. I did walk to the market many times, I saw all the cute cafes but in the end I chickened out, due to the crowd. October was busy in Leh. At the hotel the restaurant was spacious, so I felt safer eating there than in the cafes. I start checking out the buffet from the dessert counter and I was worried about eating so much hotel food. To my surprise I did not gain any weight during my stay even though I ate plenty of dessert. I believe the walking around at the high altitude balanced out my sweet intake!
As I was present at every meal over 5 days the staff got used to me! They also knew my whims, and catered to it. I must have been the only person eating all my meals alone but I never felt it too much! I do not remember all the names but I so remember Dolma, Gagan, Tanmay (front desk) and Tara ji. We met at every meal and when they were not too busy they took out time to chat with me.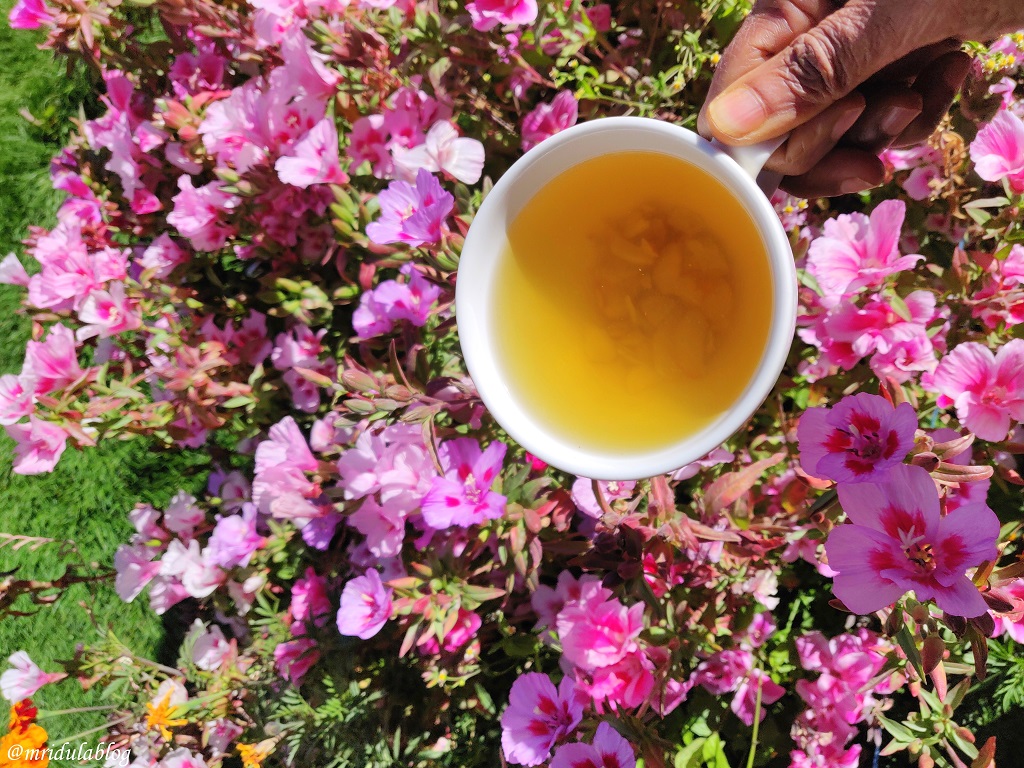 I am a chai person and I hardly ever swap it for anything except Kahwa. There is something magical about Kahwa at that height and weather. I can drink a lot of it.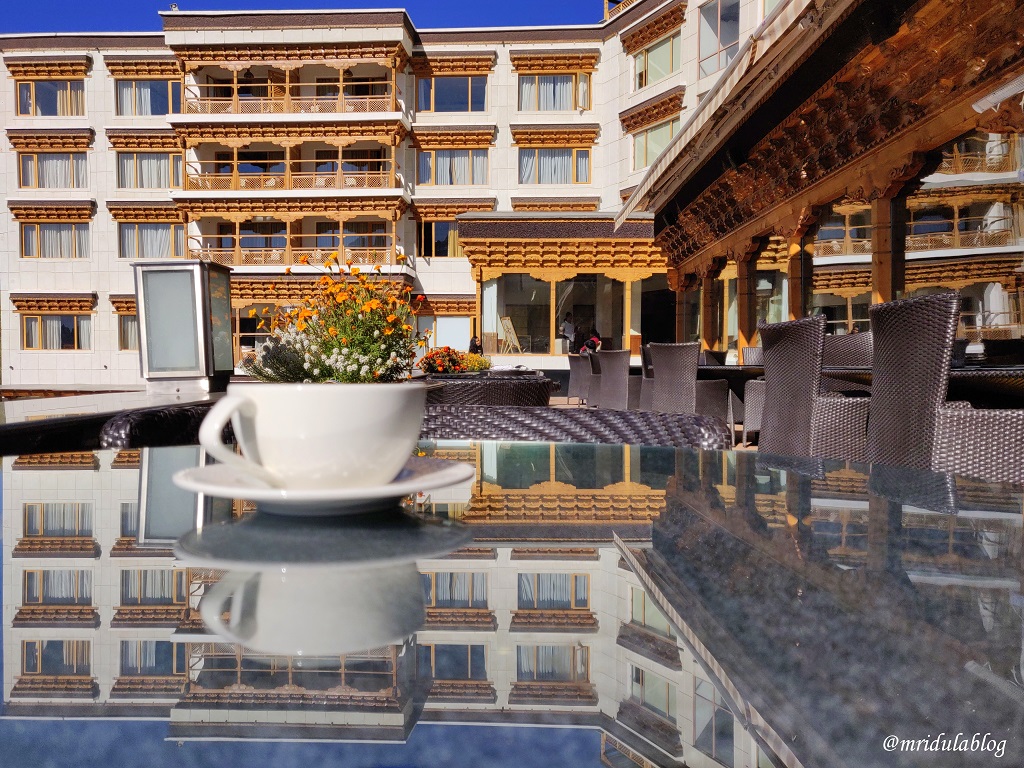 My vacations center around the amount of tea I drink and I had a lot of happy cups on this one. After my meals or breakfast inside the restaurant I would walk out to the terrace with chai or Kahwa in hand and bliss all around me.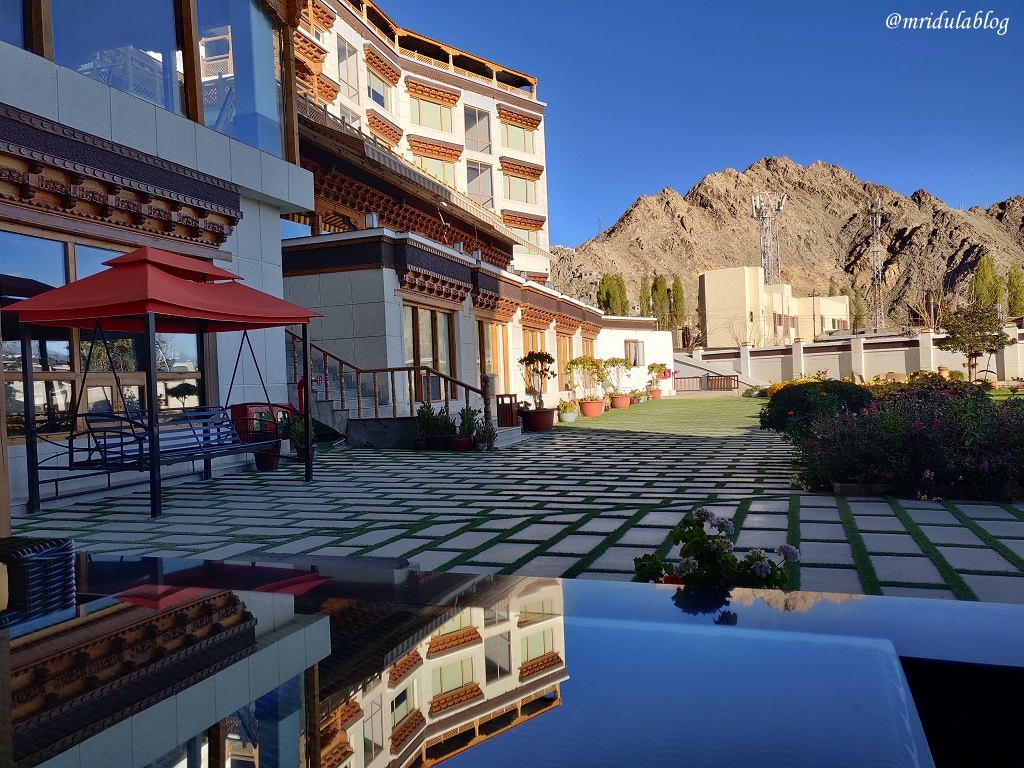 I made a few rookie mistakes on this trip. Instead of resting completely I went for a walk in the evening on the first day. For the first two days I also did not increase my water intake. So, on the second day of my trip, I was having headache and I barely moved. My porch was my shelter and the views still were stunning. In fact, if I could force myself I would make it mandatory on all my trips to do nothing on one day. But I know it won't happen unless I need to rest, like on this trip!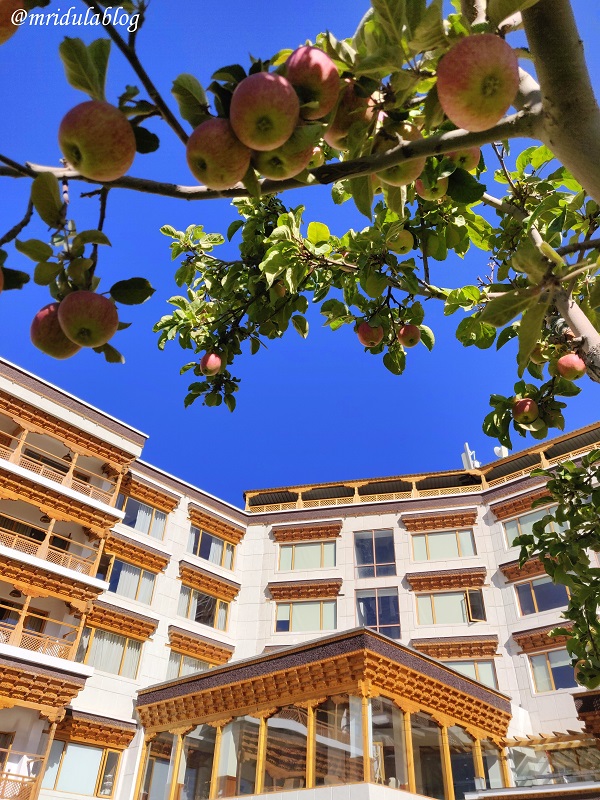 Apples were growing in plentiful in the garden of the hotel! For a low altitude person like me it was exotic to see so many of them on the tree!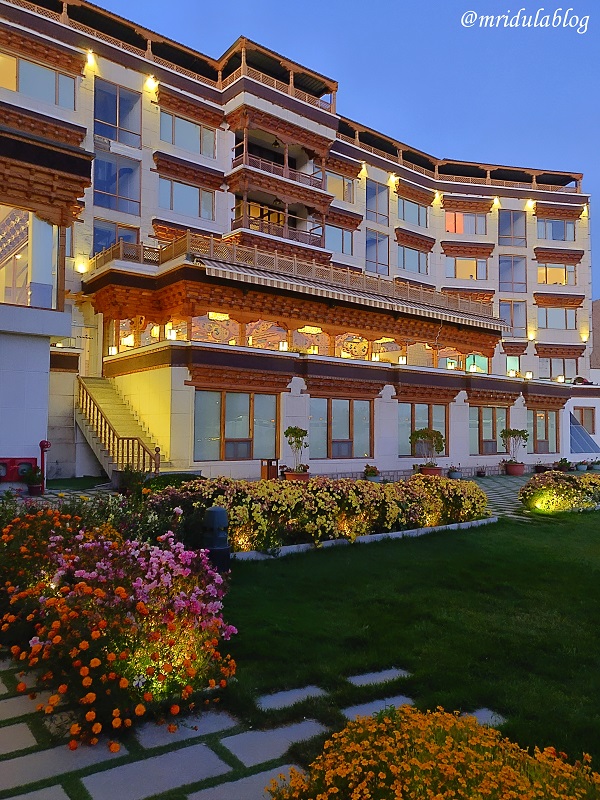 It was so nice to spend a few days in such beautiful settings. When I arrived, I was so tired both physically and mentally. Many days have gone since I came back, I still feel rejuvenated after this trip.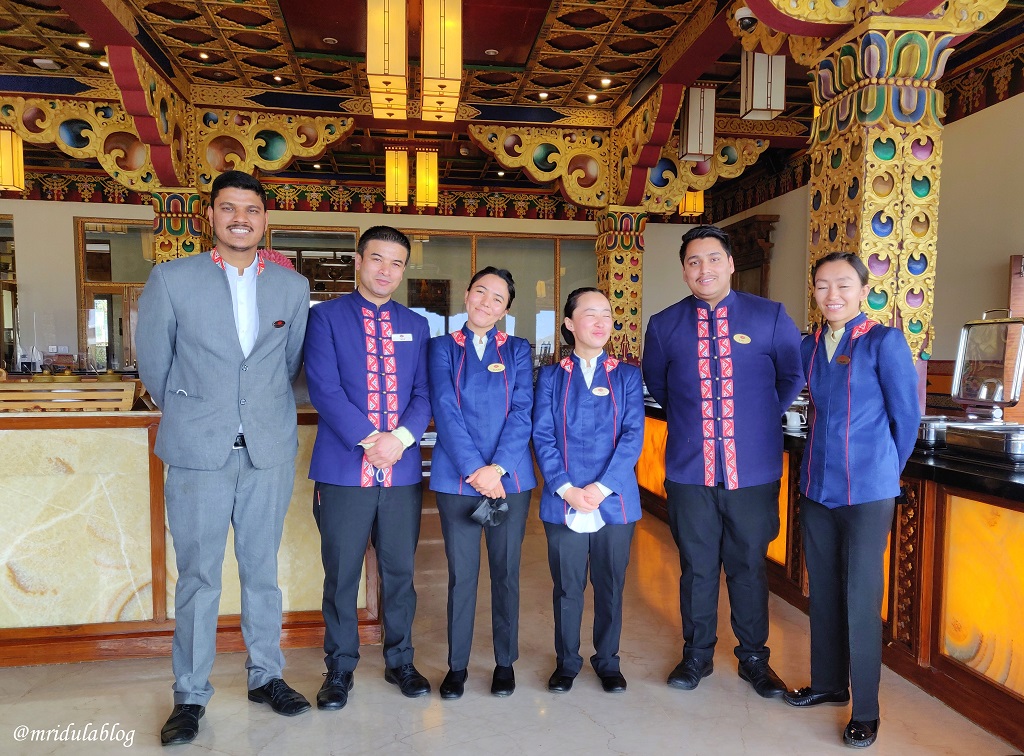 It is the people who make the stay memorable and here a few of them in one picture. I was late from sightseeing one afternoon and the lunch just got over. They got so many things for me from the kitchen that I could not finish it all. I fondly remember the hot gulab jamun that Dolma got me at the end! I requested them to take off the mask just for this picture! I do hope that travel will remain open now and that the worst is behind us. I feel so blessed to have been on this trip to Ladakh and for my wonderful stay at the Grand Dragon Ladakh.