My only previous experience of a vegan meal was way back in 2000 when I was flying Delhi-Dubai-Greece. By the time it came to Greece-Dubai-Delhi leg I had enough of vegan food. My next tryst with it came yesterday night at a dinner organized at The Oberoi in Delhi. The dinner was organized by The Farm at San Benito, Philippines.
The Farm is a leading wellness resort focusing on preventive wellenss. They serve desserts (you can see how important it is for me), main courses, soups and everything we are used to but it is vegan. And that means no meat and no dairy products. The Farm's products are available in India at The Kirana Shop. The shop stocks many other organic products. I have tried their gooseberry mouth freshener and it is really good.
When I met Jennifer Hazen, the resident manager at The Farm I told her my flight story. She laughed and said tonight's dinner would change my concept of vegan food and she was right. I asked her to say a few words to my blog readers and she agreed readily.
Jennifer Hazen of The Farm, San Benito, Philippines
While we were chatting they served me a coconut water with chili flakes. Now that was some start! In all my previous meetings with coconut water I never managed to catch it with chili flakes. The dinner was a sumptuous affair too.
The soup I had for the evening was Corn, Ginger and Lemon Grass soup. I was right there ready to change my opinion of a vegan meal. Before it I had Roamine Wrap with Thai Tomato Vinaigrette along with Pomelo Salad with Cashew and Bird Eye Chili Dressing as starters. And even though it was not on The Farm's menu The Oberoi had provided me with some excellent white wine for the evening.
I asked Jennifer who was her target market? She said the average age of visitors was around 35 and many were interested in prevention and well being. She said if one wanted to do a detox program a minimum four night stay was recommended. But she said some guests came just to visit and be at the resort without engaging in a treatment. She said as of now they had a guest who was staying for 60 nights as well.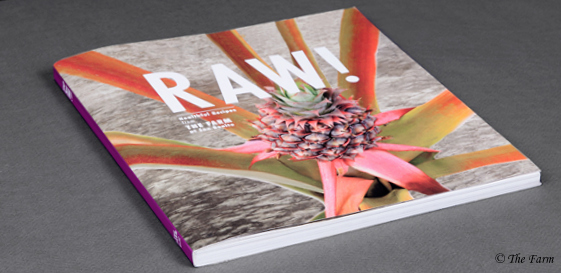 The Raw- Book
Going back to food the main course was Green Curry with Raw Vegetables and Steamed Tofu with Spicy Pickled Plum Sauce, Miso Marinated Shitake Mushrooms with Karware Sprouts. It was all uncooked but it was so well done. If they didn't tell me it was raw food I would never know. It was fascinating to taste so many vegan dishes that were this good.
But for me it is the dessert that makes or breaks a deal. And it was RAW! Chocolate Chili Marble Pie and Raspberry and Mango Soya Milk Panacotta with Pecan Nut Praline. And that was when i was truly convinced that if done well vegan food can be excellent.
I am anyway a vegetarian by choice. But because of my previous flight experience I used to think that food without milk product is a waste. After all in that flight I drooled so often when others were eating cakes and I was eating food. The experience of this dinner tells me otherwise. The Farm has a vegan recipe book called RAW. It is available from The Kirana Shop. I talked to the owner of the Kirana Shop, Ragini Mehra. She had been to The Farm and she was interested in presenting good organic ingredients to her customers. She said for her it was going back to the roots.
I still think that switching completely to vegan food would require huge lifestyle changes for us but I am for sure now going to torture my family with an occasional vegan recipe. It will be a torture because I would be making it!