When I arrived at Pokhara, Nepal it was not raining. It felt like a minor cause for celebration as I had seen more rain than I would care for on the Annapurna Circuit Trek. However by the time I finished lunch and started walking around the beautiful Phewa Lake, it has started raining again. I could spot a shelter near the lake so I decided to hide there. And that is when I noticed the first bunch of boat women at Phewa Lake.
I noticed them because the young girl in the blue top was sitting next to me at the shelter and listening to music on her cell phone. And then suddenly a few of them assembled, got into a boat and rowed away! I was surprised and intrigued. You may rightly ask now why should that be? I would say turn your mind to all the boat trips you have taken and tell me how many boats were rowed by women? Chances are like me, you have no experience of it! Even the famous Gondola rides of Venice are in news for denying women the right to row rather than anything else. It was 2010 when Venice had its first woman gondolier. So imagine my surprise when I saw quite a few boat women at Phewa Lake, Pokhara, Nepal.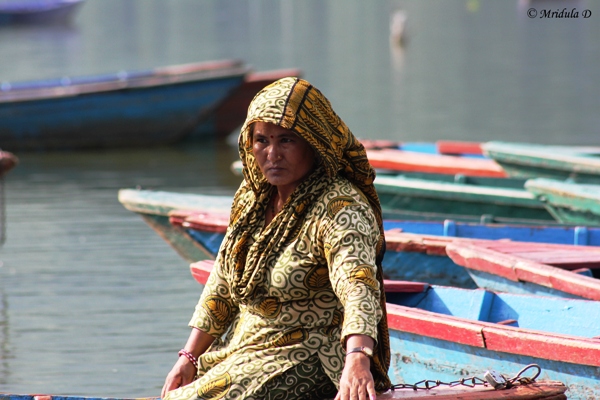 She can Row too! A Boat Woman at Phewa Lake, Pokhara, Nepal
The day I arrived I was too dazed to inquire more and when the rain lessened I headed to the Bamboo Bar and for the first time in my life I put my feet up and had a glass of wine all by myself. But I am digressing, that is a story for another day.
The next day I came back to the lake and tried talking to the boat women. Hindi TV (Colors and Star Plus to be more precise) is very popular in Nepal, so a lot of people can speak some Hindi and almost anyone will understand it! And that gave me hope. The first boat woman that I found was resting by the shore as her turn would not come for sometime now. She understood some Hindi and when I asked her why she started rowing the boat for tourists she said in Hindi and with signs, "I have to eat food." I have to say this was not the answer I was expecting. I talked to two more boat women and the answer firmly remained the same, they did it because it was a source of income. There was absolutely no romanticism associated with it at all!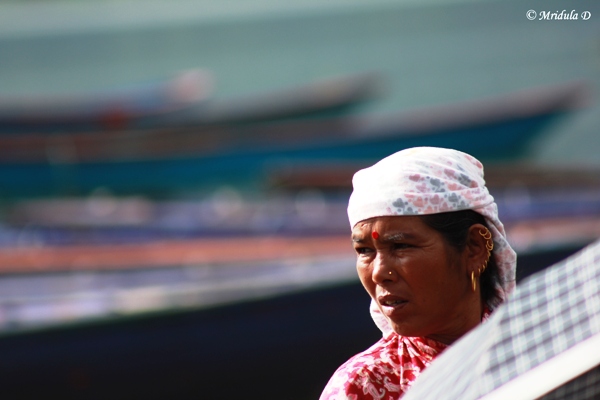 Getting Ashore, A Boat Woman at Phewa Lake, Pokhara, Nepal
I was generally not interested in a boat ride but then I decided to go with a boat woman. It was not an easy task as the boats would go by turns and it was not necessary that I got a boat women. Then came Lakshmi who told me to go and get a ticket and she would take me on the ride. The ticket cost me Nepali rupees 365 as I was going alone. She managed to do it by swapping turns with the person who's turn it actually was.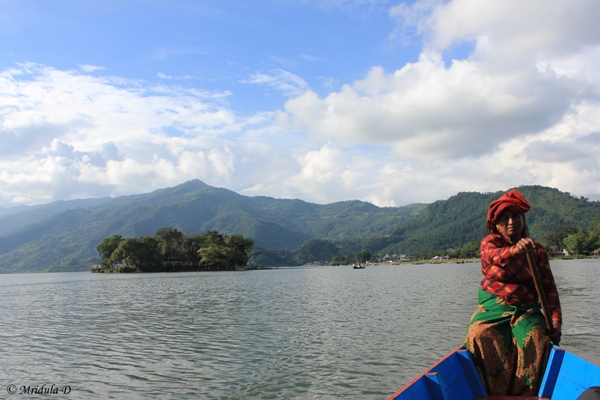 Lakshmi, The Boat Woman at Phewa Lake, Pokhara
Lakshmi understood and spoke some Hindi. And it was fun to be with her on the lake for an hour. She also said the same thing, she started boating to earn money. She already knew how to row because she would go in a boat to collect firewood in the jungle. In return she asked me if I was scared traveling alone!
I was utterly awestruck that these women thought there was nothing special about their being a boat women. For me they are awesome.