How is it possible that two women and two children go on a trek in Himachal Pradesh and come back to tell the happy tale? It is because of our incredible guide, Rama Kant Sharma and his team. I consider Himachal Pradesh safe for solo woman travel but I will think a hundred times before venturing out in isolation without a reliable guide. So this is a thank you note to Rama Kant ji and his trekking team of Arun, Hem Raj ji and Gopal. The beautiful woman on the right hand side is Monika, Ramakant ji's wife but she was not trekking with us.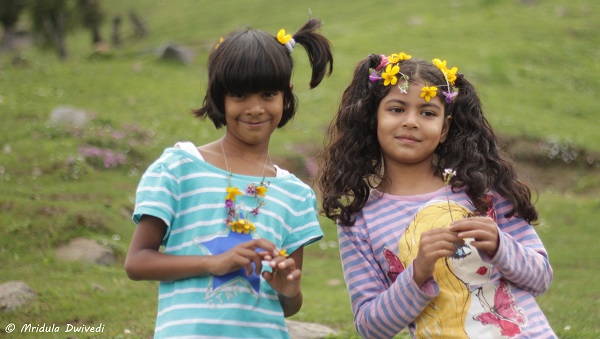 You never know what is going to happen when two small children are going on a trek. It is only because of Rama Kant ji and Arun that we dared to trek with the brats! The kids thankfully walked all the way while going up as well as coming down.
But last year when Chhavi and Tanya (Rama Kant ji's daughter) went on a trek with Seshadri to the same region, I got to know that Arun carried Chhavi on his back for quite some distance. Rama Kant ji was himself away on some other trek then.
So, this was second trek for Chhavi with Arun, whereas I was trekking with him for the first time. We have known Rama Kant ji and his family since 2010. We have stayed at his home on so many trips. Chhavi is quite comfortable with both Arun and Rama Kant ji.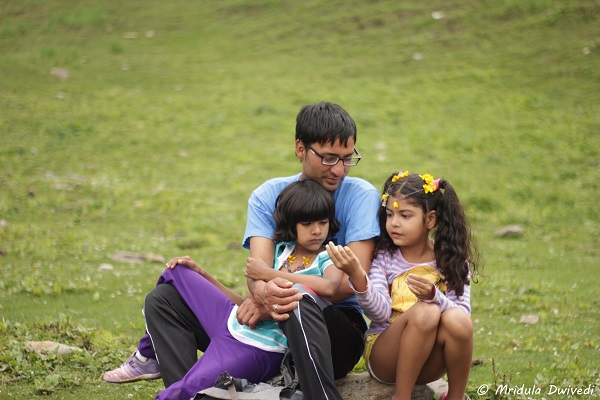 It is one thing to walk with the kids on the trail and quite another to entertain them even otherwise. Chhavi was so prone to sitting in Arun's lap that she would not even let him eat food at times! As the kids would often play with Arun, I would have time to myself!
While walking Arun would carry a backpack full of juice and chocolates. He told the kids that it was a magic bag! The kids would have eyes as big as saucers while listening to his tales. Chhavi still believes that Arun carried a magic bag with him on the trek!
The girls were behaving like the characters of the movie- Frozen, one of them would be Anna and the other Elsa. By the end of the trek I was really tired of this silly game. They also proclaimed them to be queens- frozen queen, ice queen, color queen, flower queen and what not. And then they would fight over who would get to act what. I have to say it was the most tiring game I ever witnessed over a trek!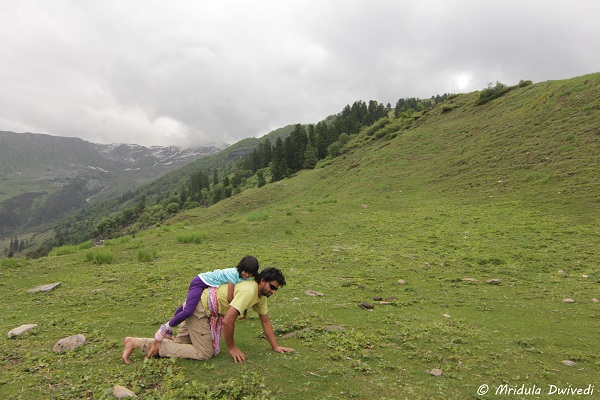 In moments of sanity Chhavi would do her usual things, like acquiring a horse!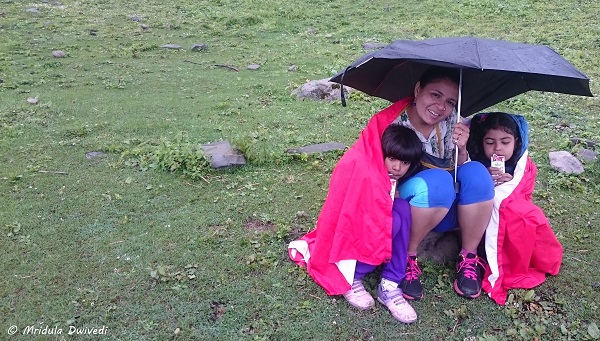 On the third day we simply stayed at Jamadi. Rama Kant ji, Arun and I went a little ahead leaving behind Anita, Kashwi and Chhavi. While we walked up, rains came. The kids were playing at a short distance from our tents. So, we assumed that they would get inside when it rained. We continued walking up and got a bit of hail as well. To our surprise, when we got down much later, they were sitting at the exact spot where we left them, covered in the poncho Rama Kant ji gave them and the umbrella that I lended.
Arun descended the rest of the way in a less than a minute and produced juice for the kids from his magic bag.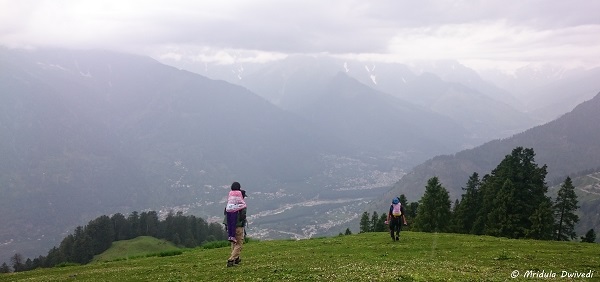 And before I could realize what was happening, they whisked off the kids on their backs to the tents within no time. It is another matter that they started fighting and had to be given chocolates as well so that they would keep calm till Anita and I arrived.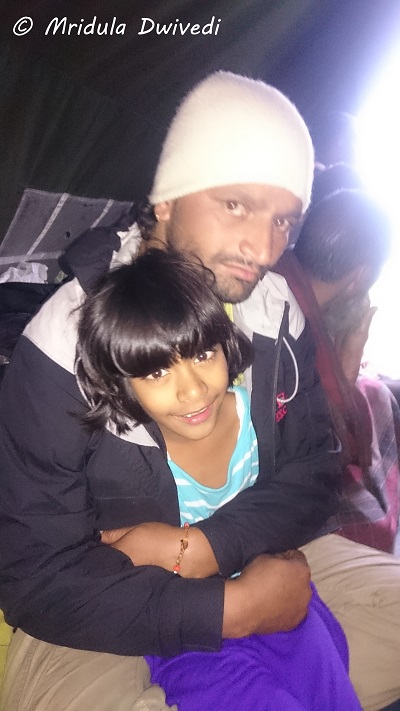 Later in the kitchen tent Chhavi was feeling a little cold. Rama Kant ji put her in his jacket and she quickly forgot all about cold.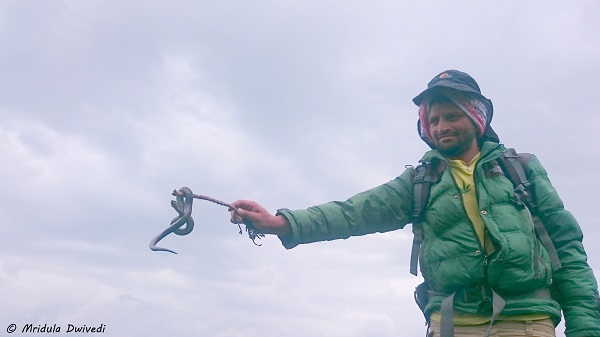 And it is not beyond Rama Kant ji to put away a stray snake that may meander in our paths! This happened while we were walking higher and the kids were waiting with Anita. He told me the snake was not poisonous! He just put it away, all intact!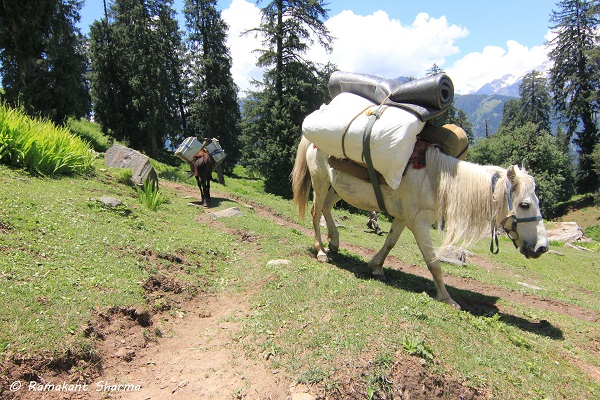 It is a pity that I forgot to click a picture of Gopal, who handled the horses with our luggage. Gopal would often get the unenviable task of fetching the water from the water source! At Jamadi it was at some distance. Camps have to be set near water sources or there would be no water for anyone to drink! Food would also not get cooked.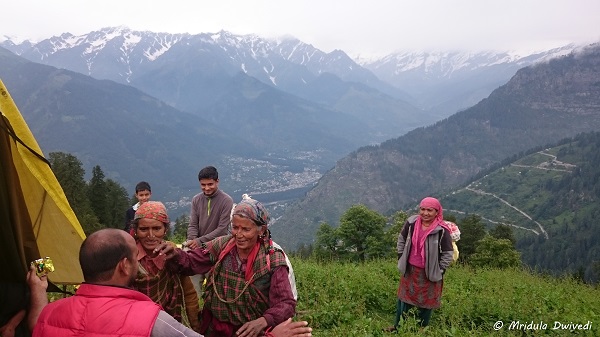 Hem Raj ji was our cook for the trip! We have traveled before to Chandratal in Spiti. He is such a jovial person, and he loves to feed people! The Himachali ladies were going back to their village in rain after collecting herbs from the wild. They stopped for a cup of tea in our kitchen tent. The daughter of the lady on the extreme right studies in Delhi. The oldest lady didn't know her exact age! She smoked a bidi in an expert manner.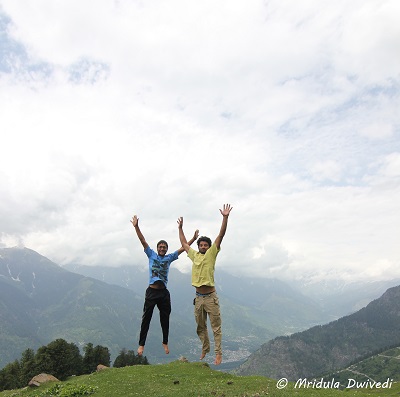 So, this is just to say a huge thank you to Rama Kant ji, Arun, Hem Raj ji and Gopal for taking us on the trek and getting us all down in one piece! May we trek together again!