I visited Thailand and Cambodia in September 2013. It was a memorable trip. I was there on invitation from Tourism Authority of Thailand. It was my first Thailand Cambodia trip. It was also my first experience of visa on arrival which went without a hitch at Bangkok!
Tourism Authority of Thailand was quite gracious as they got us into Bangkok a day early. That day could have been utilized to recover from the travel fatigue. But every extra day in a new country is meant for exploring and that is what I did.
My first stop in Bangkok was the iconic Wat Arun. It took me two ferries to reach there. The Tha Thien pier is the closest to the temple. The temple is directly across this pier. It is a great structure and you can climb up its steep stairs to get a magnificent view of the Bangkok city. A large percentage of population in Thailand is Buddhist but I thought their architecture is different from our Indian Buddhist architecture. As it was novel for me, I liked it all the more!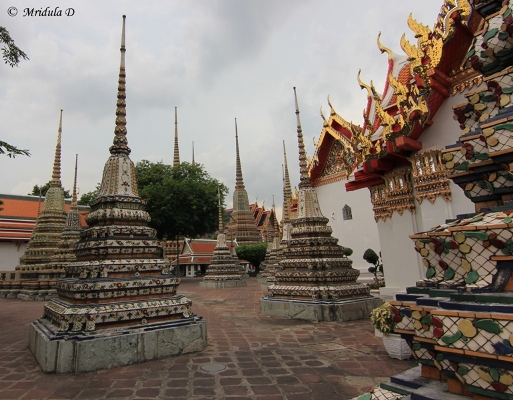 Wat Pho, Bangkok, Thailand
My second stop on the very first day was Wat Pho. The temple is known for its giant statue of the reclining Buddha. However there is much more to the place. The temple complex is huge and really beautiful. So do explore the complex once you have seen the reclining Buddha. I can't tell you how tired I was even after this short excursion. In the evening we had a cocktail event hosted at our hotel Dusit Thani. Thai vegetarian food is quite good and my wine and dinner were excellent.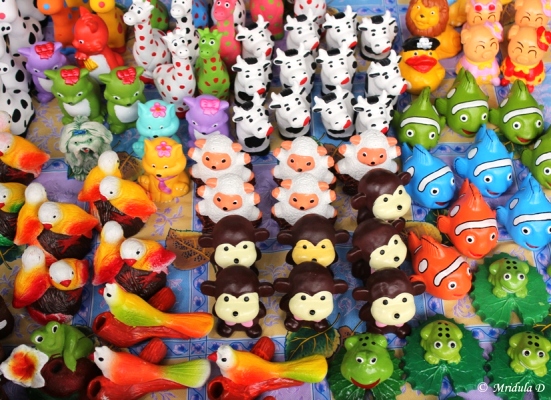 Taling Chan Floating Market, Bangkok
I slept like a log after the dinner. The next day after an unhurried breakfast at the lavish buffet of Dusit Thai, I was ready to explore more of Bangkok. We once again took a ferry, this time to go to Taling Chan Floating Market in Bangkok. It is a local weekend market and it is a riot of colors. The ferry took us through the Chao Phraya river, first through wide open channles and then via narrow ones. It was an incredible experience. Our guides from the Absolutely Fantastic Holidays made sure that we had a good time at the market and tasted all the sweets and savories from the market. In the evening we were supposed to visit the famous Chatuchak (also known as JJ) Market but it rained heavily later in the day. We had to be content by visiting a mall instead.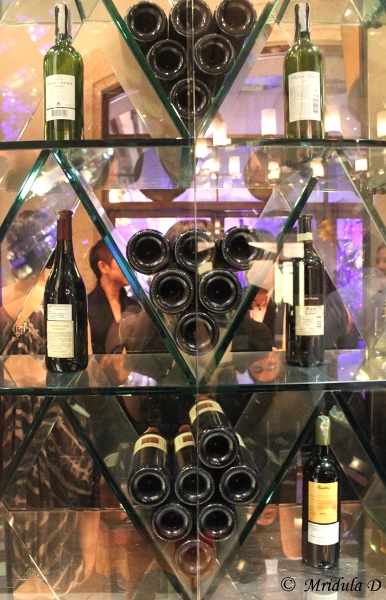 Four Seasons, Bangkok
Our dinner that evening was at Four Seasons, Bangkok. Now Four Seasons is one hotel that was held in such an awe with my colleagues from the hospitality industry back when I used to teach at a place that had hospitality programs. They were correct, Four Seasons was grand, the champagne excellent and the food exotic. For some of us it was vegetarian too! It was a lovely place and a beautiful evening.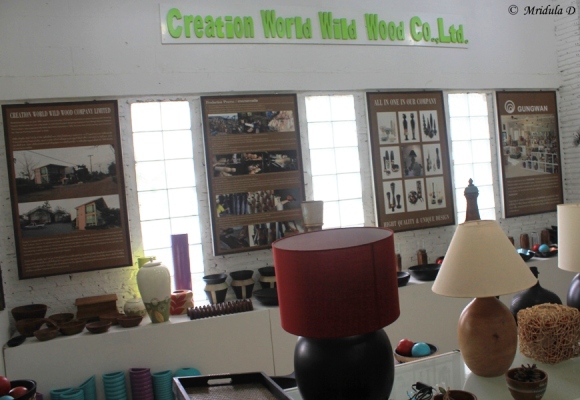 Creation World Wide, A Mango Wood Factory, Thailand
I heralded the next day with another heavy breakfast which included a big plate of exotic tropical fruits. After that I was ready to travel again. We were going to Nakhon Nayok. On the way we stopped at Creation World Wide, a mango wood factory. They gave us a goody bag which had a very beautiful book mark made of mango wood. That is the only book mark that my daughter has not taken away and destroyed. She threatens me though that she can break it. I don't know what she has against my bookmarks!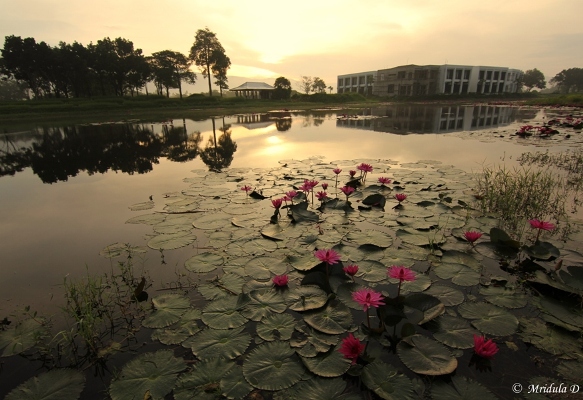 Royal Hill Golf Resort and Spa, Nakhon Nayok, Thailand
After this stop we continued towards Nakhon Nayok. We stayed at the Royal Hill Golf Resort and Spa. The picture above is of the hotel premises! The region has Khun Dan Prakarnchon Dam and in the vicinity quite a few adventure activities. The dam area is quite scenic, there is a 3 km long viewing platform.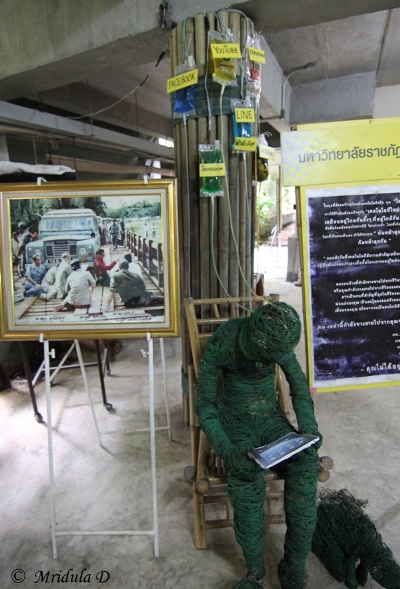 Bhumirak Dhamachart Project, Nakhon Nayok
We also visited the Bhumirak Dhamachart Project which depicted the importance of water for the local ecology. But they had a very interesting display about the effects of addiction to internet!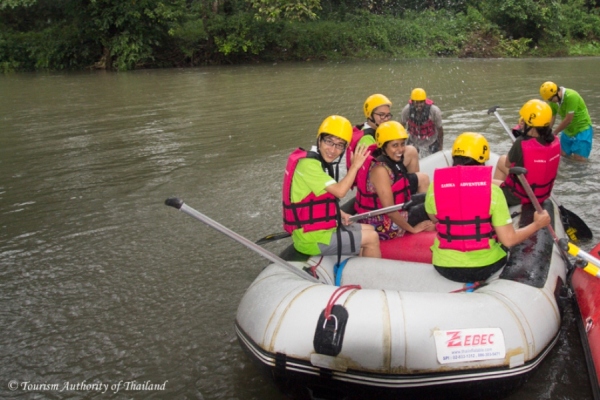 Rafting at Nakhon Nayok
We went for adventure activities in the evening. I did the flying fox and rafting. I could have done rappelling and ATV ride as well but somehow I gave them a miss. I thoroughly enjoyed rafting in the area. It was gentler than rafting in the Ganges. After an action filled day I was looking forward to the dinner which was at the the hotel itself.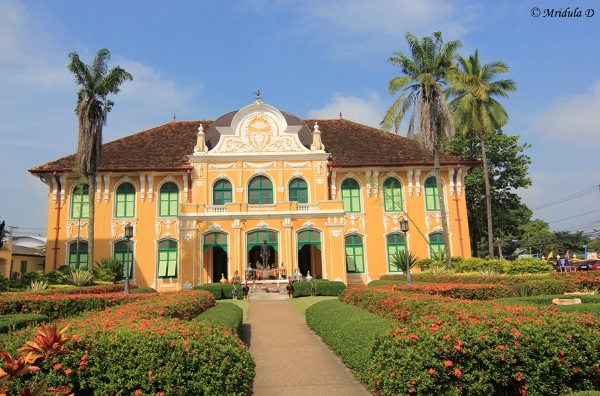 Chao Phraya Abhaibhubate Building, Prachin Buri, Thailand
This beautiful building is attached to the hospital by the same name in the Prachin Buri area. This was our first stop on the following day day when we left Nakhon Nayok. We were eventually going to reach the Thailand Cambodia border at Aranyaprathet. The hospital has a wing for traditional treatments. They offered us a traditional Thai massage which was out of this world. It was a dry massage as they didn't use any oil and yet it was so refreshing! I felt like a new person after it. They offer the massage to the tourists as well.
I also got to know that by back was not really happy with my traveling schedule and sleeping hours. It is still not happy with me. The hospital also had a shop where you could buy herbal products. I picked up a few as gifts as well as some for my own use.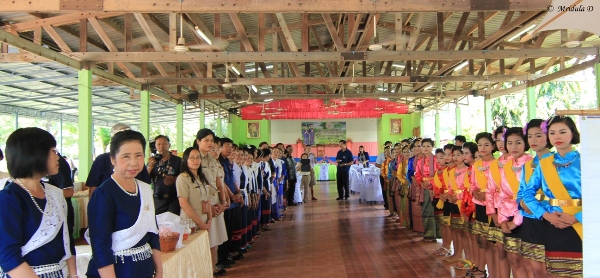 Ban Dong Village, Thailand
Our lunch was at the traditional village of Ban Dong. Other than the lavish meal, we enjoyed visiting the local houses which preserve their old customs. We also saw dances from the village. Some of us even tried our hands at stilt walking. After spending a few hours we were on our way to the border market of Aranyaprathet. The next day we would cross into Cambodia.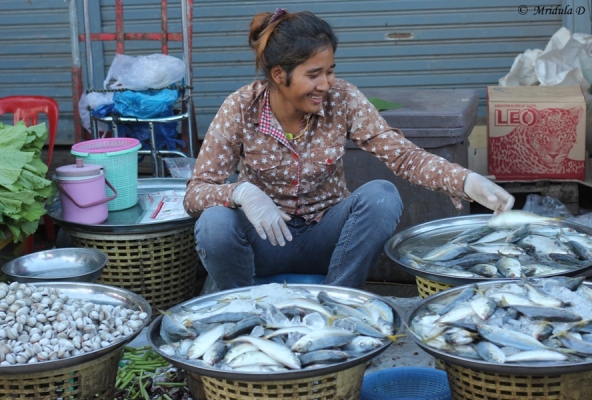 Aranyaprathet Border Market, Thailand
Aranyaprathet Border Market is also quite colorful. I had a good time strolling through it. It is good if you are looking for buying fashion clothes as well. I am told it is incredibly cheap if you are a bulk buyer. I did pick up two pretty skirts one for my daughter and another for my niece. Both of them liked it a lot! We stayed at Tournesol Boutique Hotel which was comfortable and nice for a border hotel. The next day we were crossing into Cambodia. It was almost the last leg of my Thailand Cambodia trip!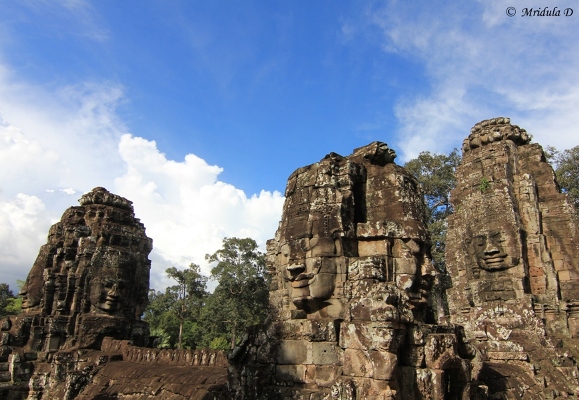 Bayon, Cambodia
The road trip from Poipet (the Cambodian side of the border) to Siem Reap was scenic. I had just one night in Cambodia and how I wish to go back, both to Thailand and Cambodia. At Siem Reap I was staying at the beautiful Sokha Resort, Angkor. I visited 3 main temples in the Angkor group of temples, Bayon, Ta Prohm and of course the beautiful Angkor Wat. Each one of them is unique in its own way. Bayon had giant smiling faces looking at you from every corner of the temple.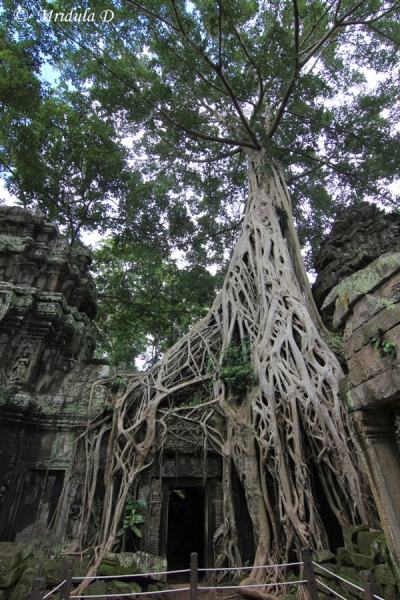 Ta Prohm, Cambodia
Ta Prohm is said to have been abandoned at some point in history. And it was during this phase that trees start taking hold of the temple, nature was trying to reclaim the space that once belong to it. Today the giant trees around the temple are the prime attraction. They feature in the famous Angelina Jolie movie Lara Croft- The Tomb Raider. Indian government is also contributing to the restoration of Ta Prohm. It is a stunning place.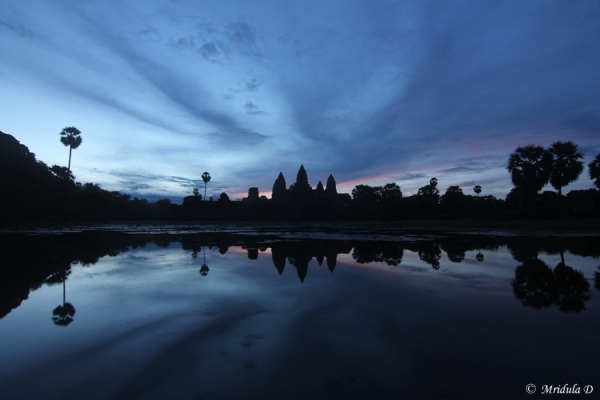 Angkor Wat, Cambodia
The last monument that I visited on this trip was Angkor Wat. It is a concept, it is not just a place. I was completely awed by it. If you can catch the sunrise at Angkow Wat, do go, it is not to be missed. I visited the place later during the day as well. One short trip does no justice to it.
And that brings me to the very end of a memorable and beautiful Thailand Cambodia trip. I can't thank the Tourism Authority of Thailand enough for inviting me on this trip!