Looking at your comments on my previous posts, a lot more people seem to be willing to travel to Spiti, Himachal Pradesh. To make your journey more comfortable here are ten things to know before you travel to Spiti. It might provide some food for thought as well!
Prepare for High Altitude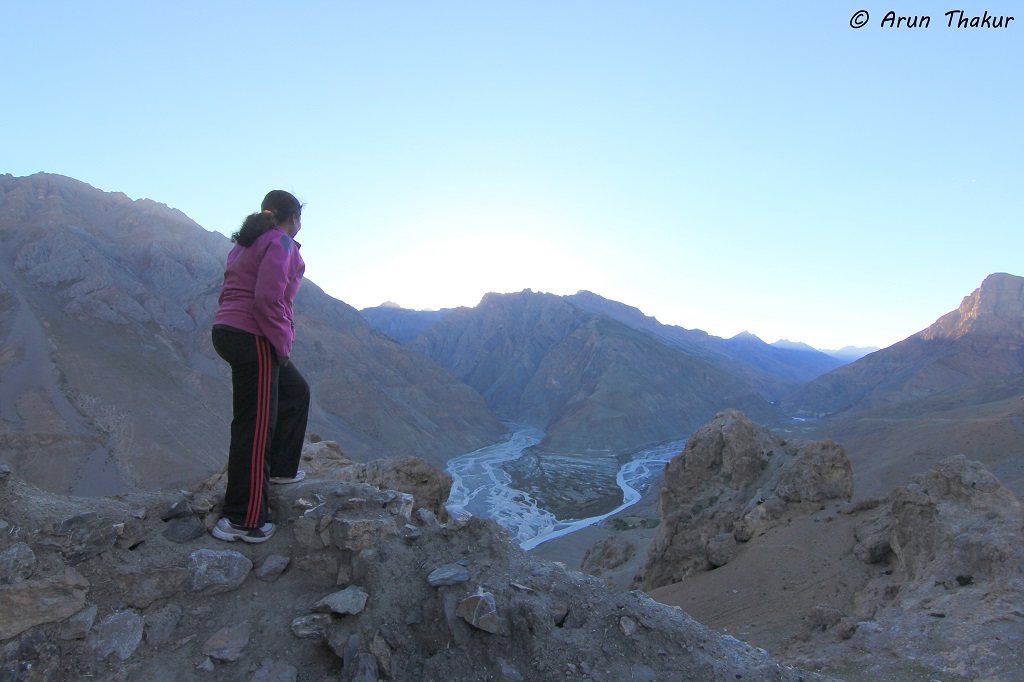 Kaza the district headquarter is at an altitude of 3650 meters (11,980 feet). Chandratal is at 4,300 meters (14,100 feet). As there is less oxygen than we are used to, it can lead to what is called AMS or acute mountain sickness. While I am no expert on it, I believe in acclimatization. If you take it easy initially and gain height slowly, your body will get used to the less oxygen.
There is a common medicine called Diamox for altitude sickness as well. All my guides carry it. But I never had any need to use it. The ultimate authority on the topic is your doctor and you. But I do not like what some trekking agencies seem to be doing these days, rush the trip, cut down on acclimatization and prescribe Diamox for everyone!
Drinking and High Altitude don't Mix Well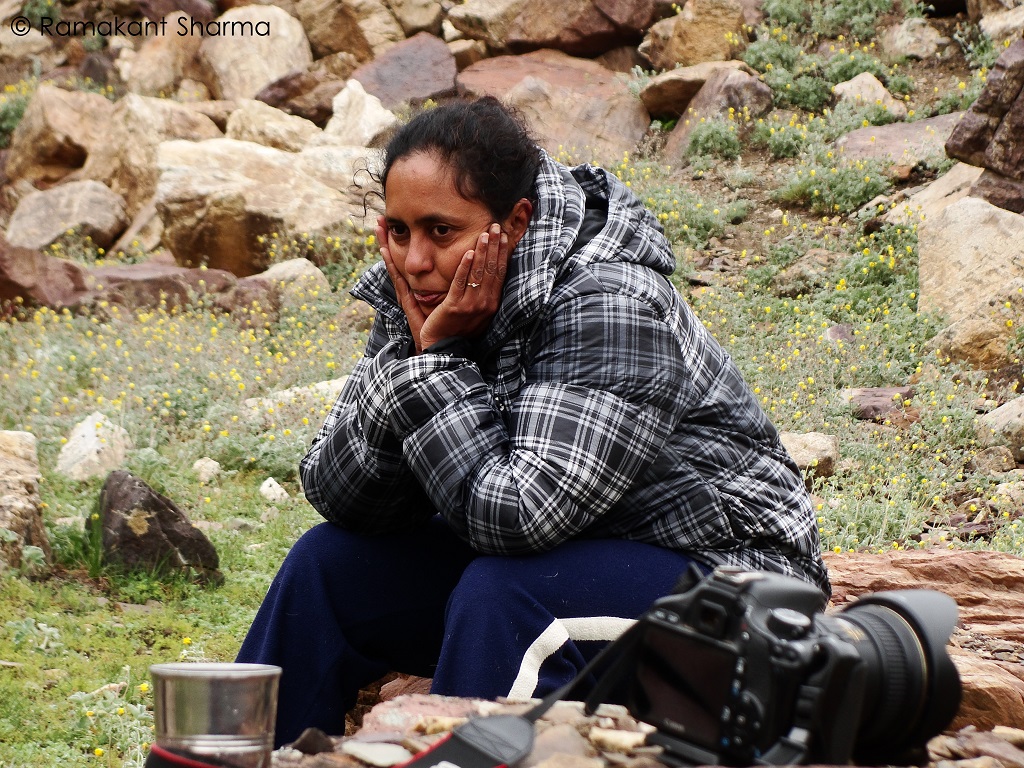 I am not big on drinking. One glass of very watery rum is all I might have on the cold nights in the hills. And even that creates trouble for me at high altitude. In the picture above I look lost in thought! I was actually holding my head as I had a hangover from that watery glass of rum mixed with the altitude at Chandratal last year. This year as we reached Chandratal in one go by road, I anyway had a headache. For the first night I didn't drink any alcohol and I hardly ate anything. By the next day, I was fine.
There are No Roads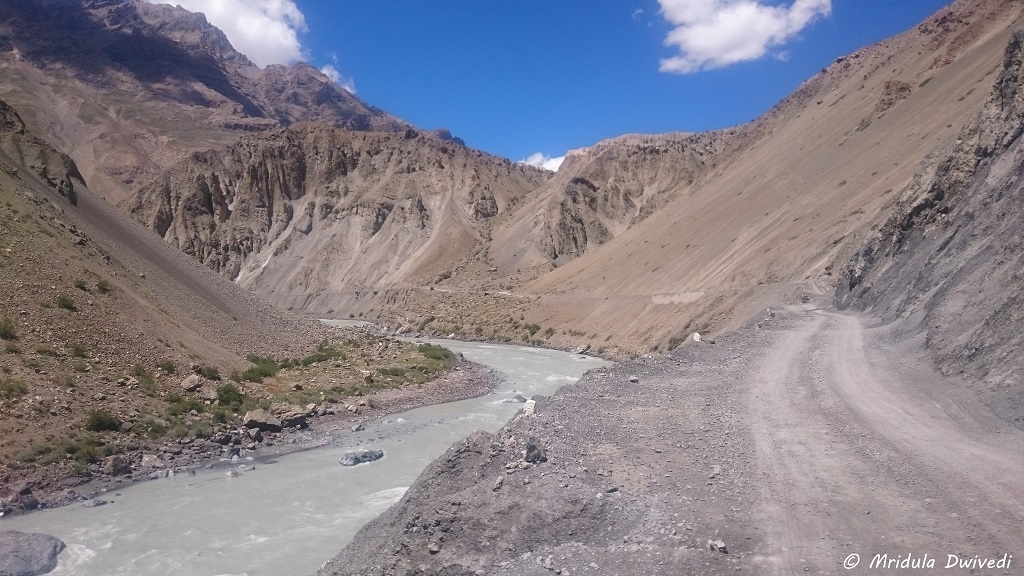 The roads to Spiti are bad. There are hardly any roads in fact. There is more mud and stone than tar on the roads. It makes for a very tiring journey. A lot of 'nalas' flow on the road. The 'nalas' get formed due to snow melt. The water increases as the sun gets higher. So it is easier to cross the 'nalas' early during the day time. That is why drivers insist on an early start.
Also if you wish to stop at ever bend, and believe me you will want to, to take pictures it makes sense to start early. Your driver will not like it at all if you delay the arrival till late as he is the one who will have to drive on bad roads in failing light.
Private Vehicle is Expensive, Public Transport Sparse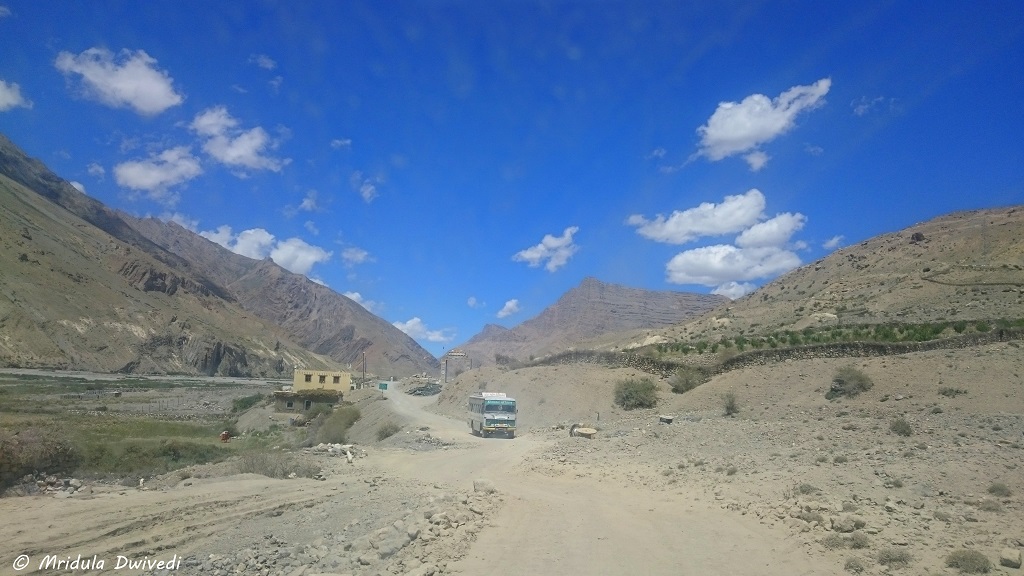 Hiring a private vehicle to Spiti would be the single most expensive addition to the cost of the trip. It gives you a lot of flexibility about when to travel, what to see, where to go etc. There is hardly any public transport in Spiti. People hitchhike, use the rare buses that ply in season, ask for lift in canters, with Lamas and somehow get wherever they wish to. Keep this is mind when you plan your trip. If you are driving your own vehicle, that is another matter. As I have never done it, I have nothing much to say about it.
Homestay is an Option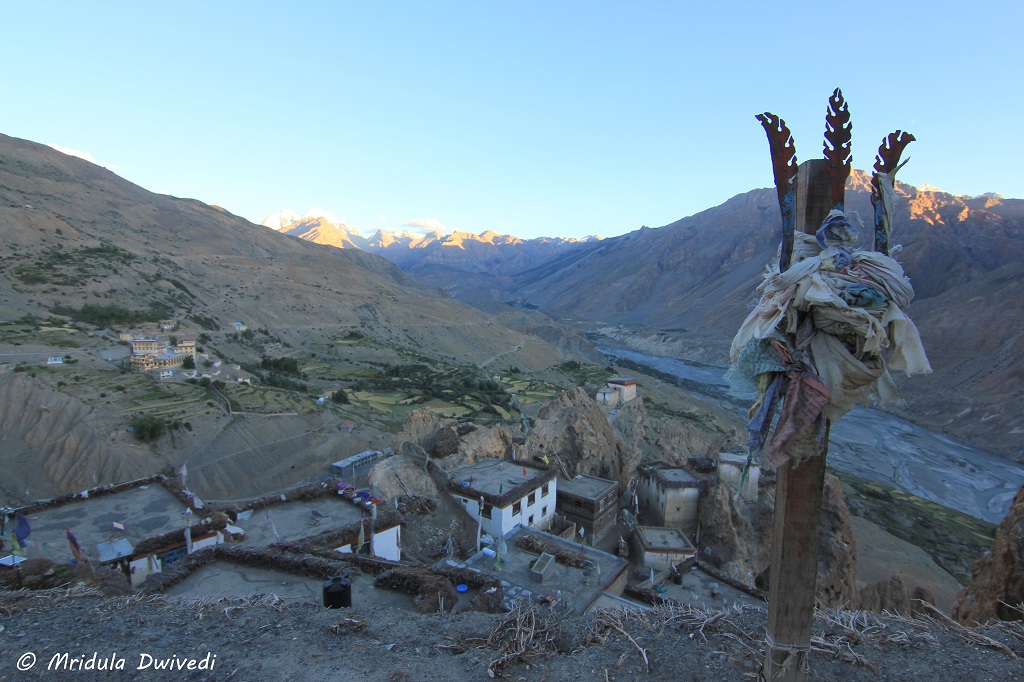 People do offer a room in their homes at in most of the villages in Spiti. All the places that I stayed in 2007 were clean and beautiful. Back then not too many people spoke Hindi, but they do now. Homestays seem to be on the rise now.
Guesthouse are the Norm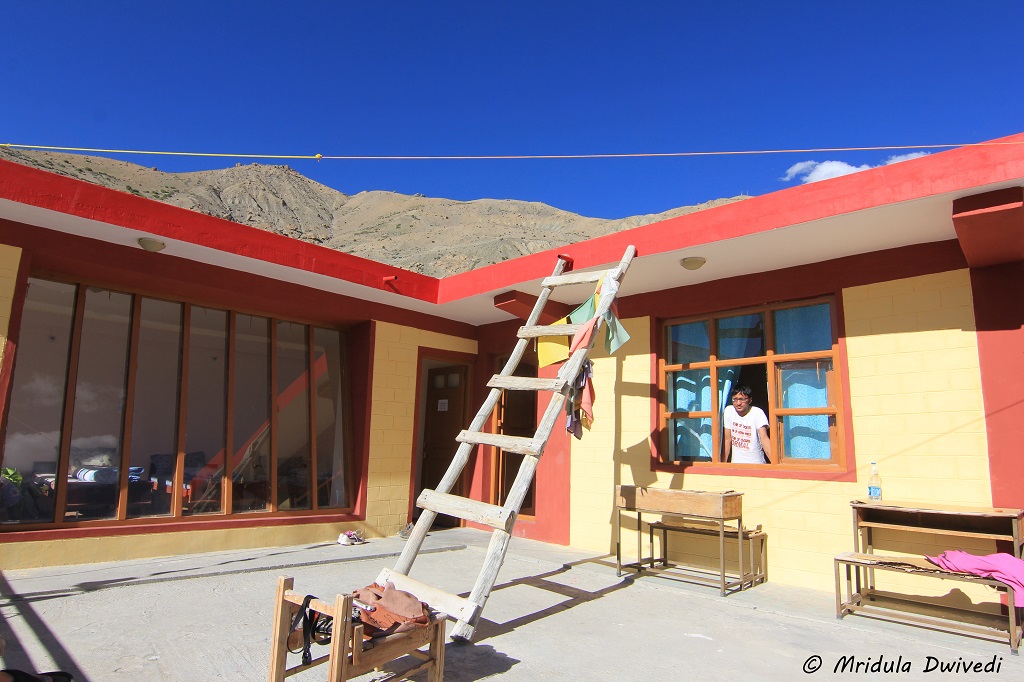 Other than homestays there are guesthouses where you can stay. There are no star hotels in Spiti. At the time of Buddhist festivals all the guesthouses will get full. If His Holiness, the Dalai Lama is in the region, that particular village will be jam packed.
You Cannot Camp by the Edge of the Chandratal Lake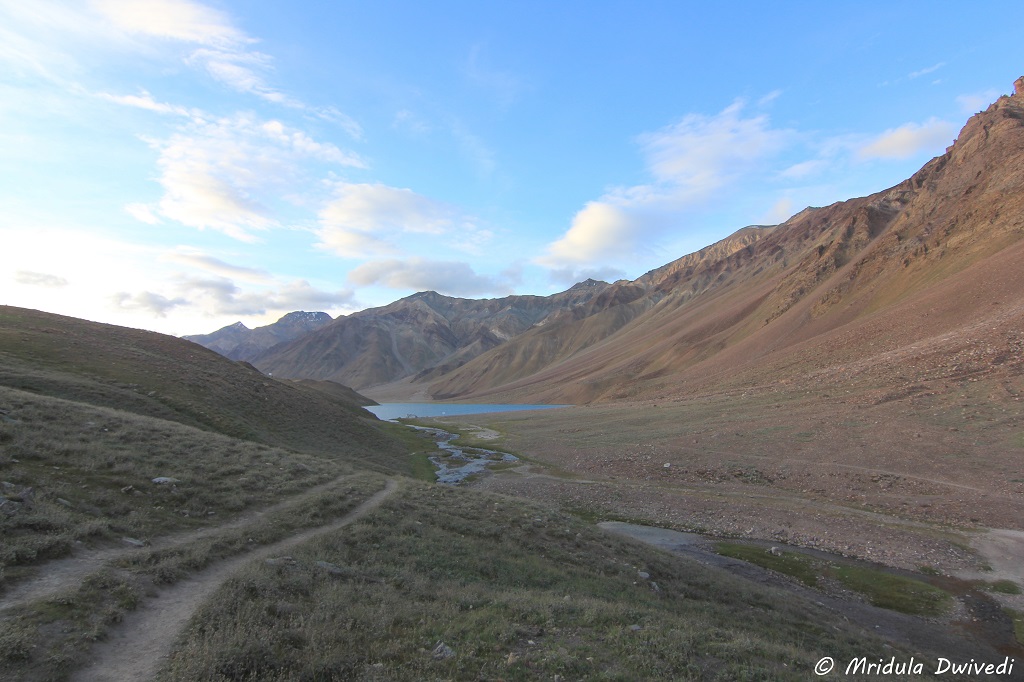 However much you may like, no one can pitch a tent next to the Chandratal Lake. The forest department has a restriction of 2 kilometers distance from the lake.
Spiti is Beautiful 
Do I really need to elaborate on this? This is the view of Dhankar Village in the Spiti valley from the balcony of my guesthouse.
Go with an Open Mind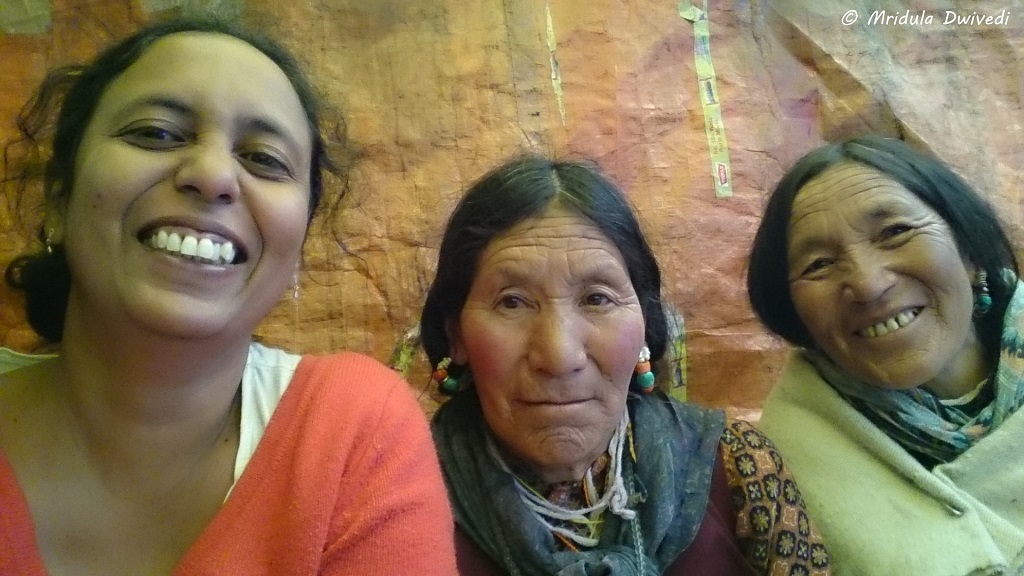 The two common traits of the cities do not work well in the hills. First is aggressiveness. Spiti is a quiet region, people are peaceful. You will do better with the gentle people if you leave home your 'can do' 'go getter' attitude. The other thing that is jarring is that 'everyone is out there to make a fast buck at your expanse'. Believe me, it will be an insult to almost everyone in this region. The norms are different, the society is different and the pace is different. I am not saying that you trust people blindly, but go with an open mind and less of the city aggression.
Only BSNL Phones Work in the Region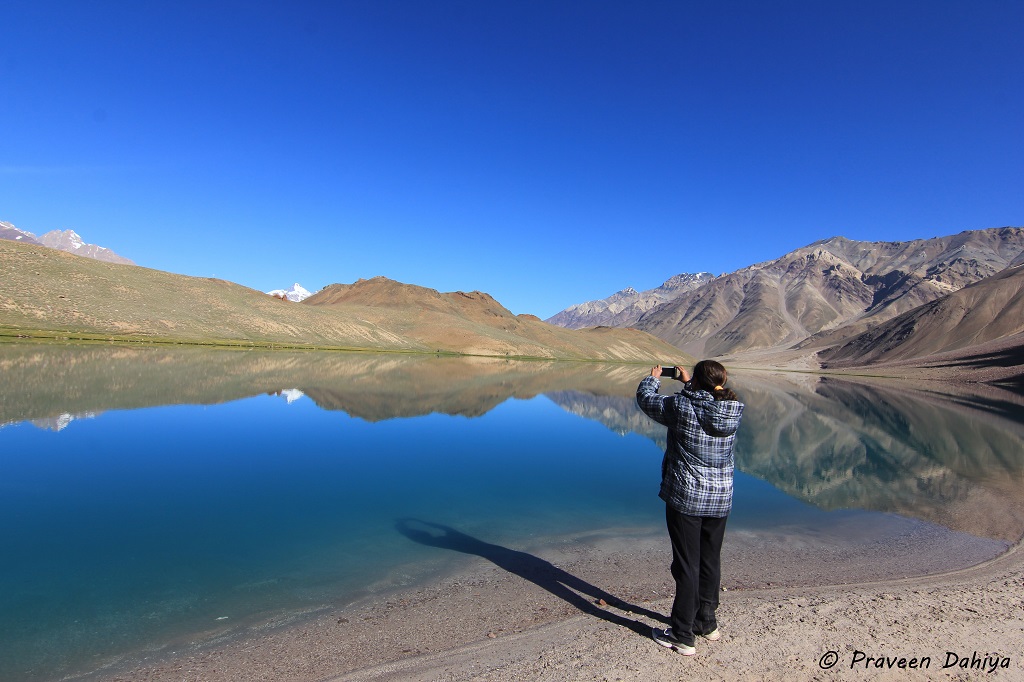 All the phones become dumb boxes in the region unless you have BSNL. BSNL is the only network that works in the region. At Dhankar there is not even BSNL. In Kaza you can make a STD call like the good old days.
I will give you two bonus tips, there is no airport in the region! From Manali side there will be an ATM only at Kaza and no one can predict if it will have money or not. And you can forget credit cards for the duration of the trip.
There is a route from Shimla but unfortunately I have not done that till now. I will try hard to rectify this the next year. And in the end I guess I wrote this post just to show you more pictures from Spiti!
PS. My guide for this trip was Rama Kant Sharma.