I have to admit I am not much of a temple person. I was not sure what to expect it was on at the Suryagarh trip. In the end we explored such off beat and small places around Jaisalmer that I was glad we did this.
Navdungar Temple is on the way to Deta. When we there, no one else was around. I actually do not like going to temples (or other religious places) because many of them have very pushy priests. They are also a crowded affairs usually. Not a chance of anything like this at Navdungar. It is at a hillock and you can see for miles around at the vast open spaces. We crossed by this place at night too when we were on the haunted trail.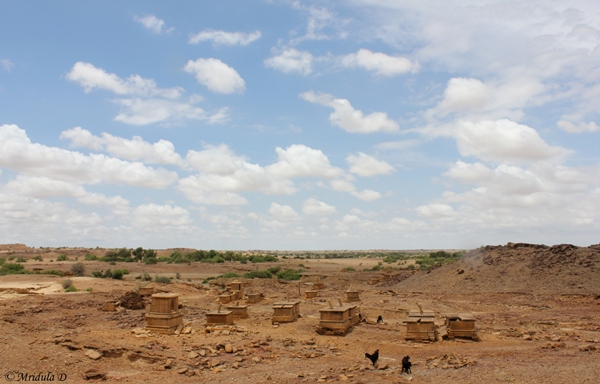 Unmarked Burial Sites, Jaisalmer, Rajasthan
Suryagarh specializes in exploring the unexplored. So we stopped by an unmarked burial site where otherwise only the shepherds go with their herds. In our group we had Sudha who knew a lot about the history of the area. She told us that this could have been a burial site where both husband and wife were cremated. She also pointed out tall pillars known as Gordhans which are put around the water bodies as markers.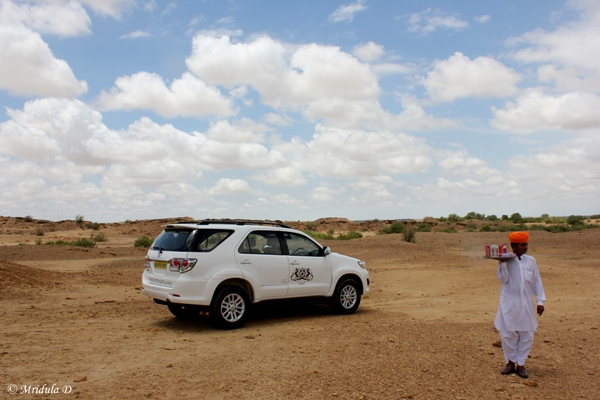 Hospitality in the Middle of Nowhere: With Suryagarh in Jaisalmer, Rajasthan
When you travel with Suryagarh, you can be assured of some surprises even in middle of nowhere. As it was summer and we were going to spend a lot of time outdoors, chilled cold drinks and water was there in the car. They served it in style in middle of nowhere as well.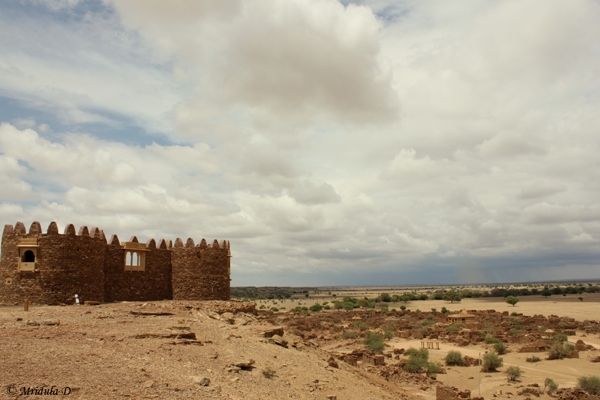 Khaba Fort and the Abandoned Village, Jaisalmer
Even though Khaba Fort is not a temple we stopped there, as it was on the way. The small brick structures you see in the pictures are remains of homes of the abandoned village of Khaba. It has the same Paliwal Brahman legend associated with it as Kuldhara. But it is not a cursed village, so adjacent to the old abandoned houses there are newer homes which are inhabited.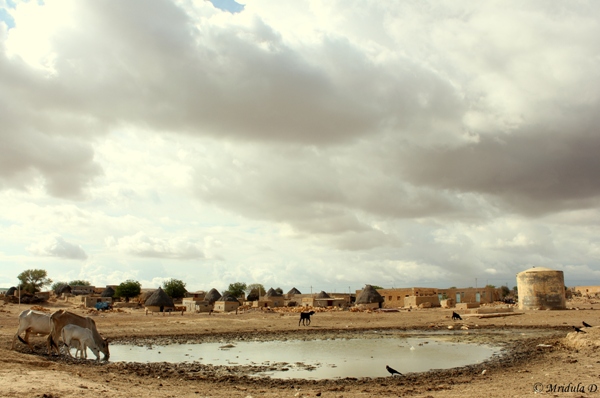 A Village Near Jaisalmer, Rajasthan
Later once we completed the Temple Trail we headed back towards Deta. Five of us wanted to go as close as we could, to Desert National Park. Manvendra Singh Shekhawat, the owner and MD of Suryagarh was himself driving us around. We stopped at a small village on the way. I love such unscheduled stops.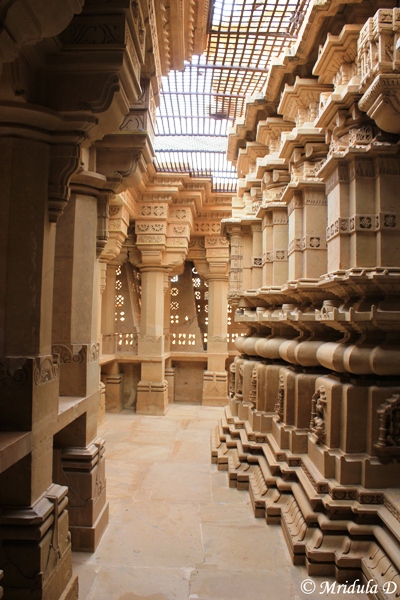 Lodurva Jain Temple, Jaisalmer, Rajasthan
Our next stop was the beautiful Lodurva Jain Temple. I was quite impressed with the architecture of the temple. Also there was no pressure at any point to donate any money or indulge in any ritual. Lodharva was the capital of Bhatti Rulers till they shifted it to Jaisalmer.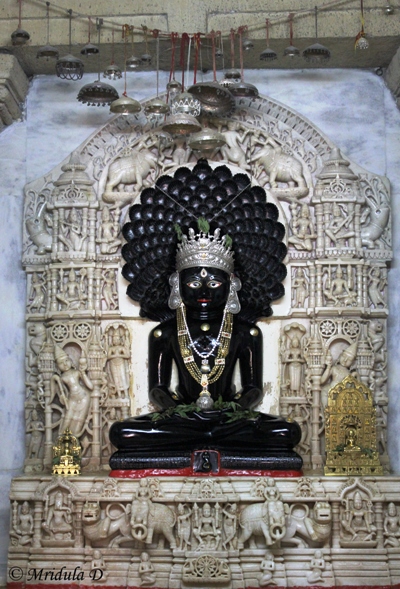 Parshvnath, Lodurva Temple, Jaisalmer
The temple is devoted to the 23rd Tirthankara, Parshvanath. The headgear that you see depicts 1000 snakes. There is an audio guide available at the temple. But due to the paucity of time I did not try it.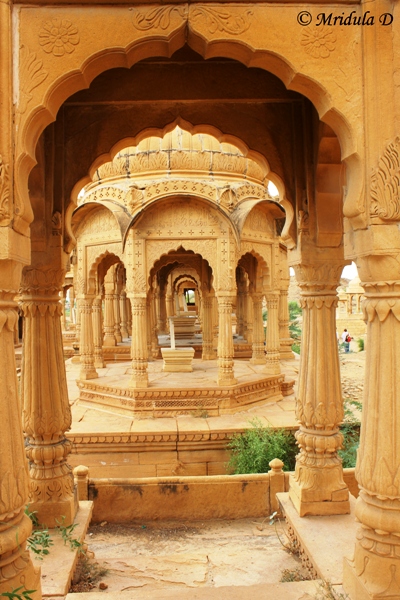 Bada Bagh, Jaisalmer, Rajasthan
Bada Bagh is the royal cenotaph of the family of the king Jai Singh II. It is supposed to be a garden complex but I don't think it is really maintained as such. Yet the cenotaphs are quite impressive. Once again I spent about 10 minutes running around the site and getting some pictures.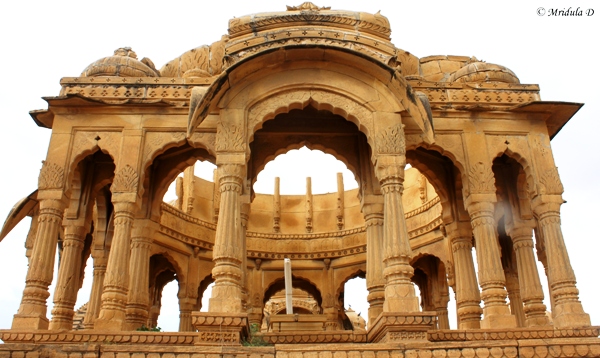 A Cenotaph at Barabagh, Jaisalmer
The complex has many cenotaphs and I tried to get a close up of one. There were some signboards but it not really easy to read them. Due to the lack of time I could not even gather to whom this big one belonged to. I am told that it is the grandson who used to build these structures for the grandfather. In those days they used to build things that would last!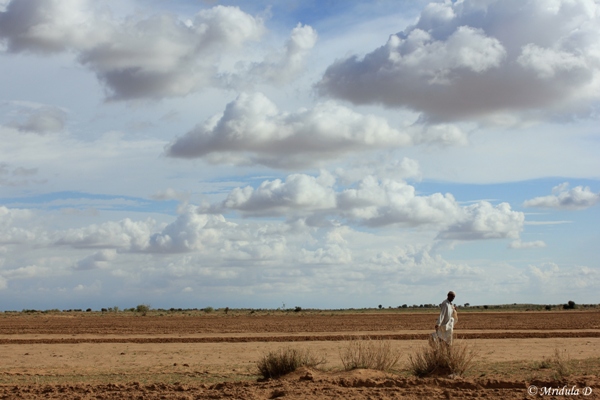 A Villager Walks by his Fields, Jaisalmer
It was an absolute privilege to explore the unexplored with Suryagarh. They say most of their guests like the lesser known places, whereas some do turn back and say what were they supposed to do in the middle of nowhere? So what would you say?