Te Aroha is tucked away in a snug corner at Dhanachuli, Uttarakhand. It was the former summerhouse of Asha and Sumant Batra. It gradually got converted into a 10 room hotel that is built with a lot of love and care. And you can see it in every corner of the place. While I would walk the pathways I would often stop to look at a curio and wonder, "How did I ever miss it the first time?" For example, this pretty bird was in a prominent place and yet there was so much to see, I missed it the first time.
I can actually fill this post with such cute things but I will do a photo feature of small things around Te Aroha separately. And if you are wondering why I went to Uttarakhand so soon after the floods you can read about it in detail here and here. The journey from Anand Vihar Railway Station to Kathgodam was routine, I had tea, ate breakfast and fell asleep in the train because I started at 4.15 am from Gurgaon to catch the train. I was received by the car and driver from the hotel and it was a smooth 2 hour drive to Te Aroha.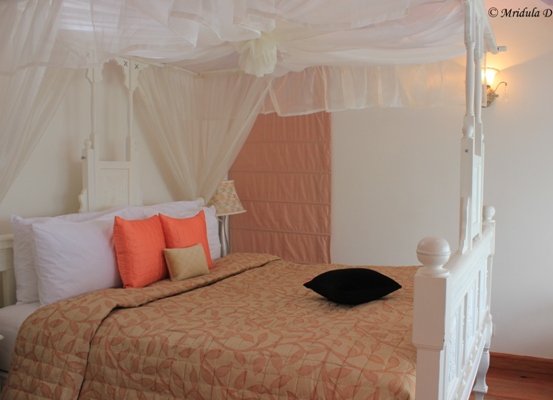 The Bedroom that was Mine for a Few Days, The Long House, Te Arhoa, Dhanachuli, Uttarakhand
Now I have to take Avomine (medicine for motion sickness) on the mountain roads but even through my Avomine filled haze I liked my room on the first sight! It was beautifully done and was quite inviting after an eight hour journey. The bathroom was an absolute delight and I had a living room too, all to myself. There was a piano in the living room but having no musical talents whatsoever I did not inquire about it further. I later got to know that the four poster beds in the hotel are about 100 year old!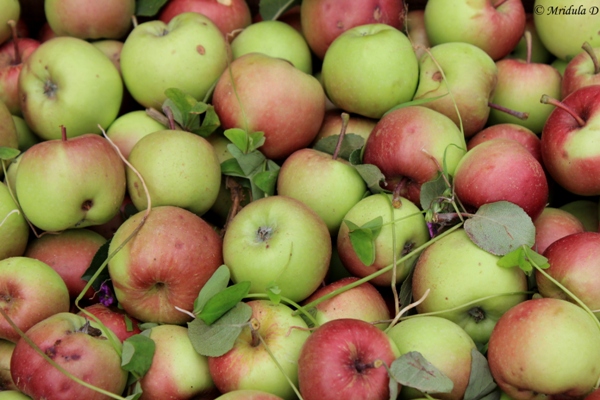 Apples at Dhanachuli Village, Uttarakhand
Once I got out of my room, which I did reluctantly, it was time for lunch. The food at Te Aroha is wholesome and done with a lot of care. During my stay I had both Indian and continental and liked it all. There tomato shorba on a cold night was an absolute delight. I saw a mom requesting Maggi for son, who would not eat anything else, as well.
In my conversations with Sumant I got to know about the proposed expansion plans. He plans to add a museum of his collections along with a tea house to the hotel. He has an exotic collection of things, curios, advertisements, bollywood posters and a Vijay Super scooter as well! I have never seen so much reading material at any hotel. Now traveling alone, I never venture without my book but at Te Aroha I would have been fine. There was so much to read that I would need months to finish even those books that I liked.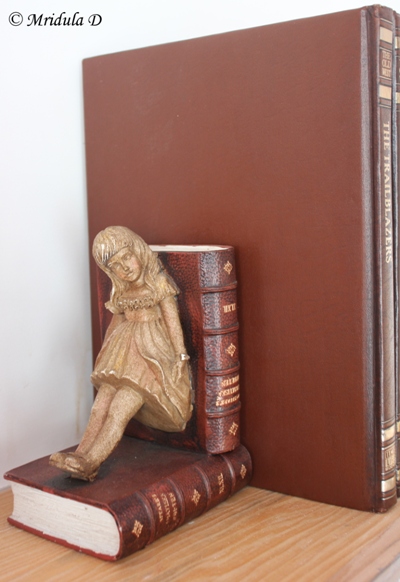 Books at Te Aroha
Te Aroha is primarily a romantic getaway. Almost everywhere there are pair stories on the walls. There are some rooms that are given only to couples. I saw three rooms, the Long House, where I stayed, the attic room and the master bed room. I would say I had the best bathroom but I liked the attic room a lot because well it was in the attic! The master bedroom has a private garden as well.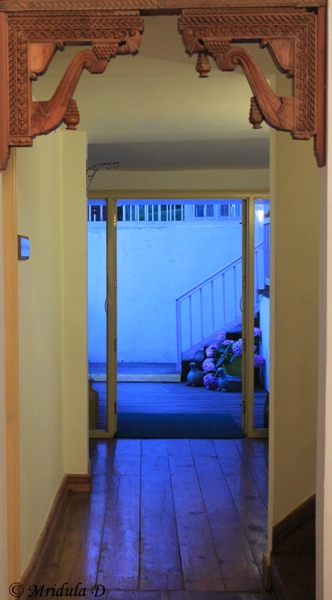 Passageway in the Main Lobby at Dusk, Te Aroha, Dhanachuli, Uttarakhand
When I asked Sumant if the hotel was done by a professional interior designer, he confirmed what I suspected. He was the brain behind the concepts and had professional help. It shows, in the poems in my room, the small treasures all around, the books, the music and in the whole atmosphere. It is top class but not all color coordinated and brushed to distraction. Te Aroha has a cozy feeling to it, as if you were a guest in someone's home, rather than at an well done but impersonal hotel.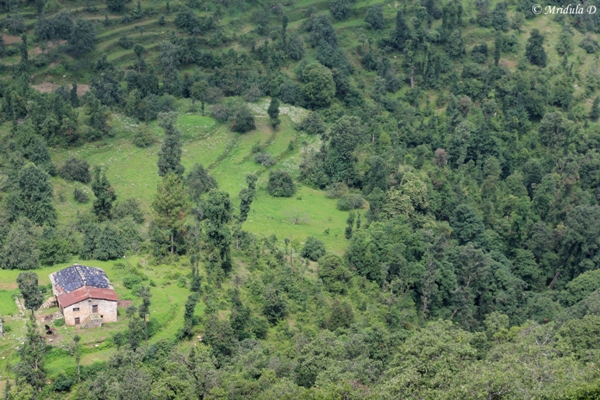 Views around Dhanachuli, Uttarakhand
Tucked away within the lap of nature Te Aroha has big decks to sit and get lost in nature, in a book or your significant other if you wish. You are bound to come back relaxed but probably with a hangover like me, the high altitude hangover, which gets worse in the plains.
PS. I was invited to the hotel and I am so happy that I was!