When I attended SATTE at Pragati Maidan, New Delhi I got a chance to interact with Dr. Lee Jae Sang the director of Korea Tourism Organization at India.
It was quite an experience to talk to him. He had been talking to a lot of news paper reporters and I wonder if he found chatting to a blogger a different experience? I mean I am much more talkative than a reporter, I interact in a conversation rather than follow the question answer mode.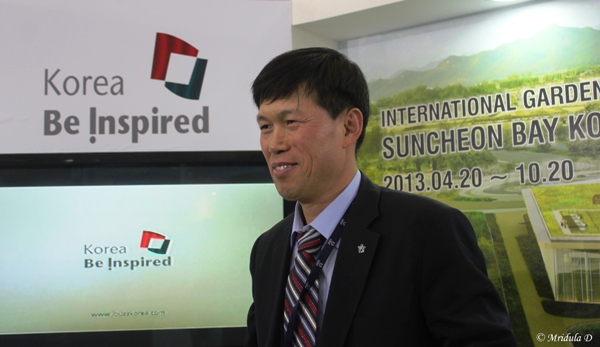 Dr. Lee, Jae Sang Director India, Korea Tourism Organization
So my first question to him was that as Korea is a unique country and India is also an unique country will it be difficult for an Indian to visit Korea? He assured me that a lot of people in Seoul and Busan would speak English and a visitor would not have any problems. He also mentioned that in the year 2012 92000 Indians visited Korea and this year they are targeting 100000 Indian tourists.
I said at some point that I knew friends who went to Korea to do their post doctoral fellowships and then it was my turn to explain that by my day job I teach and otherwise I am independent travel blogger.
The booth had a lot of colorful posters and he mentioned that Korea is a land of festivals and the two in front of me were mud and tomato festivals. Both looked quite exciting! Then the talk moved on to the Korean F1 and I asked if the track was close to Seoul.
He replied that it was 400 km from Seoul but it would take anyone just 2 hours on bullet train! Now that feels like some experience, visit to a F1 track with the benefit of a bullet train ride!
Being an Indian and a vegetarian the talk then turned to food. I asked him if it would be difficult to find vegetarian food in Korea? He replied that Seoul and Busan would be no problem for Indian vegetarian food. Truth be told when I am abroad I do not crave for Indian food, I want to eat the cuisine of the land provided they can give me something vegetarian.
And then I asked him about the role of social media in promoting Korea. Dr. Lee said as Koreans are very high on internet use they do use a lot of social media in promoting Korea. He said if you really wanted to do Seoul it would probably take 2 weeks, that is how long many people stay.
Soon there were others waiting to talk to him and I took my leave. It was an excellent opportunity for me to get a glimpse into Korea from the top man in the country!