I did not know what to expect when I was walking towards the Taling Chan Floating market in Bangkok. I was still very tired. I had taken a class till 1.30 pm the previous day. Then I took a flight at 11.30 pm the same day from IGI Delhi. As usual in the flight I watched back to back movies (Monsters University and the Bourne Ultimatum). That makes me very tired on landing. The visa on arrival at Bangkok was a breeze though. The good folks at the Tourism Authority of Thailand had given us the day off. Only we went sight seeing without catching up on sleep. I anyway never manage to sleep early at night. So, when I started walking towards Taling Chan Floating Market, I was a little disoriented.
However as soon as entered the market, this was the first shot I took. The lady and her boat were so beautiful! I took this picture in a daze. But my feet were moving now. I was willing to explore more. Sleep was pushed away to some corner. I mean look at her display! How fresh, colorful and symmetrical it looked.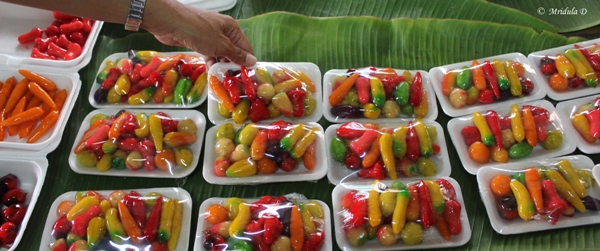 Colorful Candies
Our English speaking guides were Pat and Tim and they told bought us these candies. They are bean based, mildly sweet and so colorful. I wanted to buy some for Chhavi but Tim advised me against it. She said unless I kept them refrigerated they would spoil. As this was the beginning of the trip there was no way I could keep them in a fridge. So I had to be content with a picture. The market is a weekend market.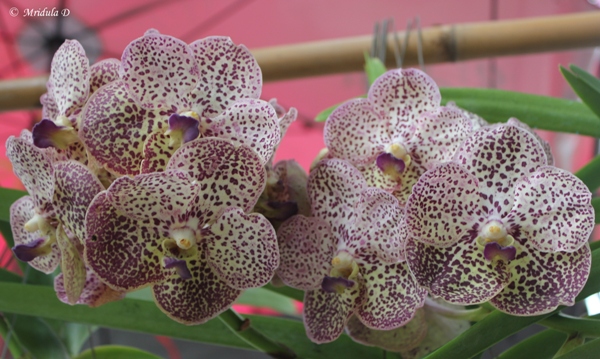 Orchids, Taling Chan Floating Market, Bangkok
Orchids grow in every corner in Thailand. They were displayed in the market too. In the homes they are grown on coconut trees in the coconut shell. No fancy pots for them. Lotus and water lily also grow like weed. There was a display of orchids in one stall which had red, yellow, purple and white orchids.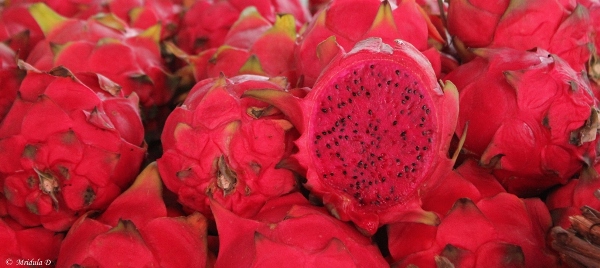 Dragon Fruit, Taling Chan Floating Market, Bangkok
I had my first encounter with dragon fruit this time in Bangkok. Before that I had only seen them in my daughter's picture books. It is a fleshly, mildly flavorful fruit that I liked. I saw it growing by the banks of the Chao Phraya river on cactus like plants. They were always present in breakfast or fruit platters that are commonly served in Thailand and Cambodia as desert. I ate the white ones though, I saw the red one only in the Taling Chan floating market.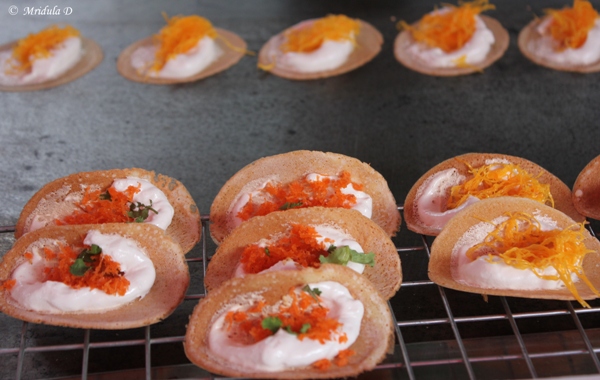 Food at Taling Chan Floating Market, Bangkok
If you are a non-vegetarian you will have a feast at this market and elsewhere in Bangkok. If you are a vegetarian there are enough Thai dishes that are rice and coconut based. I feel a lot of Indians don't like to experiment with food. But what is the point of thinking of Indian food in a different land? I would say give a try to the Thai delicacies.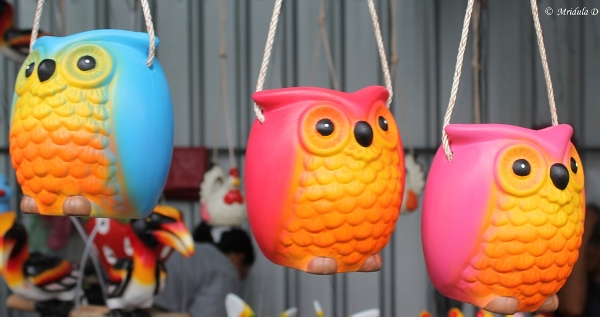 Owl Shaped Flower Pots, Taling Chan Floating Market, Bangkok
Owls and elephants are very common Thai symbols. You will find jewelry depicting owl and elephants as well. Bargaining is a way of life in these markets. We tried to bargain for these pots but we could not settle for a price. In the end I had to be happy by clicking a picture only. The way I did my packing in the end (bags bursting at the seams) it was a good thing in the end!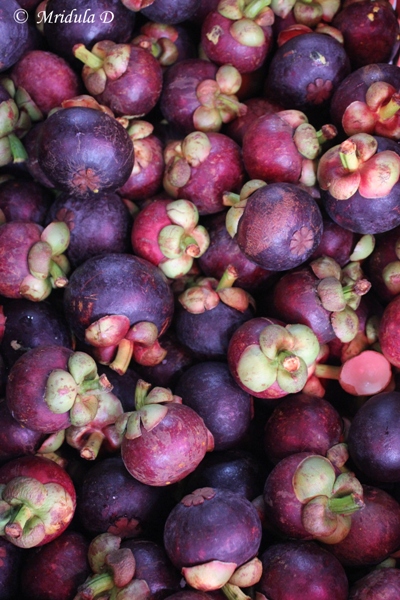 Mangosteen
It was my first encounter with the Mangosteen fruit too. If you are familiar with litchi they taste somewhat similar but they have no seeds. I saw them for the first two days at the hotel breakfast but never after them. I tried buying them at the airport but by the time I could find them, I had spent all the Thai Bhats!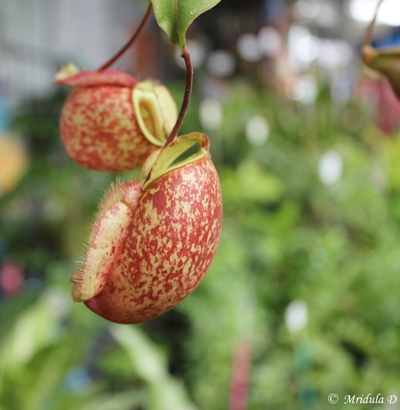 Pitcher Plant, Taling Chan Floating Market, Bangkok
Talking of exotic things, there were pitcher plants for sale in the market too. It was difficult to decide which are more exotic, orchids or pitcher plants?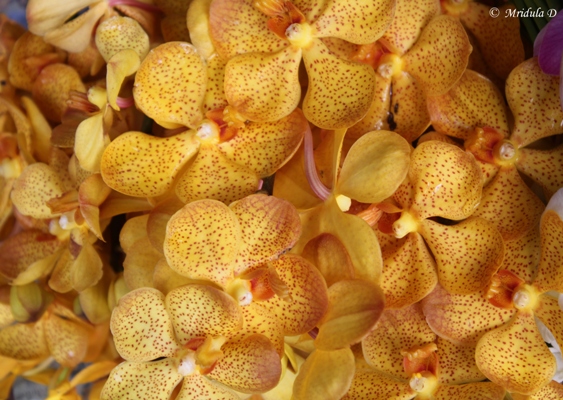 Yellow Orchids, Taling Chan Floaing Market, Bangkok
And that is why I have put the pitcher plant and the orchids side by side, you decide which one looks more exotic! And that brings me to the last picture from the market. But I can easily add ten more.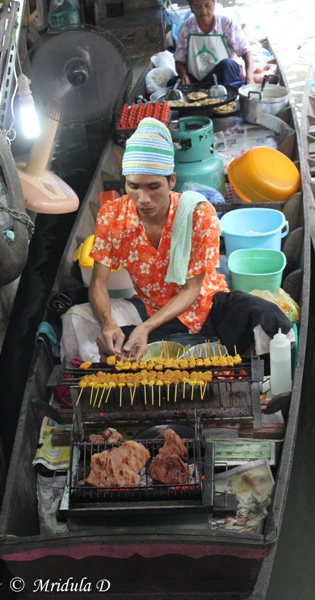 Preparing Food in a Boat, Taling Chan Floating Market, Bangkok
The market has much more non-vegetarian food than vegetarian food. I am not so keen on even photographing it. But this boat was so colorful that I stopped and did overcoming my aversion.
Other than the Taling Chan Floating Market, I visited the Friendship Border Market at Aranyaprathet on the Thailand Cambodia border and the Night Market in Cambodia. So stay tuned for more market posts and photos. Aren't they colorful?