I have said this many times before and I will say it again, I love window seats on a plane. I love them more if I know I will catch a sunrise or a sunset during my flight. I also usually take a seat from where I know I would get a wing shot from a plane! So when I was flying back from Bangkok to Delhi everything fell in place. I had a window seat and the takeoff from Bangkok was scheduled around sunset.
The first reward of the window seat was the view of the paddy fields on take off. I was glued to the view. However, there was a young man in the seat next. It was a week day and the flight was only partially full. I thought he would move to the middle row where he could have three seats for himself. He anyway didn't had the window seat so what difference would have another aisle seat made?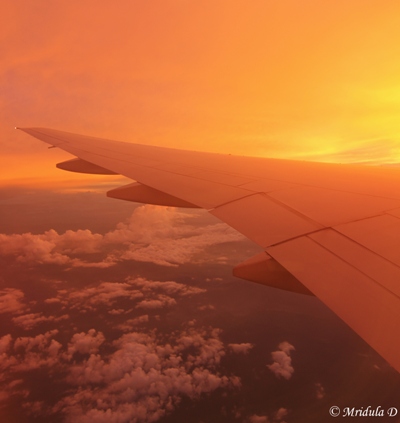 Golden Sky
Anyway the sky was turning to gold and I had better things to do! I was using my new Tokina 11-17 wide angle lens and I have to say I am much happier with the results when compared to the kit lens. I anyway should like the results after spending more on that lens than I did on the camera body along with the kit lens!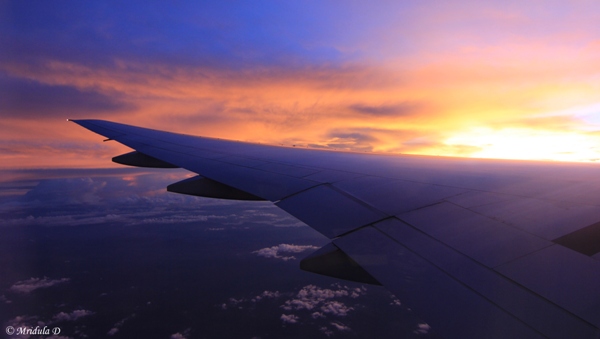 Sunset from a Plane
This was the last shot I took. It became dark rapidly after it. They had just started serving dinner. As it was dark outside and my flight was only of four hours so there was no chance of catching a sunrise anywhere. The person next to me showed no sign of moving to the three vacant three middle seats. So I did. I started to watch Hangover and Hangover II along with my meal and a glass of wine. It was an enjoyable Thai Airways flight.
This post is part of Sky Watch Friday. Do check it out.