Banjaar Tola is Taj Safaris luxury camp at the Kanha National Park in Madhya Pradesh. The property is close to the Mukhi Gate. This was my second trip to Banjaar Tola but after a gap of eight years. In 2009 I was a wide eyed blogger, by 2017 it takes a lot to make my eyes pop out!
The Camps
Banjaar Tola now contains two camps each having 9 luxury tents. Tents is a misnomer actually, once inside you are surrounded by luxury. Both the camps have their own dining areas. In good weather one can sit outside. Indoor seating with air conditioning is also available. There is a swimming pool within the camp too.
There is a cozy bedroom with a luxurious bathroom complete with a bath tub at your disposal. The amenities in the bathroom are Forest Essentials.
The room has glass doors that opens up to a balcony facing the Banjaar River. The river gets reduced to a trickle in June, not all rooms are river facing though. In June particularly after a few showers the trees are teeming with fireflies. It feels like Christmas at Kanha in June with the trees all lit up. I like to sleep with curtains open and I would fall asleep to dancing fireflies in the huge tree next to my balcony.
The Food
Banjaar Tola serves excellent food. I enjoyed my tea after morning and evening safaris.
Like Mahua Kothi, They also set up breakfast in the jungle. I loved their soups, both cold and hot, on both my trips. They grow a lot of vegetables within the camp.
The Naturalists and the Staff
I find the Taj camps special because of their naturalists and staff. They have a keen interest in wildlife and it is easy to get caught up in their enthusiasm. I knew Sangita from my previous trip to Baghvan at Pench. I met Nara, Yadu, Partha and others for the first time. The camp manager Mr. Amit Kumar regaled us with his stories about snakes. He must be born under a lucky star given the number of times he caught deadly snakes without knowing what he was doing!
Kanha National Park
Walking Safari
Kanha is a beautiful forest, it is a pleasure to go on a drive there. On my first morning I went for a jungle walk. It is quite an experience to walk on foot inside the jungle. There are specific zones where walking is allowed. On a jeep safari no one is allowed to get down in the middle of the jungle other than in designated areas. On foot I do not wish to see any big game. However, I enjoyed stopping to click the butterflies, moths and the like on foot.
Jungle Safari in the Rains
On the evening safari it rained! That was a first for me, doing a safari in a poncho and still getting wet! There were times when I felt miserable with the rain. But a field full of deer lifted my spirits.
And then it happened, we chanced on an adult male tiger right by the road. He went about his business without a care in the world, we simply did not exist for him, which is how it should be. After all who wants the attention of an adult male tiger? After the long and close tiger sighting we completely forgot the rain! We were so charged that our ponchos came off. The rains had dwindled anyway.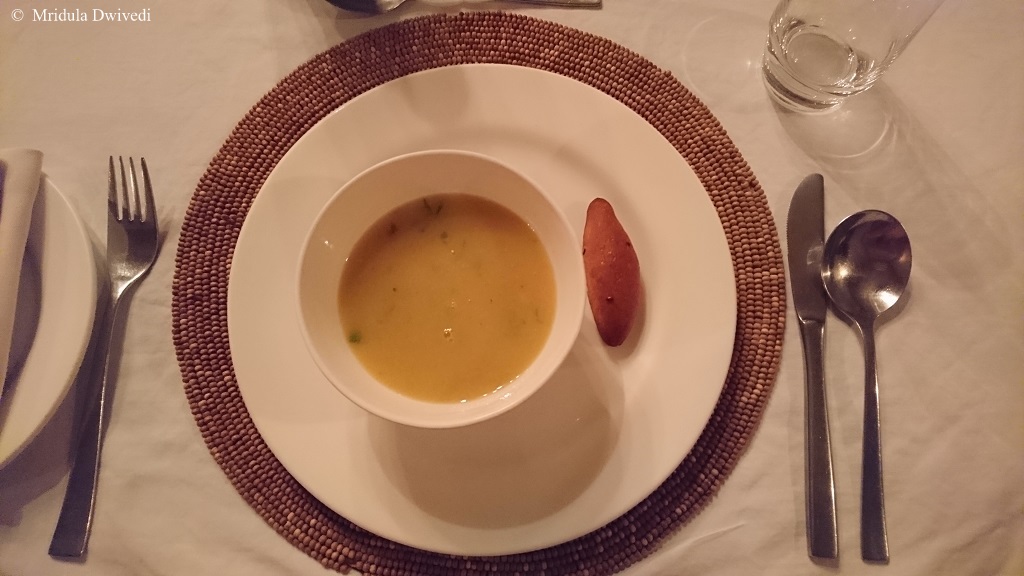 The hot soup tasted extra nice that night.
The next morning we went on a safari again, we spotted a Malabar Pied Hornbill. Even though the jungle was alive with warning calls but no big cats made an appearance.
I was starting my long journey back to civilization where I had WiFi signals but no tigers. I love going to the jungle and if it is with Taj Safaris, the trip is extra special.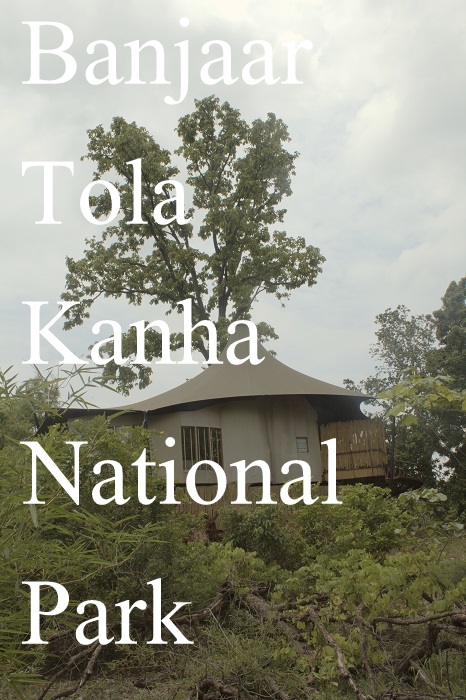 I was curious how the Banjaar Tola lodge would look after 8 years! It looked as luxurious as it did when it was brand new! I wonder how they manage to maintain it so well!
PS. I was invited by the Taj Safaris on this trip!