Taj Mahal! Surely my words are inadequate to describe the beauty of the monument. So, I won't even try. I will restrict myself to the more mundane aspects of getting there on a day trip from Delhi and coming back in one single piece.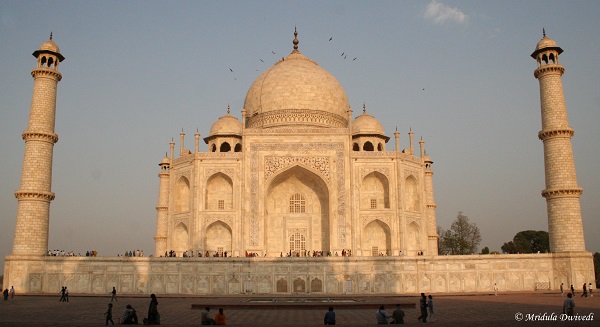 We, my two teenaged monkey nephews and I, decided to do a day trip to Agra to spend sometime at the Taj Mahal and Agra Fort (Sesha, my husband, still refuses to visit any place that does not has the Himalayas in the background).
We did what is known as a 'Shatabdi to Shatabdi' trip. The trick is to take the morning (6.15 am) Bhopal Shatabdi Express to Agra Cant. (8.15 am ish arrival) and take the evening Bhopal Shatabdi (8.22 pm) from Agra Cant. to reach Delhi the same day at 10.30 at night. We also decided to drive to the New Delhi Railway station from Gurgaon and leave our car parked there till the night.
The train arrived right on time at Agra Cant. and deposited the three of us quite clueless on the platform. I had read at Indiamike about prepaid Taxi stand and that was our immediate destination. Our cluelessness must have been quite apparent to the taxi driver who was trying to direct us to the pre-paid booth but skepticism was written all over my face as to his directions. He pointed out the exit to us and we decide to trust him that far because the railway signboard concurred with his directions.
Once we exited, it was easy to spot the prepaid taxi booth. I stood in the line for the ticket. And while the people from other countries before me were asking for taxis to Maurya Sheraton and the like, I could read the signboard at leisure. That is where I came across the phrase 'Shatabdi to Shatabdi' tour first. It was packaged at Rs. 950 (taxi charges only) for a non AC vehicle and Rs. 1400 for AC vehicle. It included a trip to Taj Mahal, Agra Fort and Fatehpur Sikri. Tempting as it sounded, I decided to stick to our original plan to hire a taxi just to the Taj Mahal. The good folks at the prepaid booth charged me Rs. 125 for the service.
The hard sell started in the taxi itself. Our driver for this trip, extended the offer to retain the taxi for the entire day at the charges of an additional Rs. 325. We told him we were not interested. He persisted saying he could take us to the market too and we politely told him we would not do any shopping. He said I will not find any taxi vacant to take us back to the station in the evening and it would not be safe for us at all to roam on our own. I told him it would be really sad if I can't feel safe in our own country in broad daylight. After trying for 15 minutes he gave up.
By that time we were almost at the Taj Mahal car parking. Most types of motorized vehicles are not permitted beyond this point. We decided to walk the remaining one kilometer though one can take a cycle rickshaw or a horse drawn tanga to the entrance. The dual pricing policy remains in place in spite of some news that I read quite sometime back that hinted at some changes. Indian nationals pay Rs. 20 and the foreign nationals Rs. 750.
My elder nephew was visiting the monument for the first time and as soon as it came in the full view, he went silent and his jaws dropped in sheer amazement. So did ours' even though it was not the first time for my younger nephew or me. The guide explained various things to us but something else caught my attention.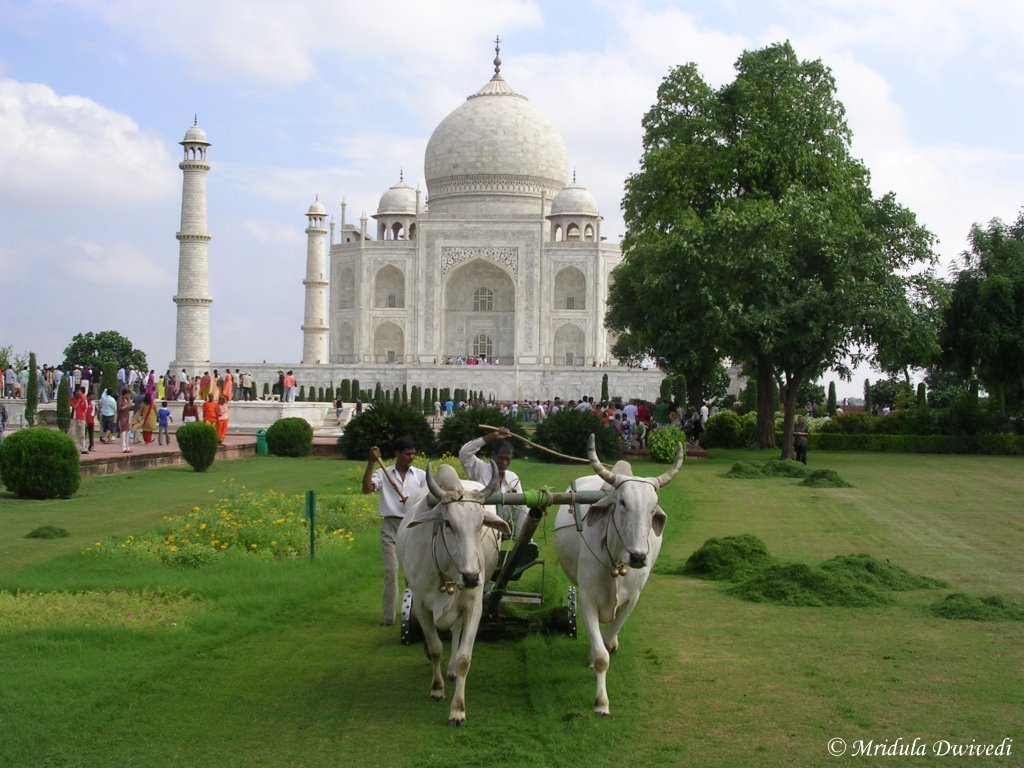 I have seen so many famous faces peering in front of it but I liked what I saw on Saturday 21, 2006. I would have liked it even more if there were no long sticks in the picture.
After the guide took us through the history of the monument, we wandered along for quite sometime on our own. It is said that the Emperor Shahjahan cut the hands of the craftsmen who completed the monument but our guide had an interesting take on it. According to him it is not true. He said the emperor made the craftsmen sign an agreement that they will not practice their craft anymore and hence the saying: it is like cutting their hands, a mere figure of speech. I wish his version is true but I guess there is no definitive answer out there?
By 12 noon my nephews stopped speaking. I knew then it was time for lunch. The Taj Restaurant (run by the Ashoka Group, government owned) is just a two to three minute walk from the main entrance towards the car park and that is where we crashed at Agra. It is moderately expensive and we had a hefty meal. Midway through our meal, I had a nagging suspicion that they may not accept a credit or a debit card. On inquiry, the waiter confirmed my fears. I had enough cash on this occasion but I told him to put a sign on the entrance that cards are not accepted or someone may just realize it too late!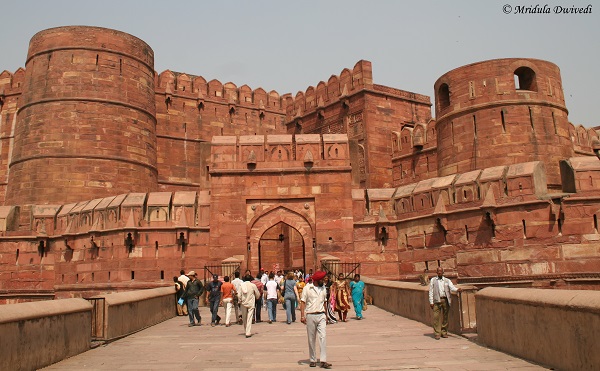 Stomach full, our eyes started drooping but we walked out and took a tanga to the Agra Fort (Rs. 25) that is roughly 2 kilometers away from the Taj Mahal. Only 15 to 20 percent of the fort is accessible to public and rest is out of bounds either because of renovation work or because of the presence of the army.
When our guide showed (same story here too, charge Rs. 150, even though his card said Rs 275) us Divan-e-Aam (a place where the king would meet the common people) my younger nephew remarked as I was clicking a picture, "Why can't they include such a picture in our history text books? When I read about it in class 7th I had no clue it would be such a place." Good question indeed, why not? The fort is full of history, so many great kings, battles, plots, treachery, the place has seen it all.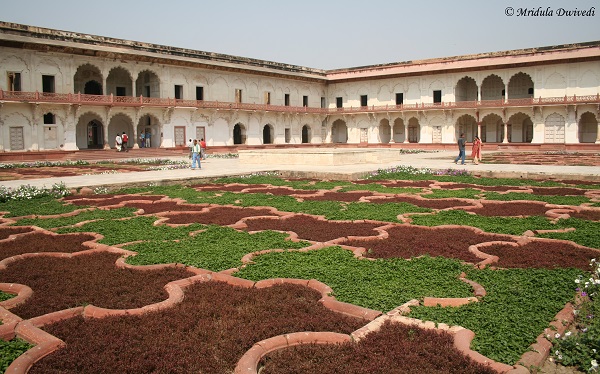 Once again we embarked on the photography session after the guide completed the tour and we sat for an hour and a half near the Hawa Mahal for the simple reason that there indeed was a cool breeze blowing around it. I was reading 'Mansfield Park' by Jane Austen for a while and wondering what activities people would have been doing 300 years before at the same place. And yet some have the courage to write graffiti. Even though we saw it at the Taj itself, Agra Fort has it real bad.
Around 4.30 in the evening we decided to take a tanga back to the Taj and spend some more time there but the huge queue deterred us. Instead we went to the restaurant of 'The Rooftop Hotel' (seedy and overpriced place, but from their roof you can see the Taj in all its glory) and had our tea.
We decided to head back to the railway station soon after. The search for auto was complete after a little bit of bargaining. The auto guy charged us Rs. 40 after bargaining (So much for prepaid taxi that charged us Rs. 125 for the same).
My kids once again enjoyed the train journey though we all were very tired by now. The air conditioned chair cars of Bhopal Shatabdi has decent leg space that contributed to the happiness of my nephews, as at six foot plus both will have significant difficulties if the leg room is not ample.
Once we reached Delhi at 10.30 at night it was a struggle to reach home because of some moronic 'kanwaria' festival going on. They organized some kind of running/walking event at night and of course they had to block traffic with their mini trucks to make way for the runners. But for this, I don't think I would change much from our day out. On second thoughts, I would also choose a cooler month than July for our next visit. Maybe we will go again in October or November.