I took a short break in June at Jaipur. And as if that was not enough, in a fit of madness I booked a table for one at the Steam Restaurant at the Rambagh Palace Jaipur. This was a personal vacation for me, I was traveling solo. Steam is the Mediterranean Restaurant at the Rambagh Palace at Jaipur. It is a railway station themed restaurant with a real train parked right out there! It's uniqueness appealed to me and I was looking forward to my dinner.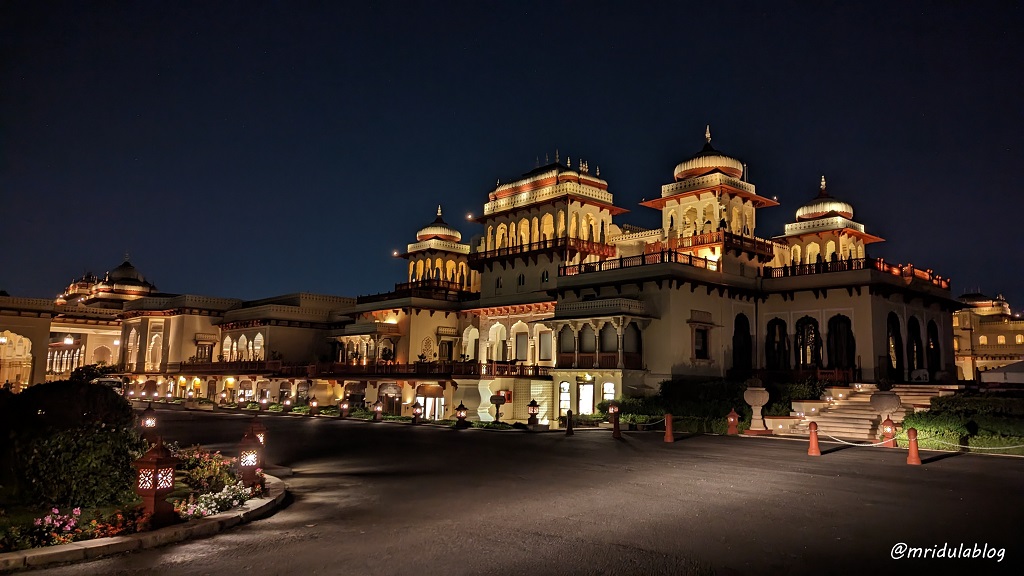 I took an Uber to the palace. The driver asked me if I would go inside the palace or my drop was nearby. I told him I was going inside the palace for a dinner! We waited for security at the gate, they are courteous to the restaurant guests too. As the car went inside I could see the steam engine on the left hand side of the main entrance. We checked with another security guard and he said I could get down there. He escorted me to the entrance and then I took the leisurely walk to the Steam. While I was walking I could see the impressive façade of the Rambagh Palace lit up.
I walked in and announced that I had booked a table for one. They asked in I would like to sit inside the train our on the verandah which I imagined as a platform. There was live music so I sat at the platform! I also feel it would have been difficult for them to accommodate one person inside the train. Comfortably seated, I started to look around.
The restaurant was slowly starting to fill up. Forget about any other women, there was exactly one man eating alone at the restaurant and he seemed to know what he was doing. I am not sure the same could be said for me. I mean I have been to a few places alright but initially I felt a little lost. However that feeling lasted only for a short while.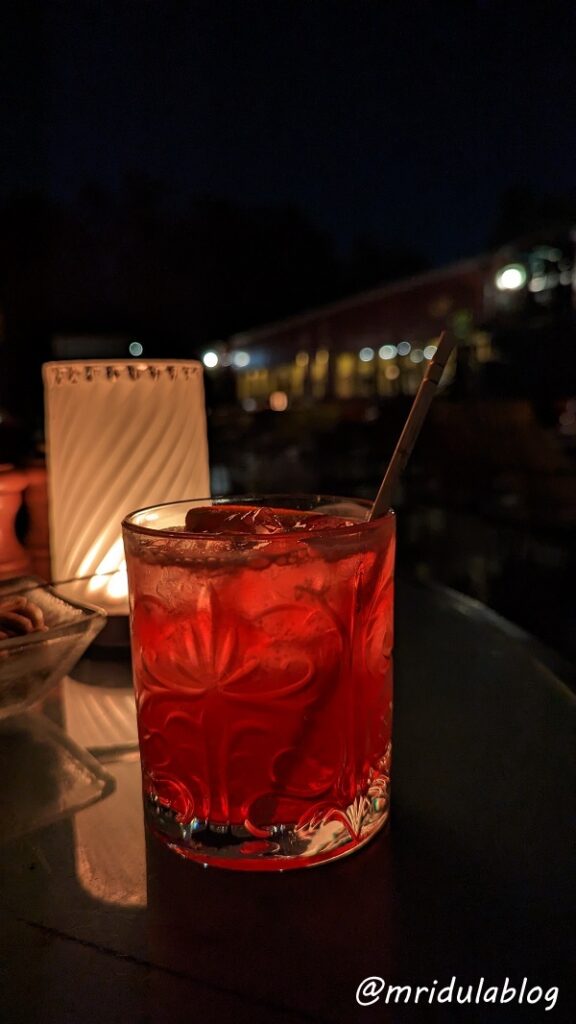 Then came the menu and I quickly decided on my drink- Negroni, meal- Mediterranean Platter that consisted of Pita Bread and Falafel and Tiramisu. My drink arrived first with masala peanuts. I was trying the Negroni for the first time and I did like it.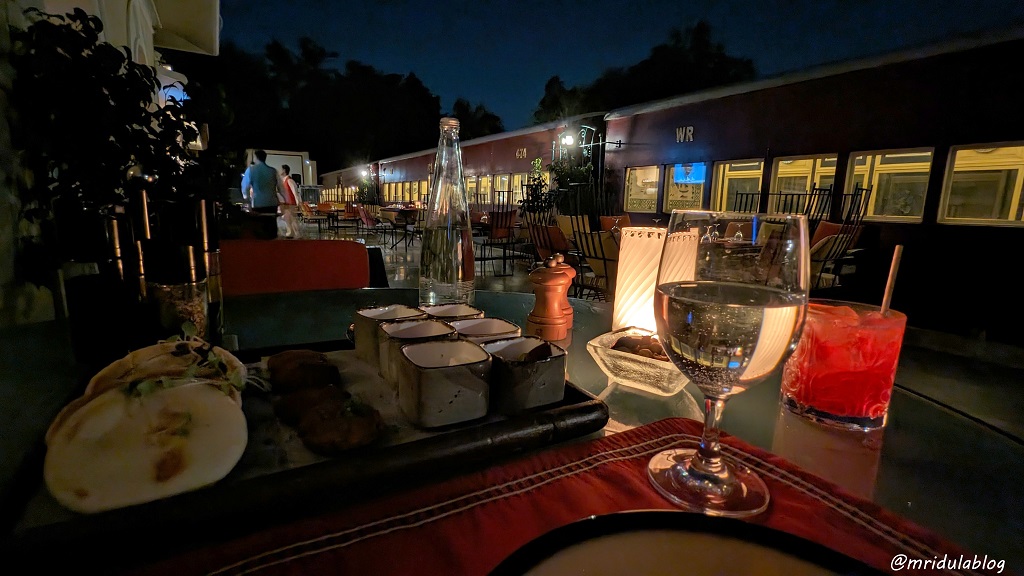 I kept looking at the train parked next to me most of the time. The live music was nice too. Slowly, I was getting comfortable. At some point I did a short live on Instagram from the restaurant! Rambagh Palace is managed by Taj Hotels and I do like their hospitality. Aakash was serving me for most of the time that day.
Soon my main course arrived. I liked the food. I have had the same dishes in Jordan, Israel and a few other places around the world and I have to say the stuff at Steam was on par! If I would be honest I have never been too big on food. But I have a mid year resolution, that I am going to collect more experiences than stuff from now on. And I have to say the experience was fabulous. I polished off my food pretty fast!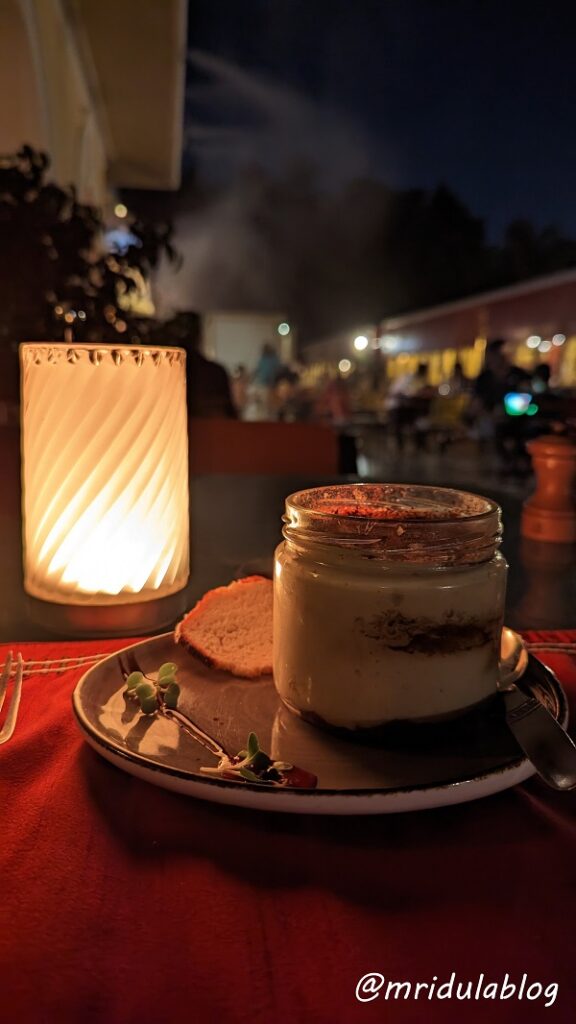 Then I sat down with my drink and enjoyed the music and atmosphere. It was a mild night for June to sit outside! At some point they were spraying mist from the roof and it was fun to watch. After a while I asked for my dessert and it came in a big jar! I have been craving coffee flavored dessert these days! The Tiramisu was amazing.
When you dine at a palace! #rambagh #jaipur #steam pic.twitter.com/3jYKA1B0n4

— Mridula Dwivedi (@mridulablog) June 19, 2023
Soon, it was time to pay the bill and head back to my hotel! The bill for one was around 3500 rupees, the experience priceless. While I was doing the formalities Aakash told me, "it was a pleasure serving you ma'am!" I thanked him and started walking slowly to the waiting area. I booked my Uber again and hoped the driver would come in.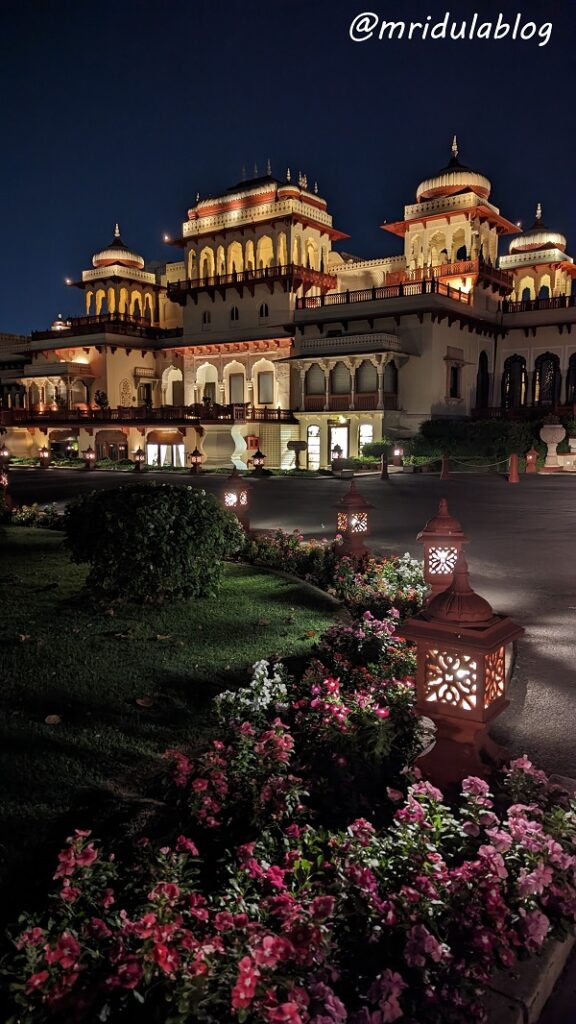 As I was walking, I admired the beautiful palace and took a few pictures! I saw my taxi entering so I waved and started walking towards it. Then I saw the driver was also taking pictures!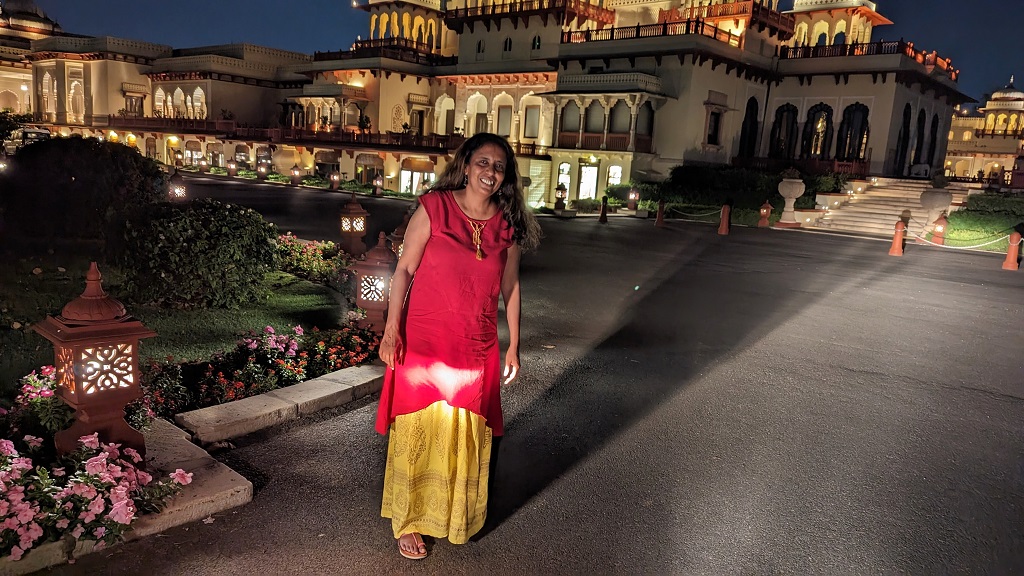 So, we both took some time to take pictures of the beautiful palace and ourselves and then we were on our way! Will I do it again? For sure I will. Table for one is fun in its own way!
PS. If you are looking for Luggage for your travels check it our on Amazon through my affiliate link.