Visiting Szechenyi Thermal Baths in Budapest is a must do activity! It was a bliss to take a dip in the hot pools and sit in sauna! We went during the day, the place has great atmosphere. For my sister Alka, I think this was the highlight of the trip. I had intentionally left it for our last full day in the city. She remarked, "it can be done immediately after arrival too, as you are tired then as well!"
Széchenyi Thermal Bath is conveniently locate next to the Széchenyi Furdo Metro Station on M1 line. Get out of the station and walk into the reception, it is that close! As we went in November, we did not pre-book our tickets online. It was not crowded at all, at the reception. We could easily buy the tickets.
You will have an option of buying a ticket with cabin, which is more expensive than the normal ticket. We bought the normal ticket that comes with a locker. They give you a wrist band which is to open and close the locker. Just wear it and move around, you can go into the water with it. The locker was enough to store our belongings, in fact we used only one locker between the two of us. The men and women changing rooms are separate. So, there was no problem in finding a corner to change after our shower in the women area at the end! In my opinion you don't need the cabin.
If the indoor pools are fun, outdoor pools are gorgeous! It is an amazing experience to enjoy the outdoor hot water pools on a cold day! The baths are equally popular with the locals and the older population. It is amazing to see women gossiping together in the middle of a pool!
In the beginning the outlay of the bath may seem confusing. But you will figure it out eventually. You can keep walking from pool to pool indoors and at the end you will emerge to one side of the outdoor pools. Repeat the exercise to emerge at the other end of the outdoor pools!
I strongly recommend that you read the FAQ section of the official website before going. You need to carry your own towels, swim wear, and pool slippers. If you don't then you will end up renting some of it. And it will cost you money! We had swimwear and towels but not slippers. We did fine indoors, there were many others walking barefoot like us.
But it was damn cold to walk barefoot outside. We did it, but do carry your poolside footwear, you will enjoy more. There is an outdoor lap pool too. You need to wear a cap to do the laps. But the two circular outdoor pools do not require any caps. If you plan to do laps, do carry your swimming cap!
Some of the indoor pools are filled with cold water, like the one behind us. We only dipped our toe and decided it was not for us! So, do check the temperature before plunging in. There is an indoor exercise pool too, where you can join in for free.
Photography is allowed at the pools, do read the official take here. The only trick is that you have to watch out for your phone and GoPro. As there were two of us, we managed fine. There are signs telling you to keep your valuables in the locker. The management is not responsible for them. I did leave my DSLR in the hotel but I carried my phone and GoPro all around and I am glad I did.
While it is fun outside, all the saunas are inside and they are insane fun too! There was one which had the scent of mint. It was my favorite. Some pools are open at night too. I read about night pool parties but we were content to enjoy it during the day!
Both of us were totally smitten by the idea of making such a grand pool available to common public. Of course there is an ticket, the cheapest a little more than 1.2K Indian rupees, which is not too expensive for such a grand place at all. And we loved it that the senior citizens came out in such numbers! It was fun to watch them play chess with beer!
Here is a short video of the Szechenyi Baths. It features Alka in a few clips! We both had a gala time indeed. I am already looking forward to our next vacation together, though it will happen next year only!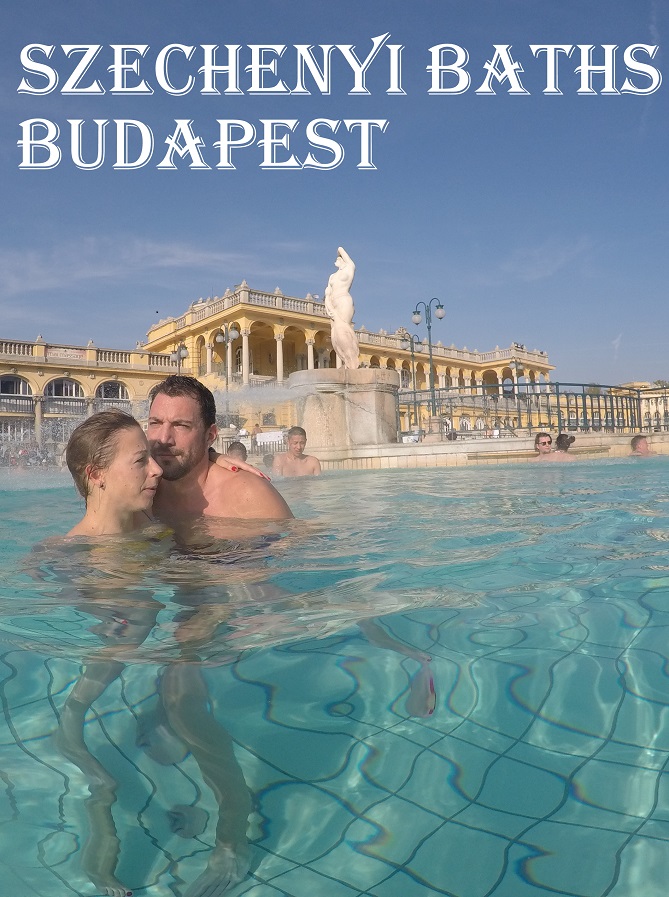 Szechenyi Baths are huge fun, it is a must on your Budapest itinerary. There are other baths in Budapest too, but it is a pity that we could not check out anything else.