Surajkund Mela is an annual affair which happens usually from 1st to 15th February every year. It is a colourful event with more than 1000 artisans display there artifacts at the Mela.
I last visited in 2015. I used to work full time then so I visited on a weekend. It was so crowded that I did not dare get to go in 2016. Your best bet is to buy the ticket online, that way you can avoid the lines on the gate.
But I ventured again to Sujarkund today. It is a Monday yet it was crowded. I initially thought I made a mistake but once I moved away from the main entrance, gate number 1, the crowd became manageable. This year too I did not take my daughter along as it was a school day. Additionally I am scared of taking her in crowded places.
I could categorize the Mela in three parts, one where the rides are, two where the food is and 3 all the stalls that sell textiles, jewelry, handicrafts and much more. And then there are live shows. The two states that are prominent this time are Chattisgarh and Jahrkhand.
I was surprised to see people from Tunisia and Syria setting up stalls this year. I bought a small painting from the Syria stall. I had a small chat with the Syrian gentleman too, and he was sad, saying it was all bad at the moment at Syria.
As it takes a lone time to reach Surajkund from Gurgaon, I decided to have some food at the mela. I had a plate of my momos, a cup of tea and a sweet called Chandrakala which is from Jharkhand.
Even though I went in thinking I will not do any shopping, I did pick up a few things but the best purchase of the day was गन्ना (sugarcane). I grew up in a large railway home in a small town. We had sugarcane in our own fields. But Chhavi had never tried it. A gentleman from Yamunanagar was selling it all for 10 rupees. He cut it in smaller pieces for me so that I could carry it home. Chhavi and I a great time eating it!
It was good fun to go to Surajkund. For me the best way to go is by Metro. Badarpur and Tuglakabad Metro Station on Violet Line are the closest to the mela gorunds. This time I took an electronic rickshaw to the Mela Ground, the rickshaw charged 30 rupees per person, we were all women in the rickshaw too.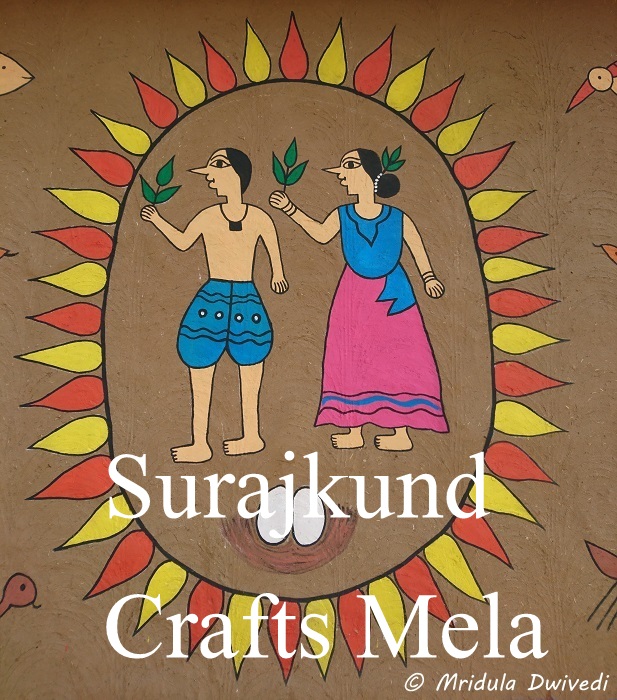 I noted the gate carefully and I exited via the same Gate 1, and took back the e-rickshaw again. Surajkund Mela is going to be there till 15th February so you still have two days to go.